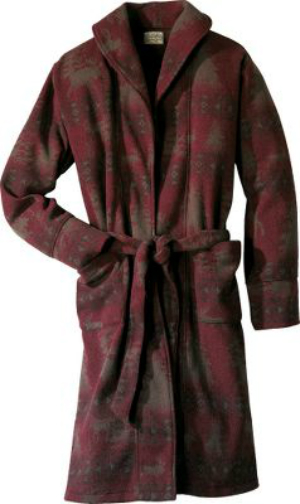 Silk is known for its lustrous beauty and luxurious softness. Investing in a vintage silk robe for personal use or as a gift is the perfect way to spoil oneself or a friend. Although silk fabric is considered delicate, the most common type of silk, cultivated silk, is made up of long continuous fibres that make it strong. This natural protein fibre has long been a popular choice for luxury loungewear and underwear for men because of its luxurious feel against the skin. This holds true for men's vintage silk robes; few things are more pleasurable than wearing one of these indulgent garments.
Vintage clothing can be described as new or used clothing that was produced in an earlier era. This type of clothing has become increasingly popular since the 1990s. This popularity is partly due to an increased public awareness of the need to recycle clothing and other non-biodegradable items. However, the greatest attraction to vintage clothing lies in its ability to recapture the elegant styles of the past. Men's vintage silk robes are available mainly in the secondary market, for example from charity shops, vintage clothing shops, and online sources like eBay.
Factors to Consider When Buying a Men's Vintage Silk Robe
Before buying a men's vintage silk robe, a number of factors should be considered. Firstly, what silk is and the advantages and disadvantages of the fabric. Secondly, what vintage clothing is, how to identify it, and what to look for when buying men's vintage silk robes. Finally, which measurements are required to ensure that the robe fits. This is especially important when buying online.
What is Silk?
Silk is a natural fabric made from a protein fibre. Although there are a number of producers of silk in nature, cultivated silk is harvested from silk worms that are raised on leaves from the mulberry tree. Once the worms enter the pupal stage and spin their cocoons, the cocoons are dissolved in boiling water. This allows the fibres to be extracted and fed into spinning reels. Three to ten strands are spun together to create a single thread of silk.
As most of the pupae are killed during the harvesting process for cultivated silk, the process has led to some criticism. The alternative, wild silk, is harvested from the cocoons of wild and semi-wild silk moths, and is considered a more humane choice. Wild silk has been harvested for centuries. As a result, vintage silk robes are available that are have been made from either cultivated or wild silk.
Advantages and Disadvantages of Vintage Silk Fabrics
Understanding the nature of silk fabric will make the purchasing decision easier. The fabric's pros and cons should be taken into account when deciding whether a vintage silk robe is the right choice. One should take the fabric's pros and cons into account when deciding whether a vintage silk robe is the right choice. Silk fabric offers a number of advantages. It:
is lightweight and allows the skin to breathe
is strong and durable
is soft and smooth against the skin
drapes well and looks good
is absorbent and dyes well, and is available in a wide range of colours
keeps the body cool in hot weather and warm in cold weather
is hypoallergenic
Although silk may seem like the perfect fabric, it does have some disadvantages. These include:
Silk clothing stains easily.
Silk fabric unravels easily and is difficult to mend.
Silk is easily damaged by the sun.
Silk is flammable if untreated.
Silk requires extra care and careful cleaning.
Unwashed silk is prone to shrinkage.
Silk absorbs odours.
Although some silk items are labelled machine washable, to keep the item looking its best, hand washing in cool water is recommended. Should the garment need ironing, the iron should be used on a low heat setting.
What is Vintage Clothing?
Vintage clothing is new or used clothing from a previous era. Whereas antique jewellery, for example, is defined as something that is at least 100 years old, the definition for vintage clothing is less strict. Clothing is generally described as vintage if it is more than 25 years old.
Identifying Vintage Clothing
To identify a vintage clothing item one should look at the way the garment was made, the label, and the style. Although this is not a foolproof method, it does give an indication of the age of an item. The table below gives a short summary of clothing features to look at.
Feature

Description

Zips and Fasteners

Metal zips are commonly found in items created after the 1930s

Metal zips with cotton twill tape are common in items manufactured in the 1970s

Velcro was developed in 1948, but only used in clothing from the 1960s

Stitching

Overlock sewing machines have been in use since around 1920 and are used to create the seams seen on modern clothing

Although overlockers were developed 40 years earlier, overlocked seams are more common after the 1960s

Labels

Early twentieth-century labels were usually woven, while printed satin labels became more common after the 1960s

Script-type fonts were common before the 1960s and 1970s

In 1986 it was made a legal requirement to include a fabric content label, so where this label is absent, the item probably dates to pre-1986

Styles and Patterns

Some styles, colours, and patterns are more prevalent in certain eras

For example, purple and orange were popular colours during the 1970s
Dating vintage clothing is not an exact science. Serious collectors should research clothing characteristics from specific eras to make identification and dating easier.
What to Look for When Buying a Men's Vintage Silk Robe
Before buying a vintage silk robe, it is important to check the item's condition. This includes checking:
Hems and seams for pulled threads and missing stitching
The fabric's condition, especially stains, discolouration, holes, tears, and other damage
The condition of belt loops, the belt, and whether all add-ons and embellishments are in place
The garment for lingering odours (for example, cigarette smoke or mouldy smells)
If purchasing online, the buyer should ask the seller specific questions about the robe's condition before completing the transaction.
Finding the Perfect Fit for a Men's Vintage Robe
Sizing has changed over the years, so choosing a size that corresponds to current clothes sizes does not necessarily mean that the item will fit. The following measurements should be close at hand when shopping:
chest, around the broadest part of the torso
waist, around the largest part of the waist
shoulders, from one shoulder across the neck to the other
sleeve length, measured while holding the arm bent and the hand on the hip, from the nape of the neck to the wrist
If the robe is for personal use, ask a friend or relative to help with these measurements. If the robe is intended as a gift, ask the recipient for his measurements. A cloth measuring tape should be used and must be kept parallel to the ground when taking chest and waist measurements.
Vintage silk robe lengths vary. Check with the seller and compare the garment's measurements with the height of the wearer to find the perfect length.
Buying a Men's Vintage Silk Robe on eBay
Searching for items on eBay is easy. Simply type a keyword or search phrase (like "men's vintage silk robe") in the search box on any page. You can narrow your search results by choosing the most appropriate category or features. Alternatively, use the advanced search functions to increase or decrease the number of listings displayed.
Before You Buy
Before you buy an item on eBay, take a moment to learn about the seller and the seller's terms and conditions of sale.
Check the Seller's Feedback
eBay's seller feedback feature allows buyers to leave feedback for sellers about the products and customer service they received. Detailed seller ratings give additional information about aspects like:
the accuracy of the seller's item description
the seller's communication
how quickly the item was dispatched
whether the postage and packaging costs were reasonable
To view a seller's detailed feedback rating, click on the number next to the seller's username.
Check the Seller's Terms and Conditions of Sale
Carefully read the seller's full item listing to ensure that you understand the terms and conditions of sale. Take note of the item description and postage fees; some sellers offer free postage and packaging. Where this is not the case, add the postage fees to the item's selling price to work out the total cost. If you have any questions about a listing, click on the "Ask a Question&" link to contact the seller.
Conclusion
Buying a men's vintage silk robe allows one the opportunity to wear a unique, stylish item or to give someone a gift with character while being kind to the environment. A vintage silk robe is a luxurious loungewear item that feels wonderful against the skin. Before buying a men's vintage silk robe, first understand what silk is and the advantages and disadvantages of the fabric. Although silk is strong, the fabric requires delicate care and many people are wary of its tendency to shrink and stain.
To make a successful buying decision, one should understand what vintage clothing is, how to identify it, and what to look for when buying it. Men's vintage silk robes should be in good condition, without obvious signs of wear and tear, and no lingering odours. Before shopping, obtain accurate measurements and ask sellers about the item's dimensions before buying it. Alternatively, ask sellers about refund and return policies in order to exchange or refund items that do not fit. Men's vintage silk robes are available from eBay sellers around the world.