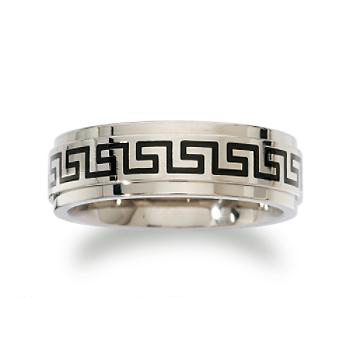 Many things changed after the disruption caused by the Second World War and the customs of wearing jewellery were no exception to the rule. Because of the war, millions of men were separated from their wives for a long time and for this reason they began to wear wedding rings, something that was not customary before. Wedding rings worn by soldiers became the symbol of their commitment and dedication. They also reminded them constantly of their wives patiently awaiting their return home.
Today, the majority of men wear a wedding ring and choosing the right one is actually a question of aesthetics and style. The wedding ring has become an echo of the personality of the wearer. There are numerous styles and materials to choose from and most men decide to wear wedding rings in a matching style with their wife's ring. Learning more about different styles and materials for men's wedding rings can help buyers make an informed purchase.
Things to Consider When Shopping for a Men's Wedding Ring
It is not an easy task for a man to choose a wedding ring. In most cases, they are not accustomed to wearing any piece of jewellery. Therefore, it may be difficult for male buyers to determine the style for their wedding ring as well as the right size. Patience is essential when shopping for men's wedding rings, because one should go through as many models as possible in order to be able to select one that reflects their personality and is within the budget as well.
Matching Couple Rings
Usually, men and women choose their wedding rings as a couple. What could be more natural than to compare and evaluate with utmost care the rings that are intended to become a symbol of eternal love? Many couples decide to purchase matching rings whose only distinction is related to their size. Wedding rings for men are often thicker and wider than those designed for women. In most cases, men's wedding rings feature simple designs, with sober and classic lines.
Environmental-Friendly Options
By tradition, the choice of material for a men's wedding ring is focused on yellow or white gold. On the other hand, this is a material that may have a harsh impact on the environment, so buyers should pay attention to this aspect especially if they are environmentally conscious. Buyers can opt for producers engaged in a clean extraction or simply choose other materials such as platinum or silver.
Comfort and Style
Men often care a lot about comfort and style, so they should make sure that the chosen wedding ring does not cause any allergic reaction or irritation. Some rings are often slightly rounded inside in order to enhance the level of comfort and allow an easy removal. Because this type of wedding ring is generally thicker than other models and therefore requires more material, it is often more expensive than a regular ring. Regarding its appearance, the ring can be polished, patterned, or slightly burned, and choosing a style for the wedding ring is ultimately a matter of taste.
Choosing the Material for a Men's Wedding Ring
Men's wedding rings come in a wide variety of designs, styles, and materials. Buyers should learn more about the advantages and disadvantages of different metals in order to be able to pick a wedding ring that best suits their lifestyle. They should also consider that rings made of some metals, such as tungsten, cannot be altered, while other metals can cause allergic reactions to persons with sensitive skin.
Gold Men's Wedding Rings
Gold is perhaps the most popular choice for traditional wedding rings and it comes in different carat (ct) choices, such as 9ct, 14ct, or 18ct, which stand for the ratio of pure gold that is used for manufacturing the ring. When it comes to colours, men's gold wedding rings range from yellow to white and pink, even though some manufacturers offer original hues such as peach or bronze. Men who are looking for a scratch-resistant wedding ring made from gold should have a look at the patterned ones as they are more durable than the polished ones.
Platinum Men's Wedding Rings
The appearance of platinum is similar to that of white gold, but this type of metal comes with several different advantages. In most cases, white gold rings require a regular reapplication of rhodium plating in order to retain their colour. On the other hand, platinum retains its original colour indeterminately. Even though platinum men's wedding rings may feel heavier on the finger than their gold counterparts, they can be purchased in various alloys, so there is something available for each buyer. The only downside of platinum rings is their price, which is almost double than that of gold.
Titanium Men's Wedding Rings
Titanium is a hypoallergenic metal that is a popular choice for those who cannot wear jewellery made from natural materials such as gold. The appearance of titanium is a silvery one and the material is very durable and scratch resistant. The only disadvantage of opting for a titanium wedding ring is the fact that this material may prove quite difficult to resize.
Tungsten Men's Wedding Rings
Tungsten is a new technology metal that is available in a range of different colours, from grey white to black. This material is highly scratch resistant and it retains its polished look for a very long time. This is a good choice for buyers who do not wish to go for personalised wedding rings, as tungsten is a hard material that cannot be resized or engraved.
Buying a Men's Wedding Ring in the Right Size
Sizing is a very important aspect to take into account when it comes to buying a men's wedding ring, especially for buyers who choose to buy them online. When choosing the right size, buyers should be aware of the fact that is it quite possible for the ring to need resizing in the future. Wedding rings are supposed to be worn for a lifetime and the size of the fingers may change with age. At the time of purchase, the ring should not feel too tight or too loose and one should be able to get it on and off the finger with ease. The morphology of the hand may also have an impact on the choice of the wedding ring. The chart below offers some guidelines related to men's rings sizes. Buyers can take measurements of their finger and then compare the results with the ones in the chart to find the right size for the wedding ring.
| Inner Circumference (mm) | UK Size |
| --- | --- |
| 46.8 | H |
| 48 | I 1/2 |
| 49.3 | J 1/2 |
| 50.6 | K 1/2 |
| 51.8 | L 1/2 |
| 53.1 | M 1/2 |
| 54.4 | N 1/2 |
| 55.7 | O 1/2 |
| 56.9 | P 1/2 |
| 58.2 | Q 1/2 |
| 59.5 | R 1/2 |
| 60.8 | S 1/2 |
| 62.1 | T 1/2 |
| 63.3 | U 1/2 |
| 64.6 | V 1/2 |
| 65.9 | X 1/2 |
| 67.2 | Y 1/2 |
| 68.4 | Z |
| 69.7 | Z 1 |
| 71 | Z 2 |
| 72.3 | Z 3 |
| 73.5 | Z 4 |
| 74.8 | Z 5 |
| 76.1 | Z 6 |
| 77.4 | Z 7 |
| 78.6 | Z 8 |
| 79.9 | Z 9 |
The sizing information provided in the chart above should only be used as a guideline, as sizes can actually vary from one manufacturer to another. Buyers should make sure the seller offers the possibility of returns when shopping for men's wedding rings, in order to avoid getting stuck with a ring that does not fit well, especially if it is manufactured from non-resizable materials.
How to Find Men's Wedding Rings on eBay
Choosing a men's wedding ring is an essential act for those who decided to take the leap of marriage. The choice should be maturely considered and the ring should be a perfect match for your style preferences. Buying a wedding ring may be difficult as there are so many sizes and models available on eBay. The advantage of shopping for a men's wedding ring on eBay is that you can refine your search easily according to your preferences and budget.
In order to start shopping for a men's wedding ring on eBay, you can simply type the words 'men's wedding ring' into eBay&'s search bar and start browsing the results immediately. Alternatively, you can search for something more specific, particularly if you already have a style on your mind. Remember that you can refine the search results at any time by price, location, style, material, and more. When shopping for men's wedding rings on eBay, you should make sure you read the product description carefully and pay attention to the sizing information provided by the seller. This way, you can avoid having to send the ring back because it does not fit well.
Conclusion
The choice of a men's wedding ring is an important thing in organising a wedding. It is not mandatory to invest a fortune in this symbolic ring and buyers should always make sure that the ring they choose fits well in their wedding budget. For this, they should browse through as many models as possible, preferably from different sellers, and choose the one they would like to see on their finger for a lifetime. eBay is a very good place to do this, because it offers a large number of models from a variety of sellers. Buyers can opt for a new or used wedding ring when shopping on eBay and they can also apply their personal search criteria on the website. Things to consider are the metal the ring is made of, its style, and, importantly, its size. Regardless of the type of men's wedding ring one is looking for, chances are they can find it quickly and without too much hassle by shopping on eBay.