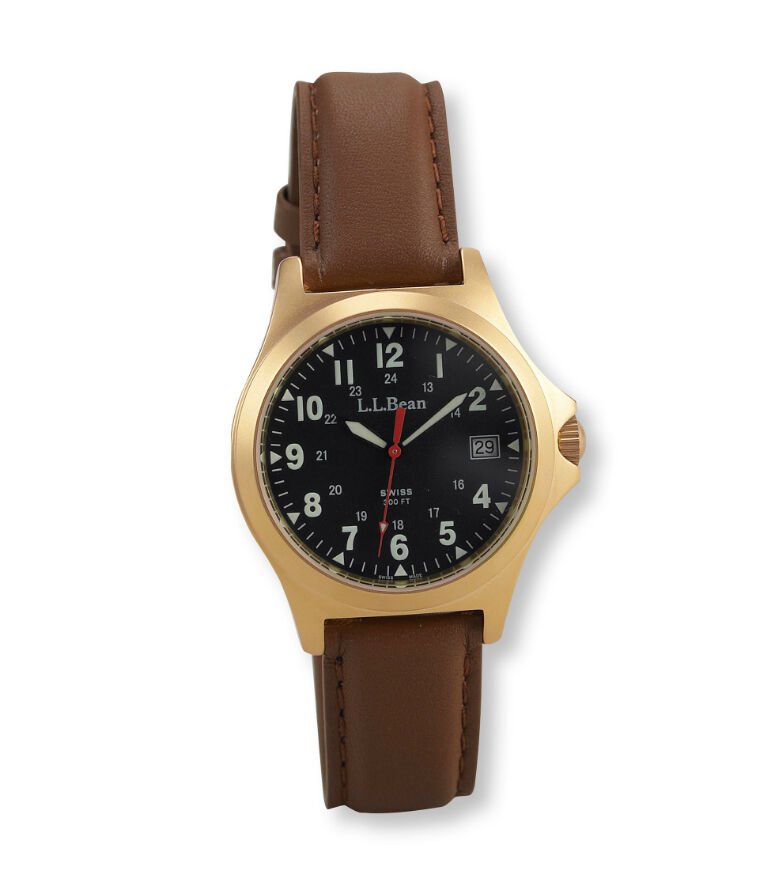 Ever since the Egyptians created sundials to define the solar calendar, cultures around the world have discovered myriad ways to tell time. However, it was not until the discovery of the watch that timekeeping became a more precise process. Watches have changed over time, from the first pocket watches developed during the 16th century to the production of wristwatches that began in the 1850s. Once consumers realised they no longer had to attach a watch to an article of clothing by using a chain, they made wristwatches the most popular type of watch on the market. The trend has continued, although pocket watches have made a comeback premised more on style than function.
Men can shop for wristwatches at the leading auction site, eBay. eBay brings men's wristwatch sellers and buyers together in an virtual marketplace that often leads to bargains for buyers. Some sellers offer virtually new wristwatches at discounted prices because they either have changed their minds about the wristwatch or they purchased the wrong brand. Before buying wristwatches on eBay, men should learn the important wristwatch terms, understand the type of wristwatch movements, and rank the factors that lead to their wristwatch buying decision.
Important Wristwatch Terms
Consumers who are interested in buying a wristwatch on eBay should become familiar with common wristwatch terms. While many of the terms also apply to other types of watches, there are a few terms unique to wristwatches. The following chart lists the most common wristwatch terms that consumers should know before they access eBay's search engine.
Term

Description

Aperture

Part of the dial that displays information such as day of the week, month, and moon phase

Band

Types of bands include leather, military, metallic, and titanium

Important consideration for securing watch and comfort level

Bezel

Ring that surrounds top of crystal

Secures crystal in place

Rotating bezels rotate clockwise, counterclockwise or in both directions to calculate time

Caseback

Bottom of the watch that presses against the wrist

Caseback weight often determines wristwatch comfort level

Complication

Functions added to enhance wristwatch performance

Wristwatch functions include countdown timer, stopwatch, altimetre, chronograph, and power reserve indicator

Crown

Knob located on left side of watch that winds mechanical wristwatches and sets time and date

End of energy

In mechanical wristwatches, end of energy is indicated when the second hand jumps up to four seconds

End of life

In quartz wristwatches, the end of battery life is indicated when the second hand jumps up to four seconds

Gasket

Water-resistant watches come equipped with gaskets that seal the caseback, crystal, and crown from moisture

Gaskets require regular maintenance to ensure water resistance

Guilloche

A decoration found on high-end wristwatch dials

Hacking

Stops the second when the user pull the stem out as far as it can extend

Allows user to set accurate time

Luminous point

Self-illuminating paint applied on the hands and markers to allow users to read the time in dimly lit areas

Physical Vapour Deposition (PVD)

The thin coating applied to wristwatches by integrating titanium particles, and then depositing gold for colour

Typically appears as a black finish

Super accurate

A wristwatch that tells accurate time within plus or minus 10 seconds per year

Utilises quartz crystal oscillators that work with an integrated circuit

White on

Analogue wristwatch that displays functions by touching a button

Easy to read white numeric display
Knowing about the most common wristwatch terms helps men decide on the right wristwatch to purchase on eBay. The glossary of wristwatch terms especially comes in handy when men discuss wristwatch options with jewellers and watchmakers.
Wristwatch Movements
The movement of a wristwatch refers to how the interior driving mechanism maintains timekeeping functions. Consumers who want to buy a wristwatch first decide on the type of movement, which can be quartz, mechanical, or automatic.
Quartz
A battery provides the energy for quartz movement wristwatches sold on eBay. This type of wristwatch movement involves a vibrating quartz crystal that drives a step motor to move the watch hands at a constant rate. The passing electrical crystal current oscillates at over 32,000 vibrations per second, which ensures movement reliability. Quartz movement wristwatches are the most cost-effective manufacturer design, and thus, the most affordable of all wristwatches. Batteries need to be changed roughly every one and a half years. New technology utilises solar technology to continually provide energy for quartz movement wristwatches.
Mechanical
Mechanical movement wristwatches found on eBay use a spring, typically called a mainspring, that users must manually wind by turning the crown. The spring slowly winds to release energy that charges the wristwatch. Consumers who have an appreciation for hand-crafted watches prefer mechanical movement wristwatches. Considered fine wristwatches, mechanical movement wristwatches constructed by gifted watchmakers can last for multiple generations.
Automatic
Automatic movement wristwatches harness the energy generated by the wearer's arm to wind the mainspring. There is no need to manually wind the wristwatch every day, yet most watchmakers recommend that automatic movement wristwatches require manual winding every two or three weeks; moreover, time should be adjusted once per month.
How to Choose the Best Wristwatch
Men's wristwatches are one of the most important fashion accessories, as well as an indispensable way to tell time. However, choosing a men's wristwatch on eBay requires men to consider a number of factors. Men can eliminate confusion by analysing the following factors, and then ranking each factor in terms of importance.
Type of Wristwatch
Men have plenty of wristwatch options to consider on eBay that include sport, dress, chronograph, and diving wristwatches. Deciding on the type of watch to buy depends on the occasion in which a man plans to wear the wristwatch. Deciding on a type of wristwatch also involves watch movement.
Analogue or Digital
An analogue wristwatch possesses a face that rotates minute and hour hands, as well as displays time in a series of numbers or roman numerals. Analogue watches are considered more formal and should be considered for business and formal social events. Digital wristwatches purchased on eBay can either have an LCD or LED face that displays time in numeric form. Most people wear digital watches in casual settings.
Case
The case is the wristwatch frame, which with analogue wristwatches, can be shaped round, rectangular, square or polygonal. Cases can be shiny, matte, patterned, or embedded with minute jewels and crystals. Most cases are constructed with durable metals, such as stainless steel, titanium, gold, silver, or platinum, with stainless steel being the toughest of the metals.
Crystal
The wristwatch crystal can be plexiglass, mineral, or synthetic sapphire. Plexiglass easily scratches, but it is almost impervious to strong impacts. On the other hand, mineral crystal is difficult to scratch, but it can shatter without much impact. Most consumers who shop for men's wristwatches on eBay prefer mineral crystal wristwatches in low energy environments, such as during business meetings. Synthetic sapphire crystal is the most expensive crystal and men can find this type of crystal in more expensive wristwatches.
Band
Regardless of the material used to construct a wristwatch band, men should consider how secure the watch feels around the wrist and the comfort level of the band. The comfort level depends partly on how tight the band feels against the wrist, but it also involves how efficient the band absorbs and releases moisture. Leather bands possess the best breathability quality. Some men make the mistake of pairing expensive bands with less expensive wristwatches or vice versa.
Other Considerations
Consider an illuminated face to help tell time in darker settings, such as theatres or at night during camping trips. Know the difference between waterproof and water resistant watches. Waterproof wristwatches are rated for how deep the watch can go under water before it starts to incur damage. Water-resistant wristwatches can repel raindrops, but cannot function under water. The ultimate wristwatch buying factor may be price, which requires men to create a budget before they begin the wristwatch buying process.
How to Buy a Men's Wristwatch on eBay
eBay is a great way for wristwatch buyers to find the wristwatch that meets their buying criteria. You need to utilise eBay's powerful search engine and seek out eBay's Top-Rated Sellers.
The Search Engine
eBay offers buyers a search engine that returns search result pages of wristwatch sellers. The key to utilising eBay's search engine is to type in specific keywords that narrow the search result page list. For instance, type "new men's wristwatch" or "Seiko men's wristwatch" to reduce the number of potential eBay wristwatch sellers. Once you find the right seller, navigate to the seller's product page to review accepted payment methods, delivery terms, and return policies. Seller return policies may be the tie breaking factor in your purchasing decision, since you want to find a seller who provides you with a lengthy return window.
Top-Rated Seller
Men who search for wristwatches should consider eBay's Top-Rated Sellers. These sellers have established strong reputations for selling superior products at affordable prices. The top-rated sellers also offer generous return policies and oversee fair auctions. You can find eBay's Top-Rated Sellers by looking for the electronic ribbon icon that eBay places by qualified seller product photographs. eBay also compiles customer feedback on sellers' product pages. Look for sellers who have earned high praise over the past year and preferably received positive feedback for selling new watches. Once you form a business relationship with an eBay Top-Rated Seller, ask the seller if he or she operates an eBay Store where you can buy products directly.
Conclusion
Despite the prevalence of digital technology that allows us to tell time by clicking on a mobile communication device or quickly view the time on a computer monitor, most men still prefer to wear wristwatches to keep track of time. While some of the reason for the continuing popularity of wristwatches derives from functionality, men also enjoy wearing wristwatches because they present fashion statements. Wristwatches have become an integral part of a man's jewellery collection.
Buying wristwatches requires men to learn some of the more common terms they come by while shopping online at eBay. For instance, it is important to understand how the various parts of a wristwatch seamlessly integrate to keep time. Men also need to decide between quartz, mechanical, and automatic wristwatch movement. Each type of movement provides men with unique benefits. Other factors to consider during the wristwatch buying process include the band, crystal, case, and type of wristwatch. After all of the factors are ranked in terms of importance, the final decision of which wristwatch to decide upon may come down to price.