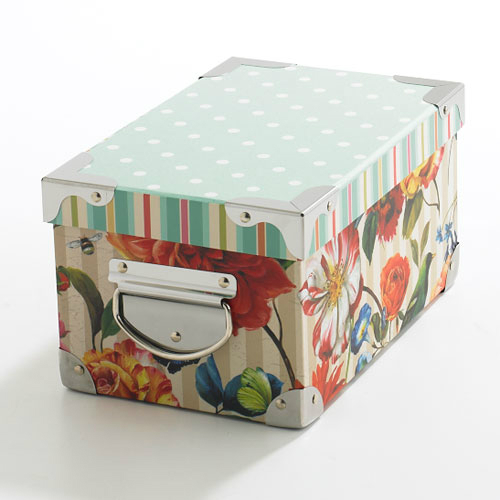 A metal storage box is a high quality investment. The durable product provides a permanent place to store items or temporarily transport the products within. Containers vary by size, material, and customisable options. Purchasing a metal storage box based on brand, price point, and features allows for safe storage year after year.
About Metal Storage Boxes
A metal storage box offers a secure place to store valuables, heavy items, or objects that could cause damage to a cardboard container. Valuables often kept in metal boxes are jewellery, handguns, and tools, often because the metal case offers such safe storage for an office or home. Metal storage boxes are strong, durable, and have organisational benefits. The origins of metal trace back to native copper, in pre-historic times. By around 1200 BC, iron was a material used to make tools and other items. Iron is one material used to make storage cases today. Gold and silver were early discoveries as well. The two metals formed the basis of ancient boxes. These boxes were too expensive for many people, which prompted them to develop other metals. In 1764, London Tobacconists began to sell snuff in metal containers. Today, boxes are made of various metals.
Metal Storage Box Sizes and Materials
Box sizes range for height, width, and depth. Make sure that the size is chosen based on the amount of room available for the box in its storage location, don't forget to factor in the size of the items which are to be stored here. Some boxes are stackable, which is ideal when space is limited. Storage cases are made of different types of metals and since metal is durable and able to withstand a variety of weather conditions year round, the uses of metal storage boxes are diverse. Steel, iron, and aluminium are the most common materials for storage boxes. The following table describes each metal type.
| | |
| --- | --- |
| Steel | Cold-rolled and stainless steels are two types. Steel has less carbon than iron and is generally heavier than aluminium. Boxes that combine steel with nickel, chromium, or other metals offer ultimate durability. |
| Iron | An iron box is generally heavier than steel. Iron has higher wear resistance than steel; iron is resistant to destruction and rust. |
| Aluminium | Aluminium boxes are generally lighter than steel varieties, which makes temporary transport easier. Thick aluminium lids have an extra strength and security. |
Types of Metal Storage Boxes
There are four main types of metal storage boxes. Each type of container is outlined in the below table.
| | |
| --- | --- |
| Tool Box | Tool boxes often feature handles at top for transport. The lid opens on a hinge. Small trays for tool storage inside box may be removable. Some containers have drawers and open easily by slide runners. Storage locations range from workshop at home to retail store and industrial environment. |
| Antique | Antique storage boxes have a rustic look and detailed edges. Antiques have a beauty besides functionality. The intention is usually to store items out of view, keep organised, and present as an attractive piece. |
| Gun Metal Safe / Box | Gun metal safes and boxes securely store guns, ammunition, and related items. Cases often have child-resistant and theft-resistant features (see next table). Gun safes bolt to a solid wall or floor. |
| Multi-Use | Multi-use containers store project items such as art materials and valuable items like photographs and jewellery. Exterior colours and designs of boxes vary. |
Options
Metal storage boxes have customisable options. Select a box that has features to meet specific storage needs. The following table describes options available for containers.
| | |
| --- | --- |
| Latches | One or more latches per box keeps it closed for security and for easy transport without worry that case will open. |
| Handles | Handle on top or sides improve ease of moving box and opening lid. |
| Locks | A box with a lock and key system, combination lock, or a padlock helps prevent theft of inside items. |
| Hinges | Full-length hinge on a gun metal box that is protected on both sides by flanges securely attached to lid offers serious protection. Hinge cannot be broken by hammer and screwdriver. |
| Mounting Holes / Brackets | Some gun metal safes and boxes have predrilled floor holes. Safely bolt box to the floor to prevent theft. Another option is to bolt the case to a wall or other solid surface using a quick-release mounting bracket. The bracket secures container for storage purposes and then releases it to go to range. Fittings are often included in purchase of a wall-mounted storage box. Wall mount other types of metal boxes at eye level to prevent having to reach awkwardly for items inside. |
| Cushions | Cushions inside box protects items if product is shaken or is moved. |
| Drawers | One or more drawers per box allow for organisational storage of items. For example, store screwdrivers in one drawer and nails in another compartment. Label drawers according to preference. |
| Wheels | Wheels at bottom of case provide easy movement. Remove wheels if feature is undesirable. |
Concerns about Metal Storage Boxes
Handgun boxes are a concern for many people given the dangerous items they are intended for. Storage boxes must meet local legislation for firearm storage. Fully automatic weapons and air guns chambered for self-contained gas units are generally illegal. Safely store firearms to keep out of reach of children, house guests, and anyone else. Most types of firearms require a Shotgun Certificate or a Firearm Certificate in the United Kingdom. Local police issue the certificate, provided the owner meets the necessary criteria.
Benefits of Metal Storage Box over Cardboard and Plastic
A metal box has benefits for storage over a cardboard or plastic one. The table below lists advantages of the metal over cardboard and plastic.
Metal is sturdier than cardboard and, therefore, provides safer storage for heavier items

Ability to store metal cases inside or outside; metal is rust resistant

Metal lasts longer than cardboard, which breaks down over time

Metal is durable year round. The material generally withstands wind and rain better than cardboard. Metal does not crack in cold temperatures, unlike plastic, or disintegrate when wet.
Finding Metal Storage Boxes on eBay
To buy a metal storage box, head to the eBay homepage. First, click on the All Categories link on the left-hand side of the page. Click on Home & Garden and then All Categories. Under the Storage Solutions category, select Storage Boxes. On the left-hand side under the heading Material, choose Metal. Browse the available items, according to buying format, under the tabs All Items, Auctions Only, and Buy It Now. Refine the search further with options available at the left-hand side of page. Search by specific features, colour, condition, and price range. Another way to search eBay is to enter a specific keyword into the search box at top the homepage. For example, type in 'metal storage box', 'large metal storage box', or small metal tool box'. eBay offers users the ability to search by specific type of box or by specific type of metal.
Conclusion
A metal storage box is an important purchase. The box holds valuable items and possibly dangerous things like handguns. Containers vary in material, size, and type. Customisable features include locks, mounting holes and brackets, and drawers. Metal storage cases have benefits over cardboard ones, and can safely store firearms according to specific legal requirements. Selection of a box depends on factors such as type of items to store and preferred storage location for box.