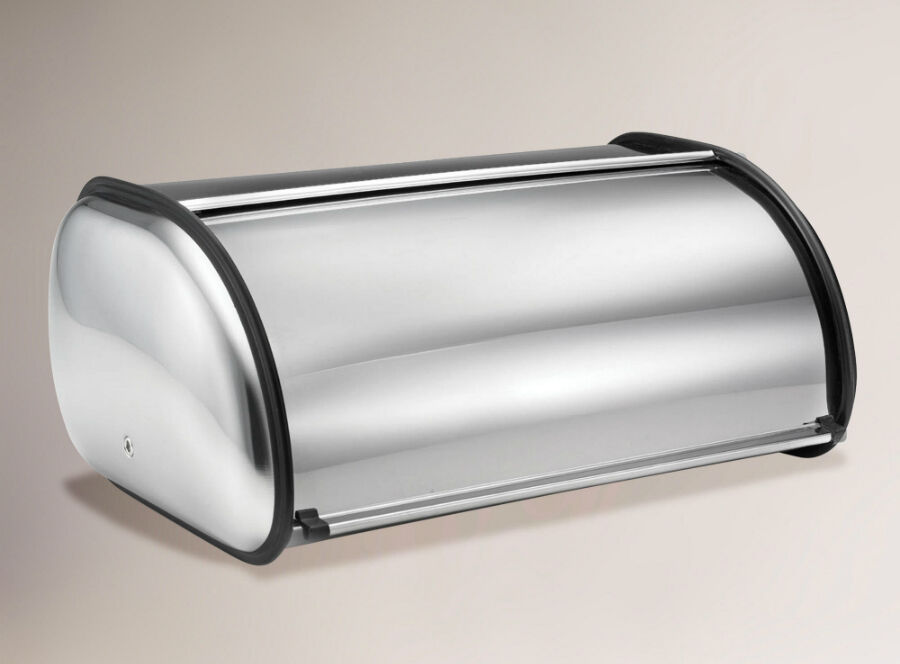 Search eBay for an up-to-date selection of modern metal bread bins and original wooden bread bins . A breadbox, or bread bin, is a container for storing bread – and other baked goods – to keep them fresh. Bread that is stored in a bread bin at room temperature will last for longer. What causes bread to go stale is the crystallisation of starch in the presence of water that exists in the bread.
This process is faster in cooler temperatures, such as a fridge, creating the need for a bread bin. Bread bins are most commonly large enough to hold between one and two loaves of bread. If the bin is required in a large household however, a bigger bin, capable of holding three to four loaves might be more appropriate.
This guide will explain the easiest ways to search for and purchase the bread bin that suits you.
Types of Bread Bins
When deciding which bread bin to buy, it is important to consider the advantages of both. Depending on the style of the kitchen area, one may be more suitable than the other.
| | |
| --- | --- |
| Type of Bread Bin | Description |
| Metal Bread Bin | The metal bread bin brings a bright, modern feel to a kitchen. Its sliding door works on a plastic track, providing a firm seal for freshness. The metal is durable and easily cleaned. The bin usually has a curved front, which acts as a sliding door or lid. Fitting nicely in to a bright, relatively modern kitchen, it has a fresh, shiny design. |
| Wooden Bread Bin | With a traditional look and feel, the wooden bread bin is of an original nature. Though it may not possess the same solid seal as the modern metal, its rustic nature is particularly suited to farmhouse-styled and wooden orientated kitchens. It has a cosy, traditional feel with some wooden bread bins being valuable collectables . Normally it has a curved door at the front but sometimes has a lip at the top like a simple box. |
Characteristics of a Bread Bin
Although simple kitchen items, bread bins differ in their appearances and maintenance. They have characteristics that separate them from each other.
- Shape and Size: Bread bins are box-shaped with a curved, slide-able door at the front. Bread bins typically hold one to two average-sized loaves of bread. Larger bread bins, which hold up to four loaves of bread, are also available for the larger household.
- Maintenance: Since wood absorbs moisture, it is important not to soak the bin when cleaning it. A small spray of cleanser is plenty and will prevent the bin from warping. Metal bread bins can become dull from frequent cleaning; gently polish or shine-up the bin after cleansing it. Do not use abrasive cleaning agents on these bread bins as it may remove their outer finish. Clean the bread bin regularly, following the instructions given by the manufacturer.
- Colour and Material: The colour of a wooden bread bin depends on the type of wood it is made from and the finish it has been given. Bins range from rich dark browns to lighter more yellowy shades depending on the wood and the design and style of the kitchen. Metal bread bins are normally silver due to their stainless steel but are also available in a range of colours.
What to Consider When Buying a Bread Bin
· What material should the bread bin be made from? A wooden bin has a more rustic, traditional feel with some belonging to a valuable, collectable range. In comparison, a metal bin has a more modern material and design.
How big does the bread bin need to be? The size of the bread bin depends on the amount of bread it needs to contain. The average sized bread bin holds up to two full loaves at a time. However, if the bin is for a large household, a bigger one that holds up to four loaves might be more appropriate.
· How often will it be used? If the bread bin will be used and re-stocked frequently, you will need to clean the product regularly to ensure that bacteria is kept to a minimum. A metal bin is more suitable in that circumstance as it is easier to clean, absorbing less moisture in the long run.
· What condition should the bread bin be in? eBay offers a variety of brand new and second-hand bins. Remember that providing the bin is not extremely old and deteriorating, there is no reason not to buy a clean, used second hand bin to store loaves.
· When browsing the Internet for the right bread bin, get a price range in mind. Search through the different ranges and prices of bins offered online and in doing so get an idea of the price you are willing to pay for the right product. Remember that using eBay means using the price range preference on the left hand side of the page.
What colour should the wooden or metal bread bin be? When choosing the right product, make sure that it blends in with the style and colour of the kitchen or food area that is already in place. Wooden bread bins have a style that would match a wooden decor or farmhouse-style room. Metal bread bins are shinier, more modern products, which offer a larger range of colours and would fit nicely into a kitchen that has a bright and modern design. It is important that the metal or wooden bread bin is an appropriate match for its new home.
Buying Wooden or Metal Bread Bins on eBay
The easiest way to buy a bread bin is to search for and purchase it online. The Internet has a large range of metal and wooden bread bins to suit all kinds of kitchens and households.
The next step is to narrow this search down to the correct product. The quickest way to do this is eBay, with customers making the most of the product preference options available on the left hand side of the page.
When preferences are chosen, the search is instantly filtered to only the most suitable products for the customer. For example, if the item must be a bread bin costing between fifteen and twenty pounds, this can be indicated using the price bar on the left hand side of the page.
Use the preference options to find the most suitable wooden or metal bread bin.
| | |
| --- | --- |
| Preference Filter | Explanation |
| Condition of The Bread Bin | Choose for example whether the bread bin should be new or used. Remember that providing the bin is not damaged and is cleaned, there is no reason not to buy a second hand one. |
| Category of The Bread Bin | Bread bins are in the category of Home and Garden and the subcategory of Kitchen Fittings. Use the category options to find the right bread bin in minimum time. These categories are also useful for browsing other kitchen fittings available on eBay. |
| Price Range | Move the price range bar on the left hand side of the page to select the desired price range. This will filter the search results to ensure that only the products within that price range appear. |
| Sale Format | The bread bin can either be bought immediately as a 'buy it now' item, or as part of a bid or auction sale. If the bread bin is required immediately then a "buy it now" sale might be easiest. If you are willing to negotiate on the price, an auction or bidding sale would be useful. |
| The Item's Location | This is for delivery purposes. Choose the most convenient location. For example 'UK only' or ' European Union'. |
| Type of Delivery | Choose from convenient delivery services such as express delivery or free postage and packaging. The search will then be filtered to only the items with the required delivery service. |
Further information on the product, such as size and measurements, can be found on the individual product page; simply click on the desired item to be directed. The broad range of wooden and metal bread bins that can be found on eBay is advantageous because one is able to browse the brands and prices on offer, using the preference options, to find the most suitable product.
Conclusion
Wooden and metal bread bins are an ideal way to store bread at room temperature neatly and hygienically. Both types of bread bins have their advantages and are suitable for different households according to their style; it is matter of personal preference. When buying a bread bin, consider the amount of bread that it needs to hold. Is it for a large household? If so, perhaps the larger bread bin capable of storing up to four loaves would be suitable.
For research purposes, you could visit other websites to get an idea of brands and prices before using eBay to filter the options down to your preferences. When ready to make the purchase, be sure to check the terms and conditions.