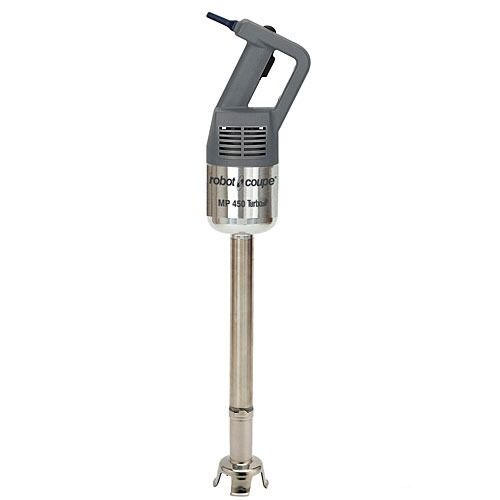 There are two basic types of mixer – hand held mixers and tabletop mixers. Within these two basic categories are various models with many different attachments and functions. From simple whisking to kneading, there is a mixer to suit the task at hand. They are ideal for preparing dough and cake mixture for baking.
About Mixers
An early egg beater was pioneered in 1856 in the US, and the first electric mixer is believed to date from 1885. These early designs were improved upon and resulted in more readily available domestic mixers in the early 20th century. There is some overlap between the terms mixer, blender, and food processor. All these machines are designed to aid in the preparation of food. Strictly speaking mixers have whisk and mixing attachments whereas blenders have sharp blades for cutting and liquefying. Some mixers, however, do have a range of different attachments and may even incorporate functions such as juicing. Food processors are versatile appliances with a range of attachments including whisks, choppers, slicers, and blenders. Tabletop mixers tend to be larger and more powerful than food processors.
Choosing a Mixer
When choosing a mixer, consider the factors listed below.
Types of Mixer
The two basic types of mixer to consider are hand held and tabletop. Which is chosen will depend upon various criteria, such as cost, function, frequency of use and worktop space.
Hand mixers

Hand held mixers are a good option if:

A less powerful mixer is suitable

The mixer is to be used for whisking eggs, gentle mixing, whipping cream, and similar functions

The mixer is used infrequently

Worktop space is limited

A low cost mixer is required

Hand held mixers may come with attachments, for example, for pureeing.

Tabletop mixers

Tabletop mixers are a good option if:

A more powerful mixer is required

The mixer is to be used for various functions, such as whisking eggs, kneading bread, mashing potatoes, preparing fresh pasta, and preparing sausage meat

The mixer is used frequently

Worktop space is available

A higher budget is available

Tabletop mixers may come with various attachments, or they can be purchased separately.
Hand Held Mixers
Factors to consider in a hand held mixer include price, power, speed settings, attachments, ease of use and style.
Power

Hand held mixers range in power from approximately 150W to 400W. Lower power mixers are fine for simple whisking and mixing, but more powerful models will achieve the task in less time. Higher powers are required for kneading. Some models have turbo power features for added boost.

Speed settings

Hand held mixers have around three to seven speed settings. Different speed settings are required for different tasks, for example, folding, mixing, and whisking. Mixers with more speed settings may be more versatile.

Attachments

Most hand held mixers come with dough hooks, flat beaters, and balloon whisks as standard. Dough hooks are used to make dough for bread and pastries. Flat beaters are used for mixing cake mixture, beating eggs and creaming ingredients, as well as making mash and sauces. Balloon whisks are used for whisking eggs and result in a lighter and fluffier end product. Attachments are usually made of stainless steel or chrome, making them durable and easy to clean. Stainless steel is dishwasher safe.

Ease of use

Choose a model that is not too large or heavy to use. Look out for features such as easy release buttons for attachments. Soft grip rubber handles give increased comfort and control.

Style

Hand held mixers are available in a range of different designs, colours, and finishes. The basic design is a body with handle and attachments that clip into the base of the body. Slight variations give a more streamlined and elegant design. The body may be plastic or have a metallic finish. Both are easy to clean. Colours vary from neutral creams, greys, and black to silver and bold colours such as red and blue.

Additional features to look out for include:

Additional features

Retractable power cables, integral cable tidies and/or plug storage for a tidy and uncluttered appearance

A base to stand mixer and attachments on

Recipe booklets

Warranty
Tabletop Mixers
There are similar considerations to bear in mind when purchasing a tabletop mixer as for a hand held mixer. However there are a greater range of tabletop mixers and more variation in the designs.
Power

Tabletop mixers range in power from approximately 300W to 1500W. 300W is fine for mixing and kneading, but more complex functions may require more power. Higher power models will be quicker for the same task.

Speed settings

Tabletop mixers generally have around six to ten speeds. Some models have variable speed control. A pulse button can add short bursts of speed.

Attachments

As well as the standard dough hooks, flat beaters, and balloon whisks, tabletop mixers may come with other attachments such as stirrers, blenders, mincers, strainers, graters, shredders, pasta cutters and cookie cutters. If these do not come with the mixer, it may be possible to purchase them separately. More expensive models may also incorporate food processors, steamers, and juicers.

Mixing action

Models utilise various rotating actions for increased efficiency. Simultaneous planetary rotation by the mixer head and attachments means a faster mixing action and effortless integration of ingredients.

Capacity

The capacity of tabletop mixers varies from around 4.5 litres to around 7 litres. Bowls are often made of stainless steel.

Dimensions

Measure the workspace to ensure there is space to fit the mixer comfortably. Tabletop food mixers tend to be larger than food processors.

Style

The basic design is a mixer with bowl, attachments above and controls on the side. Some have slightly different designs. Styles vary from retro and more traditional styles to smart minimalist designs. Colours range from elegant silver and white to bright tones. There are tabletop mixers to suit any kitchen decor. Full metal construction ensures a robust and durable mixer, and metal mixers often come in high gloss finishes. Plastic models are easy to clean and available in a wide range of colours.

Additional features

Splashguards enable addition of ingredients without any mess

Bowl lids to prevent mess

Dishwasher-safe bowls and attachments for easy cleaning

Safety locks that stop the attachment when it is lifted from the bowl

Recipe booklets

Warranty
Find Mixers on eBay
To find mixers on eBay, either navigate using the tabs to the left of the screen or search using the search field to the top of the screen. To use the tabs to the left, scroll over Home & Garden and click on the Home & Garden link. Scroll over Furniture & Living tab and click on the Cookware, Dining & Bar link. Click on the Small Appliances link followed by the Mixers link. There are options to select hand held mixers or tabletop mixers and the listings can be further refined by brand or other criteria. To search using the search field, type in terms such as "hand held mixer" or "tabletop mixer".
Conclusion
There are two basic types of mixer – hand held and tabletop. Hand held mixers are suitable for gentle mixing and are ideal if the mixer is to be used infrequently or if worktop space is limited. Hand held mixers usually come with whisk, beater and dough hooks. More thorough mixing will require a more powerful tabletop mixer and these often come with various additional attachments and functions. Other factors to consider include external dimensions, internal capacity, speed settings, and additional features. Both hand held mixers and tabletop mixers come in a variety of colours and finishes, with mixers available to suit any kitchen whether traditional, retro or contemporary. Research product descriptions to be sure that the mixer is suitable and shop around to find the best-quality mixers at the lowest prices. Check returns policies and any warranty information. The right mixer makes various culinary tasks simple and is a valuable addition to the kitchen.