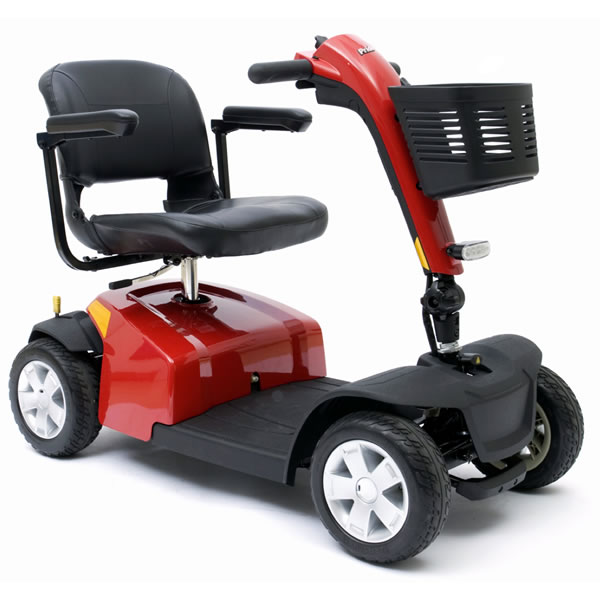 Mobility scooters are very helpful pieces of equipment for those who experience difficulty in walking and getting around. This type of equipment allows physically disabled people to access places that they could not before acquiring their scooters. Mobility scooters are generally easy to operate and comfortable to ride on, and one can find are many for sale on eBay. While it is simple to find mobility scooters on this auction website, the process of choosing the right one can be overwhelming due to the broad selection and diversity of features available in this product category.
Purchasing the right mobility scooter on eBay requires careful consideration, including knowledge of the basic regulations regarding mobility scooter ownership and use in the United Kingdom. An understanding of the different features available on these pieces of equipment is also essential. Buyers should also have basic familiarity with the eBay process. By understanding the product and the eBay buying process, consumers can use the website to acquire mobility scooters that can help them move around with greater ease.
Considerations When Buying a Mobility Scooter
Buying the right mobility scooter on eBay requires careful consideration of the factors that can influence the purchase of this equipment. By taking into account such things as the purpose of the mobility scooter, personal requirements, and storage capability, buyers can begin to develop a firm idea of the scooters that fit their needs.
Planned Use of a Mobility Scooter
Before visiting eBay, mobility scooter buyers should think about how they plan to use their mobility scooters. They should consider the places they intend to take their scooters, and put some thought into whether or not they plan to use the scooters on roads. This can help potential buyers determine if they need a portable mobility scooter or a heavier one that offers other features instead of portability. Factors such as runtime on a battery charge depend on how far a buyer wants to drive his or her scooter. If a buyer intends to use a scooter to move around the neighbourhood, then he or she is more likely to be better served by a heavier model with a comfortable seat and good shock absorption. If a buyer wants to carry a scooter to places by car, then portability is an important factor in the decision.
Personal Requirements
When purchasing mobility scooters, buyers must factor in the personal preferences. A mobility scooter must be able to bear the weight of its operator as well as the accessories the operator is carrying. Also, a buyer with back problems is more likely to be satisfied with a mobility scooter that has a large comfortable seat and offers good shock absorption. A mobility scooter must meet the requirements of its user so that he or she is happy with the purchase in the long term.
Storage
It is important that buyers have the necessary space to store a mobility scooter. Portable scooters are relatively small and therefore do not require much space for storage. Larger scooters do require more space, and buyers should make sure that they can bring them within close enough proximity to power outlets in order to charge the batteries. A garage is an ideal place to store a scooter. An individual without a garage can bring the scooter into the home, but this may require installing a ramp. If this is not feasible, then the buyer can purchase a separate unit for storing the mobility scooter. In such an instance, the buyer should consult an electrician about how to wire the unit for electricity.
Things to Know Before Buying a Mobility Scooter on eBay
According to the U.K.'s Department of Transport, there are three classes of invalid carriage. Class I is comprised of manual wheelchairs, Class II of electric-powered wheelchairs and scooters with a maximum speed of 6.4 km/h, and Class III of electric-powered wheelchairs and scooters with a maximum speed of 12.8 km/h. Class II mobility scooters are designed for walkway-use only, while Class III mobility scooters are capable of operation on roads and highways. Although Class III scooters have higher maximum speeds than Class II scooters do, they are still restricted to the same speed limit of 6.4 km/h on walkways. Individuals looking to buy Class III scooters should be aware that they must register the scooters with the Driver and Vehicle Licensing Agency, though they do not have to pay extra fees or taxes for doing so.
Understanding the Features in a Mobility Scooter
When searching eBay for mobility scooters, it is important to keep in mind the different features that scooters may have. These features suit some purposes better than others, so buyers can find the right scooters for their needs with an understanding of the different options available.
Controls
Mobility scooters feature a lever, called a "wig-wag", by which the operator can put the scooter into drive. Operators can use their thumbs on the wig-wag and their fingers on the control paddles that move the scooter forward or backward. Some large luxury scooters enable operators to control the wig-wag by finger. Most scooters have the forward controls on the right paddle and the backward controls on the left, but it is possible to find mobility scooters with the forward control on the left paddle to accommodate left-handed operators.
Seat
Mobility scooter seats vary depending on the size of the scooter. Smaller scooters have smaller seats with lower backrests and a more limited range of adjustments. Larger scooters generally feature larger seats, some with headrests, and broader adjustment possibilities. The seats on larger scooters may slide forward and backward and up and down, and the users may also be able to adjust the angle of the seat. Smaller seats usually adjust only up and down. All mobility scooter seats should swivel to make it easier for users to get on and off the scooter.
Wheels
Most mobility scooters have either three or four wheels. There are two wheels in the back and one or two wheels in the front. Three-wheeled scooters have a shorter turn radius than four-wheeled scooters do, making the three-wheeled option a bit more manoeuvrable. Four-wheeled scooters usually have greater stability, although some three-wheeled scooters have two smaller wheels attached to the front wheel for greater stability.
Mobility scooters are either front-wheel drive or rear-wheel drive. The former is generally found on smaller scooters, and weight capacity usually does not exceed 115 kg. This is ideal for scooters intended for indoor use. The rear-wheel drive is for scooters to be used indoors and outdoors. These scooters have weight-bearing capacities up to 160 kg. Heavy-duty rear-wheel-drive mobility scooters can carry up to 225 kg.
Tiller
The tiller is the front column on a mobility scooter, and operators steer by turning it with the handles. Most mobility scooters feature an adjustable tiller. The user can change the tiller angle by sliding it into different slots or fixing it into various positions with flexible teeth. The tillers on some mobility scooters do not adjust though, so buyers should try to make sure that the fixed position of these tillers is comfortable for them before purchasing the scooters.
Batteries
Mobility scooters feature multiple 12-volt rechargeable batteries. The larger the batteries are, the longer and further the scooter can travel before it needs recharging. The size of the battery correlates to amp hours, noted as "Ah". Larger mobility scooters have batteries with up to 75Ah and can operate for 20 hours before needing recharge. Portable scooters usually have batteries with 12Ah.
Brakes
Mobility scooter brakes stay engaged until the operator engages the wig-wag and puts the scooter into drive. The brakes then re-engage as soon as the wig-wag is turned off. Mobility scooters also feature a lever that puts the scooters into neutral so that operators can push them if need be. Larger scooters may feature an emergency brake that halts the rear wheels in case the braking system fails. This rarely happens, but the emergency brake provides peace of mind.
Size
The table below describes the three basic size categories for mobility scooters. The size also determines the portability of the scooter.
| Category | Description |
| --- | --- |
| Boot | Boot mobility scooters are so named because they are designed to fit in a car boot. They are portable but feature small seats and small batteries. They are also less absorbent of shock. |
| Mid-Size | Mid-size scooters have limited portability, but they are very manoeuvrable. Seats tend to be a bit bigger but still lack the comfort of larger scooters. Battery sizes are also mid-range. |
| Town and Country | These are the larger scooters, ideal for outdoor use and featuring comfortable and highly adjustable seats. They absorb shock well and can go a long time between battery charges. Manoeuvrability is relatively limited. |
Boot scooters are ideal for buyers who require portability. Mid-size scooters offer a smooth ride, good manoeuvrability, and extended ride time between charges, making them good all-around mobility scooters. Those who want maximum comfort in exchange for manoeuvrability should consider Town and Country scooters.
The eBay Buying Process
Once you have made the proper considerations and familiarised yourself with the important points of mobility scooter ownership and mobility scooter features, you can proceed to eBay to find the mobility scooter that is right for you. In order to shop successfully on eBay, you should understand the eBay buying process, including how to perform a search and how to use eBay Shops.
How to Search eBay for a Mobility Scooter
You can perform a search from any eBay page by entering a basic term, such as "mobility scooter", into the search bar and clicking the search button. If this term is too broad for browsing, then you can use a more targeted term, such as "4-wheel mobility scooter". This should narrow the results to only those scooters that have an important feature that you want.
How to Use eBay Shops
Many sellers of equipment that help people with physical disabilities operate eBay Shops. You can perform a search for a "mobility scooter" from the main eBay Shops page, and the results should include links to sellers' shops. If you find a listing you like, you can click on the link to the seller's shop and see if that seller offers mobility scooters that appeal to you.
Conclusion
Mobility scooters can be of great help to the physically disabled because they enable individuals to move around with greater ease and access places that they previously could not. eBay is a good source from which to buy mobility scooters, but the broad selection there makes it necessary for buyers to know what they are looking for before searching the website.
Buyers must consider how they plan to use their mobility scooters as well as their personal requirements for mobility scooters and the storage capabilities available. Buyers should also be aware of the British regulations regarding mobility scooter use and ownership. Lastly, they should be familiar with the features that they may find on mobility scooters. Once they have taken all of these aspects of mobility scooters into account, buyers can begin to search eBay for the scooters that meet the needs. By being familiar with the eBay buying process, including how to search the site and use eBay Shops, buyers can successfully purchase mobility scooters that should give them greater freedom of movement.