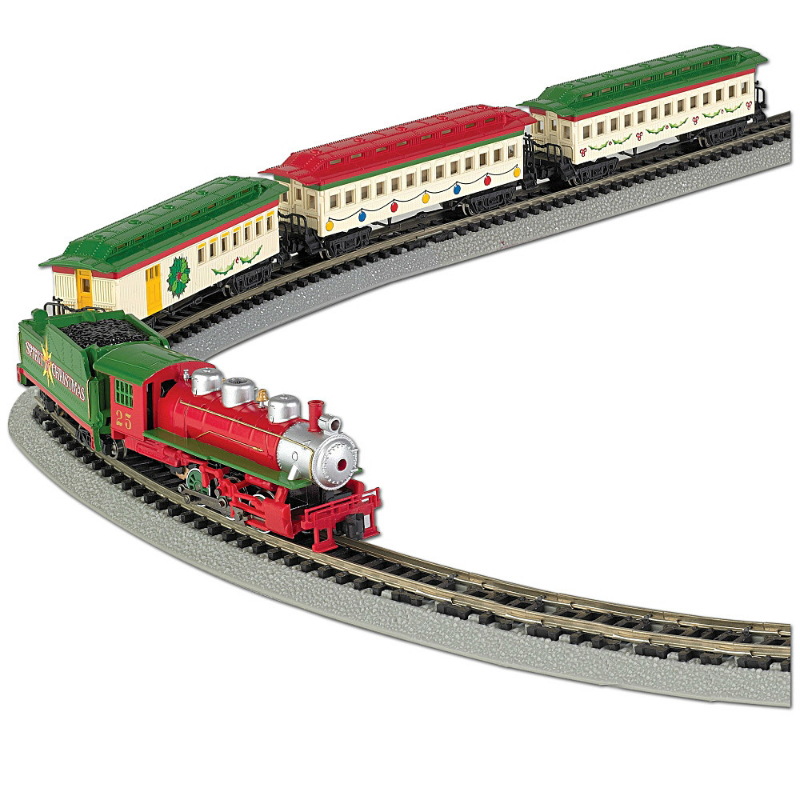 Manufacturers of model stream trains set out to make realistic replicas of famous locomotives.. The first models of this kind appeared in the late 19th century and were operated by steam or a simple wind up mechanism. It is the steam variation that has stayed the course and maintained popularity.
Brands place focus on attention to detail, it is this that has made model steam trains so sought after by hobbyists. Their interactive aspect makes them the perfect hobby activity for both children and adults, with users only being limited by their own imaginations. Model steam trains have a large fan base and eBay has set out to fulfill their needs by providing the latest locomotives at affordable prices.
Model Steam Trains for Children
Throughout time, children have always had a fascination with railways. Introducing them to model steam trains at a young age can further their interest. Children over the age of 6 can use model train kits but starting them off with a wooden variation is advised. From there, they can use their youthful creativity without forcing a parent to overinvest. Using this method will allow parents to gauge the future interest that their child may have in the hobby.
Model Steam Trains for Adults
It is a common misconception that model steam trains are just for kids. Adults can get just as much enjoyment out of model steam trains as their child counterparts.
From an adult's perspective, even though playing and creating scenery is fun it is not all that is achievable with model trains. Like the rest of the model train industry, steam train models are also collectible.
Owning rare train models that have been on limited release allows buyers to not only have fun but also make profit from their hobby.
Given time most model train users will see the hobby as a possible investment opportunity not just a recreational activity.
Model Steam Train Scales
Scale is the measurement system used in model industry. For example, if a model is 1:22.5 it means that it's 22.5 times smaller than its full-size counterpart. When buying model steam trains it is important to pay close attention to scale in order to purchase a model that is suitable for the home environment.
If you have a small space it would be best served to buy model stream trains that are smaller in scale. Utilising loops when laying out track will help model train enthusiasts get more out of a limited space. Buyers may want to set up temporary track variations in order to see what suits a new model steam train best.
Z scale (1:220) – This scale is a good option for those using model steam trains in smaller spaces. Even though these models are considered the smallest they don't lose any detail by being so.
N scale (1:160) – The most popular scale and the second smallest currently available. N scale model steam trains are best suited to hobbyists who run long trains on larger tracks. It also suits those who wish to place focus on scenery.
HO scale (1:87) – Offers the most variety in terms of models. They offer a high level of detail for the cost and are considered good value for money. Track layouts that feature this size of model train require a medium size space to operate in.
S scale (1:64) – Trains of this scale have gained a strong following in narrow-gauge model railroad circles. They are some of the larger model trains available and require sufficient space for use.
N scale (1:48) – Specifically built for use by children and considered robust in nature.
G scale (1:22.5) – G scale trains are the largest model on the market and are built for garden use. They are highly detailed, sturdy and robust enough to stand up to all weather conditions.
Scale is an important factor to consider when buying a model steam train. Placing a large train in small environment will make run time on the track short. It can also cause an issue when the train is too large compared to the scenery or vice versa. eBay has all scale options available for purchase so no matter the set up you'll be sure to find something to suit your needs.
Brands of Steam Train
The model train market has a large and devoted customer base. It is this that means there is room in the industry for a variety of brands, all of which offer something different. The following brands are considered to be the most well respected within the model train community.
Atlas
Lionel
Kato
Intermountain
Proto
Stewart
The above brands are known to be affordable and produce high quality steam train models that stand out for their durability. When looking at a brand's range buyers should remain open-minded. Shoppers should avoid models classed as "toys" or those that are unbranded. Many of the top manufacturers will offer product warranty whilst models that are unbranded do not. Those looking for top brands at affordable prices can find them using eBay's sophisticated keyword search option.
Construction and Scenery
Model stream trains can be bought in both preassembled and kit form.. Constructing a model steam train can be a complicated yet enjoyable process. In order to complete a kit train the user will require:
Engine – When purchasing an engine make sure you buy one that is of a high quality. Steam engines are long lasting when maintained properly but checking reviews before buying is advised.
Train Cars – There are two forms of train cars available, those for a freight train and those for a passenger train. Most come as part of a set but can be purchased individually if required.
Tracks – Tracks that come with a cast plastic roadbed are recommended. They allow model train track sections to connect with one another securely and help maintain a smoother ride. It is advised that nickel silver tracks are used as they provide better longevity.
Scenery – The most creative element of constructing a model steam train set up. Users can conger up any surroundings they so desire, whether that be urban or rural. Trees and shrubbery are usually made out of lichen while ground covers are used to simulate the effect of grass.
There is a huge variety of model train related items available to purchase online. Shoppers with a keen eye will look towards items that not only help a train run but also breath new life into its surroundings. No matter the setting a user has in mind or what their train requires, eBay has something to suit the needs of all model steam train enthusiasts.
How to Buy a Model Steam Train Using eBay
Finding the perfect model steam train couldn't be easier on eBay.
After doing some research and deciding on a particular model go to the toys and games section of the site.
From there, click steam and you'll see all the current live auctions.
If you have a specific model in mind use the keyword search at the top of page in order to narrow down your search results.
eBay Stores
Model steam trains are popular worldwide and thus are in high demand. It is worth browsing through eBay stores and taking a look at what they have on offer. If you're purchasing model steam trains regularly it'll be worth saving your search presences, this will allow eBay to alert you when new items become available.
Delivery
Be careful when reading item listings and take delivery (and sometimes custom) charges into consideration. If you have any concerns question the seller and they'll be sure to get back to you as soon as they can. Try and get to know the seller's reputation so you can feel secure in a transaction. Most sellers also have a returns policy so it is worth checking such information prior to purchase.
Making a Purchase
Buying a model stream train is a simple and efficient process. When on an item listing you will need to submit a bid,, make a best offer or make an immediate purchase by clicking the buy it now option. Complete the checkout process via PayPal,, doing so will allow buyers to take advantage of the buyer protection program. This will ensure that the buyer is covered when completing a transaction. It's important to understand what eBay offers and how PayPal goes about protecting buyers.
Conclusion
In the world of models many children and adults are happy to see that model steam trains continue to remain relevant. New models are released regularly as brands continue to enthrall their loyal customers.
Model steam trains are a great hobby for all but before making a purchase make sure you know what you're buying.
There are many types of model steam trains available, all of which offer different features and are suitable for different environments.
Model steam trains are known for being highly detailed and are a great way to stay entertained and invest time.
Whether your passion is compound locomotives, fireless locomotives, tank locomotives or duplex locomotives, you'll be sure to find something of interest on eBay. Using this guide will help buyers find the perfect steam train model to add to their collection.