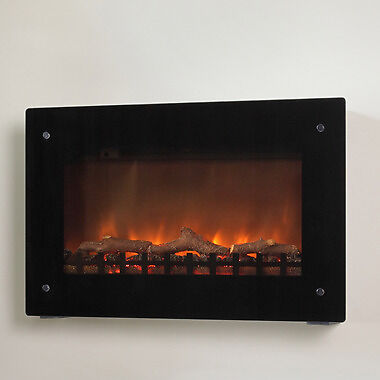 Fireplaces and their accessories are always a lovely addition to any room. Available with three possible heat sources, choosing the most suitable source for a home will be dependent on the availability of an air or chimney flue.
| | |
| --- | --- |
| Solid fuel | Solid fuel refers to wood, coal or – in certain circumstances – peat specific fireplaces. Such fireplaces need either a flue, or vent, specific to the heat source as gaseous by-products will be caused by use, and can be very dangerous if incorrectly or inefficiently extracted from a room. |
| Gas fuelled | Gas fuelled fireplaces use the same mains gas system that may already be in place for a cooker or boiler. Again, suitable ventilation is paramount as the emissions caused by use could be lethal if inefficiently prepared for. |
| Electrically powered | Arguably the easiest fireplace to install – needing only a nearby plug socket – an electric fireplace needs no flue or specialist ventilation. |
Just like a chimney dependant fireplace, an electric fireplace can be purchased with a variety of surrounds. Although the main body of a traditional electric fireplace tended to be bulky, a modern fireplace does not need the 'tubes' that previously provided heat. Instead, a modern electric fireplace can be almost visually indistinguishable from a gas version, particularly if a faux fuel source (such as coal or stones) is part of the visual design.
Therefore, the most important decision will be aesthetic, and mantles and surrounds are now available in a variety of materials:
| | |
| --- | --- |
| Marble surround | Marble is limestone that has been heated and put under pressure. The large crystals that form after this event are what are recognised as marble. The colour of marble is dictated by whatever is mixed into the limestone before the process is undertaken. For example, pure limestone is white, but hematite or clay will redden the material, and there are many other variants available. |
| Brass surround | Brass is an alloy of copper and zinc. Colour depends upon the percentage ratio: the colour lightens the more zinc is present, rising to a very pale yellow in some instances. |
| | Granite is a coarsely textured rock. Ranging from pink to grey in colour, it is very tough and is therefore widely used in the construction industry, although it is gaining popularity as a decorative tool. |
| Steel surround | Steel, when used decoratively, is either highly polished or 'brushed'. Brushed steel is where the surface is intentionally scratched to provide a more contemporary look. |
A modern electric fireplace can be fitted in one of three ways:
Floor Standing
Sometimes available with 'feet' for stability, a modern floor standing electric fireplace can be placed anywhere, at any time, and can be moved if a room is rearranged. The only limiting factor is the distance from a power socket and the length of the lead, but a quick visit from an electrician can rectify any positional issues.
Wall Mounted
A wall mounted fireplace is as easy to fit as a shelf or television. By using the brackets provided, and the recommended fittings, a modern wall mounted electric fireplace can be a very attractive focal point for a room, as well as providing heat in colder weather.
Internally Fitted
This refers to an occasion either when there is an existing fireplace inset that is no longer suitable for a natural fuel source or an electrical heat source is preferred.
The old fireplace inset doesn't necessarily have to be closed off if the new electric fireplace will fit inside, but permanently closing the chimney damper will stop draughts and heat loss, and filling in the surround to ensure a snug fit may be more aesthetically pleasing. In such circumstances a certain amount of DIY may therefore be necessary.
Block off the damper.

Located inside the chimney flue, the damper is a door that allows control over the airflow from the fireplace. Make sure that it is firmly closed, and then block the base with a plywood board.

Close off the old fireplace.

By building a frame inside the old fireplace, it will then be possible to cut a board to fit snugly – yet flush – with the edge of the hole.

Any gaps can then be stopped with powdered filler and, if wanted, plastered over to provide a neat finish.

Alternatively, depending on the style of the fireplace, a frame could be built to fit the new unit and, again, all gaps stopped with filler and then plastered to provide a clean surface.

Install the new fireplace.

Using the mounting brackets provided, but paying heed to the weight requirements and any specialist fittings needed for the material used to fill in the old fireplace, hang or secure the electric fireplace to the wall.

Secure the power leads

To prevent accident or injury, ensure that any power cable is fixed securely to either the wall or the skirting board, all the way from the fireplace to the socket.
So that any fireplace may be well maintained, cleaning the surround according to the material it is made of is advisable.
Cleaning a Marble Fire Surround
Marble is a relatively soft stone that will be damaged or dulled by vinegar or lemon-based cleaners, so always use a simple detergent and warm water solution. Also tending towards water stains, do not allow to air dry but use a soft cloth to wipe off any excess moisture.
Cleaning a Brass Fire Surround
Use a clean soft cloth and a brass cleaner to buff up a brass surround. Alternatively, ketchup, Worcestershire sauce or toothpaste can be used to rid brass of tarnishing.
| | |
| --- | --- |
| Ketchup | Wipe a film of ketchup onto the brass, wait until it dries, then wipe it off with tepid water. Use a soft-bristled brush for more ingrained stains, and make sure that there is no sauce residue left before polishing the surface. |
| Worcestershire sauce | Using a damp cloth, rub the sauce into the brass. When fully coated, wipe clean with another damp cloth then polish to a shine with a dry cloth. |
| Toothpaste | Using a soft toothbrush, use the toothpaste as with any other crème cleaner, always brushing gently to avoid damage to the surfaces. |
Cleaning a Granite Fire Surround
With tepid water and a mild mixture of detergent, use a soft sponge to wash the granite surface. Make sure all of the soap has been rinsed off before buffing the granite with a soft, clean rag.
Cleaning a Steel Fire Surround
A very resilient material, cleaning steel takes only a cloth and undiluted vinegar, polishing to a shine with a dry cloth afterwards.
How to Buy a Modern Electric Fireplace on eBay
To buy a modern fireplace, first go to the eBay homepage, opening the All Categories tab, then scroll down the page until you see Home, Furniture & DIY, click the 'More' tab and then select Fireplaces & Accessories. Further filters will appear in the left hand column, so look for Modern and click to see all available item listings. Alternatively, use the bar at the top of any eBay page and key in "modern electric fireplace".
Conclusion
Available with three possible fuel sources, selecting the best source for a room will be dependent on the availability of a flue. An electric fireplace can be either floor-standing, wall-mounted or fitted internally to an existing alcove or indent. A fireplace surround should be cleaned according to its component materials. For example, marble should never be cleaned with lemon or vinegar, but steel only requires undiluted vinegar to clear it of stains and spots.