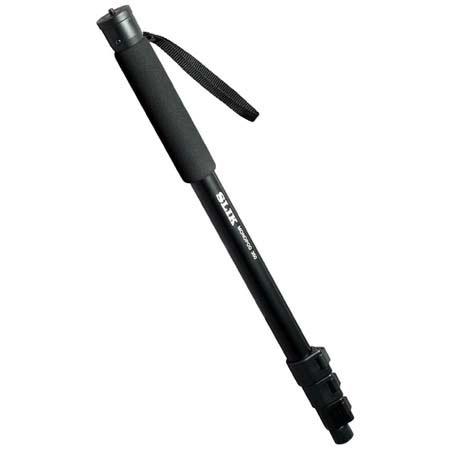 Monopods are a cost effective and popular piece of equipment used by photographers around the world to help create memorable photographs. Monopods are similar in style to tripods, and are used for steadying the camera, but feature just a single supporting leg as opposed to three. Photographers find both advantages and disadvantages to monopods over tripods, such as increased portability but perhaps more challenging due to the single leg. Whether a monopod is the preferred equipment or not, photographers looking for a high quality, usable steadying device should consider buying a monopod from eBay.
Using eBay
eBay lists a wide range of both new and used equipment which can be very beneficial, providing advantages over traditional brick and mortar stores. For example, when looking to buy new products, there could be a greater range of brands, types, and features than is available at the local town centre camera store, and when looking to purchase used monopods, photographers could see big savings. Due to the materials commonly used to manufacture monopods, they are usually long lasting and durable, meaning that even after previous use they are often is very good, almost new condition. Buying used monopods could leave some budget leftover for additional monopod heads or other photography accessories, also available through eBay. In fact, buying multiple items from the same buyer could provide big savings on postage and packaging.
Choosing a Monopod on eBay
There is really no one size fits all in terms of monopods, with different features and attributes appealing to some photographers and some appealing to others. Photographers have a wide choice of head types, materials, and leg sections that affect the height, portability, and versatility of the equipment, but when purchasing from eBay specifically, there is also the online buying process to consider.
Monopod Head Types
A separate head is not a necessity for a monopod, and they are able to be used without with the camera mounted directly onto the top of the equipment, but many photographers argue that the monopod cannot be used to its full potential without either a ball or pan-tilt head. Heads that include a quick-release feature are more costly but are a good choice for those who may need to take a hand-held photograph very quickly. If a head is not mentioned in the item listing, use eBay's Ask a Question feature to check with the seller.
| | |
| --- | --- |
| Ball Head | A ball head gives perhaps the best all round movement of the camera without needing to physically move the monopod. A small professional ball head is often the better choice as it needs less adjustment than an amateur ball head. The ball head is generally the most popular, and most costly choice. |
| Pan-Tilt Head | The pan-tilt head is a type of ball head that is much more fussy. It performs the same basic functions. That is, to tilt upwards and forwards, but much more adjustment is needed than with a true ball head. A simple tilt head can turn the camera 90 degrees for excellent panning. |
| Headless | A monopod can be used without a detachable head, but to get the most from the monopod it's generally not recommended. Mobility of the camera is significantly reduced when attached directly to the monopod, and it can cause a decrease in stability that could greatly affect the quality of the photographs. |
Monopod Leg Sections
Although a monopod just has one supporting leg rather than the three featured on a tripod, they do come with differing numbers of leg sections, typically ranging from two to five. These sections extend separately, meaning the more sections there are, the greater degree of versatility with regard to the height of the equipment. If planning to photograph in cramped conditions, such as busy sporting events, a more compact monopod is essential.
| | |
| --- | --- |
| Two | Two leg sections is as basic as it gets for a monopod. In some cases, it can be used without extension as the leg sections are relatively long as they are. This is often the lightest option, making it very transportable and good for walkers. |
| Three | Three section monopods give a little more versatility than two leg sections but are still a good option in terms of low cost. The three section monopod is generally able to be extended to lower and higher heights than the more basic option. |
| Four | Four leg sections increases versatility and the degree the monopod can be compacted, making it perhaps more portable than the fewer section models, but also more weighty. They are a good choice for those who want greater options without the price tag. |
| Five | Also a good choice for walkers, five leg sections create the most compact type of monopod available. It often needs extending to use properly, but provides more versatility, able to be used quite low to the ground due to shorter sections. |
The eBay Buying Process
Due to the specific nature of eBay, the buying process is somewhat different to the process in a traditional shop. Before making the purchase, there are a number of considerations to take into account to ensure everything possible has been done to create a successful and enjoyable online shopping experience.
| | |
| --- | --- |
| Seller Feedback | Sellers on eBay are rated by buyers based on the success of previous transactions. It is always best to buy from a reputable seller, particularly one who has experience selling photography equipment especially. eBay allows prospective buyers to read feedback from prior customers. |
| Seller Location | Due to the size and weight of a monopod, location should be considered. If buying from outside of the UK, postage could be quite costly. If buying from a UK-based seller, consider asking if a local collection is available. |
| Seller Contact | In some cases, an item listing may not contain all of the necessary information needed to make a purchasing decision. All listings feature an Ask a Question feature which allows potential buyers to contact the seller directly. |
| Postage Information | If the monopod is needed in a hurry, or by a particular date, be sure to check the postage information on the item. Some sellers may only offer Royal Mail deliveries which could take some time, while others could offer faster dedicated courier services for an additional fee. |
| Payment Methods | Before confirming a purchase, it is important to ensure that the seller accepts payment by an acceptable means. For example, if the seller only accepts Paypal payments, the buyer should make sure they have a valid Paypal account. |
Finding a Monopod on eBay
eBay is one of the first places photographers should consider when searching for a monopod, regardless of whether they are looking for a new or used product, as eBay has a wide range of equipment in a variety of conditions. Monopods are listed alongside tripods in eBay's Electronics section. Choose the Cameras & Photography category, followed by Tripods & Supports to see supporting accessories rather than cameras themselves. Be sure to use the left hand menu to narrow down the results to Tripods & Monopods, and finally Monopod. So many listings of relevant products may seem overwhelming, but don't forget that these results can be filtered based on personal preference and taste, so photographers can choose to see a list of only Sony monopods, or items located in the UK only.
Conclusion
Monopods are widely considered to be an essential part of any professional or amateur photography kit, and are a suitable alternative to tripods for those who prefer equipment with greater portability. This is often the case for 'on location' photographers, or those who like to take their cameras out on walks, hikes, and cycling trips. All types of monopod, ranging from budget plastic versions and basic two leg monopods to more costly aluminium models and five leg versions can be purchased on eBay in either new or used condition. The advantage of buying a monopod through eBay is the ease at which a huge range of models can be browsed, and the discounts that are available on used products. Monopods especially lend themselves to second hand use as they are usually hard wearing and long lasting, especially when made by a reputable and well known camera brand.