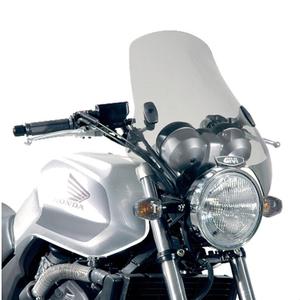 Motorcycles have several parts that are necessary for operation. Many of these parts need to be replaced as a part of routine maintenance while others are replaced to customise the appearance of the motorcycle. The motorcycle handlebar is one of these parts. Whether the current handlebar is worn out or the motorcycle owner just wants to achieve a new look, the handlebar likely needs to be replaced at some point or another. Motorcycle handlebars are available in a variety of styles. Because handlebars affect comfort and how motorcycles handles on the road, it is important for an owner to consider his or her options carefully before committing to a purchase. Shoppers need to consider the various styles available, as well as sizes, their budgets, and where the handlebars meet the needs of individual riders. Searching for and comparing motorcycle handlebars is easy when shopping on eBay. Additionally, shoppers can find great deals on just about any type of motorcycle handlebar.
Search for Motorcycle Handlebars
A shopper who just wants to see what is available on eBay can perform a basic search using the keywords like 'motorcycle handlebars'. The results the local search engine returns are for listings that contain those keywords. There are likely thousands of matching listings, so more specific descriptors can help with focusing the search. Additionally, the advanced search feature allow a shopper to be more specific and hone his or her search by choosing which words to include and exclude from the search. For example, someone may search for the keywords 'motorcycle handlebars' and then exclude the keyword 'honda' to leave out any listings associated with that brand. Once these initial search results are returned, a shopper can further refine the search results based on certain criteria.
Choose the Style of Motorcycle Handlebar
One of the first factors to consider when choosing motorcycle handlebars is the style. A number of different handlebar styles are available, and each one has its own benefits and drawbacks. The different types of handlebars all serve the same function but have different configurations and look different from one another. It is up to the shopper to decide which style best meets his needs. The main types of handlebars are described in the table below.
| Type | Description |
| --- | --- |
| Cruiser | Long and angle back toward the rider; rider is able to sit in an upright position and grasp the handlebars comfortably |
| Ape Hangers | Long handlebars that extend upward; rider must extend his arms up to reach the handles; commonly found on Harley-Davidson motorcycles |
| Drag | Straight handlebars that sit perpendicular to the body of the bike; rider must lean forward to reach the handles |
| Clip-On | Handlebars that clip onto either side of the motorcycle; commonly found on racing motorcycles; allow for better control |
When choosing handlebars, it is important to take the configuration of the handlebars into consideration. While ape hanger handlebars might look interesting, these handlebars might not be comfortable for long motorcycle rides. Likewise, drag handlebars may not be comfortable for riders who do not want to lean forward on their bikes.
Consider the Other Factors Related to Motorcycle Handlebars
Shoppers must take several other factors into consideration when shopping for motorcycle handlebars for their bikes. While choosing the style of handlebar is important, there are also several factors that must be weighed up when making a purchasing decision. Other factors include compatibility, style or appearance options, condition, and budget.
Compatibility
Once a shopper has chosen a style of handlebars that meets his needs and offers the comfort he is looking for, the shopper needs to ensure that the handlebars are compatible with his type of motorcycle. Not all types of handlebars fit all motorcycles. For example, a clip-on handlebar must have the proper connections to attach to a motorcycle securely. Additionally, handlebars come in several sizes. It is important for shoppers to determine the correct measurements for their motorcycles in order to ensure that the handlebars they purchase fit their motorcycles correctly.
Style Options
When installing replacement or aftermarket handlebars on a motorcycle, these handlebars do not have to match the handlebars that were previously on the bike. In addition to the styles mentioned in the section above, shoppers also have a variety of colours to choose from. Many cruiser motorcycles have shiny chrome handlebars, but shoppers can choose from any number of colours, including black, orange, blue, or even custom colours.
Condition
When shopping for handlebars on eBay, it is important for a shoppers to evaluate the condition of the handlebars listed for sale before committing to a purchase. Many items for sale on eBay are previously used, which means that they may be damaged or show signs of wear and tear. However, shoppers can also sort the listings to only show those that are brand new. The price of the motorcycle handlebar should reflect its condition.
Budget
A shopper needs to determine his budget before looking for motorcycle handlebars on eBay. As with any replacement or custom parts for a motorcycle, the prices for handlebars can vary widely. When shopping on eBay, a person can specify a minimum and a maximum price limit. This helps narrow the listings and weed out those those listings that a buyer may consider too expensive. Likewise, setting a minimum price range helps to reduce the number of irrelevant listings that appear on the results page, like listings for non-operational handlebars sold for parts.
Select Motorcycle Handlebar Accessories
When purchasing a handlebar for a motorcycle, it does not often come with all of the necessary accessories to make it comfortable for use. Shoppers should take the time to explore the different options available for accessorising the new handlebar. These items include grips, storage accessories, and cup holders.
Handlebar Grips
The handlebar grips are a necessary component. These are the plastic or rubber pieces on the ends of the handlebar where the rider places his hands. They are not always included with a new set of handlebars. However, grips do not always need to be replaced. A rider can simply place his existing grips on the replacement handlebars. On the other hand, a new set of grips often complements a new set of handlebars nicely. Shoppers can choose from a variety of colours and textures.
Storage Accessories
A number of storage accessories are also available. Small bags can be purchased to store items such as keys, mobile phones, wallets, or other little items that could easily be misplaced or dropped. Additionally, clips to hold a GPS or a mobile phone are also available. Having storage in the front of the motorbike rather than on the sides or the back of the motorcycle allows riders easy access to everything they need on a trip.
Cup Holders
For long motorcycle trips, it is nice to have a cool soft drink handy. While it is not safe to drink a beverage while travelling at full speed, cup holders makes it easier to grab a quick sip while stopped at a traffic light. Cup holders come in all shapes and sizes, and they can attach to either the right side of the handlebar or the left, depending on the rider's preference.
Compare Motorcycle Handlebars
When the shopper has narrowed down the listings for motorcycle handlebars to a manageable number, it is time for the shopper to begin comparing each individual listing and make his choice. This is done by reading item descriptions and checking out postage and packaging options. Even if all of the listings are for similar items, product details and postage options can sway the buyer one way or the other.
Item Descriptions
Before purchasing anything on eBay, it is important for the shopper to read the item description carefully. This is the area where the seller includes the full description of the handlebar, including its specifications, condition, and features. Additionally, shoppers can view images of the items by opening the listings and reviewing the complete item descriptions. If there are any issues with the handlebar, then this is where the seller make that information known. Shoppers should never purchase motorcycle handlebars based on the images alone.
Postage and Packaging
Items listed on eBay are available from all over the UK. Thus, postage and packaging is an important consideration, especially in regards to price and budget. Because of the weight and bulk of a motorcycle handlebar, the prices for postage can prove to be quite high. Some sellers offer free postage and packaging. Some offer express delivery for a higher price. Additionally, shoppers can enter their postcodes and search for motorcycle handlebars for sale close to where they live. If the seller agrees, the buyer can often pick up the handlebar in person after purchase.
Conclusion
Many people dream of owning a motorcycle. Other people rely on a motorcycle to meet their day-to-day transportation needs. No matter what the motorcycle is used for, the handlebars are an important component. Whether the handlebars have become damaged or the handlebars are just not comfortable for the rider, motorcycle owners may find themselves in need of replacement handlebars. Fortunately, there are a number of different styles of motorcycle handlebars to choose from. Motorcycle owners can ride in style with a new set of ape hanger handlebars or show off the bike's speed and handling with a compact set of bar handlebars. No matter what kind of handlebars a shopper is looking for, a wide selection can be found on eBay. With features that make it easy to search for and compare selections, shoppers can save time and find the best deals by shopping for new motorcycle handlebars on eBay.