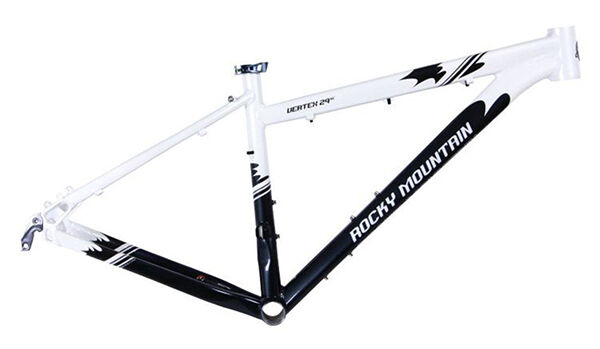 There are a few things you need to think about before making your choice. Mountain bike frames are classified under many different headings. Material choices are steel, aluminium, carbon fibre or titanium. Then there are classifications by type, including downhill, racing, ''hardtail'' or full suspension. When you eventually purchase your frame, you need to make absolutely sure that it fits your purposes.
Frame Size
A mountain bike frame is considerably smaller than the average road bike frame . A general rule is that your mountain bike frame should be approximately three inches shorter than your road bike. Having the correct size of frame makes for:
* a good position on the bike
* a more comfortable ride.
Frame sizes can be specified in either inches or centimetres. If the frame size is in inches, then this is usually the measurement from the centre of the bottom bracket to the top of the seat tube. Continental frame sizes are given in centimetres and are usually measured from the centre of the bottom bracket to a point in line with the centre of the top tube.
However, to complicate matters, some frames are also measured in centimetres but from centre to top. A further complication is that a lot of frames now have sloping top tubes. The measurements of these frames are usually based on a virtual horizontal top tube rather than the actual sloping top tube. It is always worth checking how the frame is measured before buying or ordering. If you are in any doubt, double check the measurement with the seller on eBay.
The top tube length is always centre to centre - from the centre of the seat tube to the centre of the head tube - except for those frames with sloping top tubes as noted above. The right size of frame is obviously very important since your comfort and riding ability depend on it. Small adjustments are possible, for example, by changing the length of the stem and the height and/or angle of the seat post.
Frame Materials
As mentioned earlier, mountain bike frames are principally manufactured in four different materials, all of which have individual characteristics and price points.
Steel
This used to be the most common frame material but it''s increasingly being replaced by alloy. If you''re choosing steel, look for a frame that''s made from a steel alloy such as Chrome Molybdenum (CroMo) or Manganese Molybdeneum (MangMoly). Most of the frames you''re having a look at will say which company manufactured the frame tubes, as opposed to who made the frame. Names to consider include Reynolds, Columbus, Dedeccai, Vitus, Oria and Tange.
Most entry-level mountain bike frames are made of steel, simply because of the material''s strength, durability and relatively low price. The disadvantages of steel are that it is comparatively heavy. Steel also rusts. It has the advantage of being sturdy and responsive, forgiving on rough roads and capable of fairly easy repair by a frame builder in the event of an accident.
Overall, steel probably does represent the best value. Additionally, some of the latest top-end steel frames (for road bikes) are nearly as light as aluminium.
Aluminium
The more advanced the material, the higher the price. After steel, aluminium is the next most expensive. It''s a light, rust-proof and relatively strong material, but not immune to breakage over time. Aluminium frames are now the most common. They can be lighter than steel and can be made stiffer than steel through the use of larger diameter frame tubes.
These increase the fatigue life compared to narrow aluminium tubes but this can result in a harsh ride on rough roads or tracks. Equally, the large diameter frame tubes require specialist knowledge to repair them. Most of the better quality aluminium frames now include carbon fibre front forks and some include a carbon seat and/or chain stays.
The rough nature of extreme riding constantly subjects these frames to high stress levels which conventional aluminium frames are not always able to withstand over time
Carbon Fibre
At the next price level are carbon fibre frames. These are similar to aluminium in being light, rust-proof and very strong, but are also prone to breaking. When they do break it tends to be a sudden event, usually at the worst possible time. These types of frame can be made either from tubes or moulded as a monocoque.
They can be very light but are also expensive, tending to be reserved for the most expensive racing bikes.
Titanium
Top-of-the-range mountain bike frames are made from titanium, which is super light and incredibly strong. In contrast to aluminium and carbon fibre, both of which can fail over time, a titanium frame on a mountain bike is a good choice for heavier riders because of its ability to handle the additional weight without becoming fatigued. It has a natural spring that makes it more forgiving than aluminium. Titanium frames tend to be the province of top- end racing bikes. There's always a trade-off, however, and the downside is that titanium is very expensive.
Because of its cost, titanium frames are typically beyond the reach of all but the most serious and competitive cyclists.
Suspension
You may need to think about suspension as you prepare to buy your frame. The front suspension is found in the fork of a mountain bike and the rear equivalent is part of the spec on all full suspension bikes.. It''s incorporated into the frame and gives additional off-road comfort. Choosing the right kind of suspension is important and you need to factor in:
* The amount of travel in your suspension - this could be in the range of 1 to 4 inches
* The design of the rear suspension system - each design has different riding characteristics
* Ability to make adjustments - good to have adjustable suspension systems so that you can adapt to different types of terrain.
How to Buy a Mountain Bike Frame on eBay
Now you've worked out which type of mountain bike frame you want to buy, find it quickly on eBay. While you shop for your frame, you might also want to look up other cycling related merchandise such as tools, lubricants, lights, clothing and accessories.
* Go to www.ebay.co.uk<
* Click ''Sports & Leisure '' from the main menu
* Click ''Sporting Goods<''
* Click '' Bike Parts ''
* Go to sun category '' Material ''
* Click '' Type of Bike '' from sub category
At any point you can use keyword search (top right hand panel) if you prefer. Once you get to the appropriate section of the website, you then need to decide exactly what and how you want to buy.
* Do you have a particular brand in mind?
* Are you buying new or used?
* Alternatively, do you want to set a price?
* Do you want to buy now?
* Alternatively, do you want to enter a time-limited bidding process?
All these questions take the form of clickable boxes on the website, and it's a simple matter to progress the purchase from this point, particularly if you've prepared the answers in advance.
Buy Now or Auction Format
If you're a newcomer to eBay,, you may feel safer with the ''buy-now'' format.
When you become more practised, the auction format is potentially more rewarding, particularly if you''re buying in larger volumes, for example a complete set of cycling accessories together with the bike frame.
Product Presentation
The way products are presented on the website will give you an indication of the seller''s professionalism. Uncluttered pictures are the best way of demonstrating product detail and quality although you should be aware that this can increase the potential sale price by up to 15%. Also look for honesty, particularly in the description of used goods. Information should include brand, age and condition and so on. The disclosure of imperfections will prevent any future misunderstandings. Reasons for the sale can also be quite informative and sometimes reassuring.
Sellers' Trading Record
You will find ''top rated sellers'' (regular eBay sellers who''ve established an excellent trading record) indicated against some sale items and they obviously represent the highest possible level of security for buyers.
Payment Information
Make sure you understand the total price of the item, and the payment options.
Check that postage costs are included and search for any possible conditions of return. An online payment system such as PayPal effectively gives two-way protection and means that payment can be made easily.
Next Steps
If you can't find exactly what you want, try browsing eBay Stores or tell the eBay Community what you''re looking for by creating a post on Want It Now,, or save a search on My eBay and eBay will email you when a matching item becomes available.
Conclusion
Riding off road can be a thrilling experience, whether you're downhill racing or exploring a trail, but you have to be confident in your equipment. With the information laid out in this guide you'll be able to make the right choices and pick the bike that suits what you need. Cycling brings many benefits, including improved health and being good for the environment, so it is worth taking the time to find the perfect option. eBay has a wide range of options, and the search functions and filter options make is easy to narrow down the listings to exactly what you're looking for.