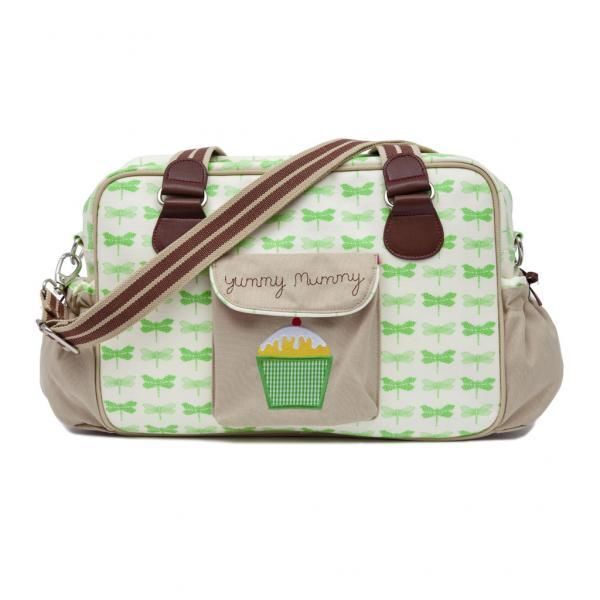 Modern life requires that every now and then, parents have to go out and about with their babies, and conditions may not always be ideal for changing the baby. For parents with twins, in particular, travel may seem a daunting prospect. However, baby products can be taken along on a walk or even on a trip. Necessary items can be packed into special changing bags that are designed for comfort and that come equipped with many compartments, thus making it an easy matter to access all the items quickly.
Nappy changing bags make it possible to carry essential baby items everywhere. They are available for purchase in most high street shops that offer nursery and baby equipment, but they can also be bought from online auction sites, such as eBay. Nappy changing bags come in many different shapes and can have an array of features. When buying a nappy changing bag for twins, the size of the bag is probably the most important factor to consider, although other common features should also be considered in order to make an informed decision.
Nappy Changing Bag for Twins Features
The best nappy changing bags are comfortable to carry and they come with plenty of compartments that fit all the baby products the twins might need. Although normal bags may also provide enough space for baby things, designated bags take into account the special needs of parents with twins and make it easy to find things.
Style
The two common styles for nappy changing bags are backpacks and messenger bags that can be carried on the shoulder. The backpack style is very convenient, especially when hiking in nature, but urban parents might prefer a more sophisticated shoulder bag style. In any case, the bag should leave the hands free. Often, the bags are convertible, meaning that a backpack can be transformed into a shoulder bag or vice versa. A buggy clip allows the bag to be attached to the stroller and takes the weight off the parent's shoulders. When it comes to style, it is worth considering a bag that also looks great besides being practical, because it is then more fun to wear and can be coordinated to match the parents' outfits.
Size
Although it is tempting to buy a large bag when there are twins in the family, the size should be considered carefully before making the purchase. A large bag may be too bulky, and thus may not be the best option for a long day out, especially when a lot of walking is involved. Having twins means having more baby products, but not all things have be doubled. For example, one changing mat will do for both babies, as it is impossible to change both babies at once when alone anyway. Therefore, extra space may not be necessary. However, the twins should have their own baby bottles and spare clothes. In fact, size is not the first thing that matters when it comes to changing bags. The way the space inside the bag is divided is more important, because a well-organised bag enables the parent to find necessary items quickly and easily.
Compartments
Compartments help to organise the space so that necessities can be located quickly. Designated changing bags for twins typically come with two bottle pockets. These are often insulated in order to keep the milk warm or cool, depending on the situation. Mesh pockets that allow their contents to be viewed are also desirable, because they make it easier to spot the items that are needed. Some changing bags come with special areas for dirty nappies or wet wipes. All the pockets should be easy to open, and it is worth thinking about storage areas for the parents to put their own items, such as wallets, home keys, and mobile phones.
Comfort
For increased comfort, the nappy changing bag for twins should come with enough padding on the shoulder straps and on the back area if it is a backpack style bag. The zippers and other fasteners on the changing bag should be easy to operate, so that necessary items can be accessed quickly.
Material
The nappy changing bag can get dirty easily because of the nature of the things carried inside it. Therefore, it is best to opt for a bag that has a washable lining. Some bags can be wiped clean with a moist cloth. The material of the bag should be durable and hard-wearing, so that it can last into toddler years. Some nappy changing bags are water resistant and can keep their contents dry in case of a little rain.
Contents of a Nappy Changing Bag for Twins
Parents are in the best position to decide what the exact contents the nappy changing bag should be, but there are some general guidelines that may be helpful, especially for first-time parents. Accessories needed to change the twins include a changing mat, wet wipes or cotton wool, nappy sacks, and, of course, nappies.
Changing Mat
The changing mat is the surface upon which the changing takes place. For reasons of hygiene, it is good to have one's own mat when out and about. Moreover, the twins may feel better on a familiar mat and undergo the changing process more readily. The sides of the changing mat can be slightly raised in order to prevent the baby from escaping from it. Many nappy changing bags come equipped with changing mats designed for travel use, and these can be cleaned quickly.
Wipes
Wipes are used to clean the baby's bottom during the changing process. At home, cotton wool balls or reusable cloth wipes and warm water are fine, but water may not be readily available when out in the town. Many companies produce wet wipes specially for babies, and these have a mild cleansing formula on their surface. However, some people believe that these contribute to nappy rash, redness, and inflammation on areas of the skin that come in contact with nappies.
Nappies
Nappies are made of towelling or other materials that absorb and collect the faeces and urine the babies secrete. Nappies can be either reusable or disposable, with each type having its own advantages and disadvantages.
Reusable nappies are made of cloth and they must be washed regularly. Nappy laundering services are available for parents who do not want to wash them at home. In the long run, cloth nappies are more inexpensive and eco-friendly than their disposable counterparts, although washing them also has an impact on the environment, especially if non-biodegradable detergents or bleach are used. Reusable cloth nappies are chemical-free and feel soft on the baby's bottom. They come in different designs and sometimes come with extra accessories, such as plastic nappy grips to keep them in place. When a parent is out and about, reusable nappies are apt to be more time-consuming to change, but many parents master this art quickly.
Disposable nappies are easy to use, but they contribute to landfill waste as the materials used inside them do not decompose. For convenience, many disposable nappies come with wetness indicators that let the parents know when the nappy needs to be changed.
Nappy Sacks
After changing the baby, the dirty nappy should be thrown away, if it is disposable, or stored in a place where it does not leak odours. Nappy sacks are small bags designed for storing dirty nappies. They can be either scented or unscented. Biodegradable nappy sacks that decompose quickly are available, so eco-friendly parents may find these sacks to be a good choice. However, small plastic grocery bags also work as nappy sacks when nothing else is available.
Nappy Cream
Nappy cream is an optional item that can be carried in the nappy changing bag. Such creams are designed for babies and they come in two types. One is a special medicated cream for soreness of the skin, but it should be used only when soreness is already an issue. Barrier creams made of petroleum jelly, on the other hand, can be used as a preventative measure to help redness and soreness from developing in the first place. Barrier creams need to be applied sparingly, but regular use is recommended.
Buying a Nappy Changing Bag for Twins on eBay
If you want to buy a nappy changing bag for twins on eBay, you may start your search with general keywords, such as "changing bag" or specify the keywords by using the search 'nappy changing bag for twins'. Regular changing bags may be suitable for your needs, because you actually do not need to carry around very many extra things when with twins. However, if you are looking for a specialised bag, opt for one that is designed especially for twins. Always read the item listings and if you have any questions, for example, about the size, the compartments, or the material of the bag, feel free to contact the seller. You may also enquire about delivery, packaging, postage, payment methods, and refunds. To ensure that you get the best service and the best products, look for top-rated sellers by reading the feedback they have received and browsing through the ratings given by other community members.
Conclusion
In today's fast-paced society, parents are often out and about with their babies and need to change them on the go. All the necessary baby products can be stored in designated nappy changing bags that are comfortable to carry anywhere. When there are twins in the family, the bag should have enough compartments to fit all the baby things, including two baby bottles and a spare sets of clothes for both babies. However, the bag should not be too bulky. Good nappy changing bags are structured smartly and feature different sections for dirty nappies and wet wipes. They may also come with insulated bottle pockets.
Comfort is an important factor to consider, as the bag may need to be carried for a matter of hours. Therefore, padding is necessary, and the versatility of the bag should also be taken into account. Convertible bags can be worn both as backpacks and shoulder bags, and they fit any situation. Parents can choose the exact contents of the bag, but the most common and important items include are changing mat, wipes, nappies, nappy sacks, and nappy cream.