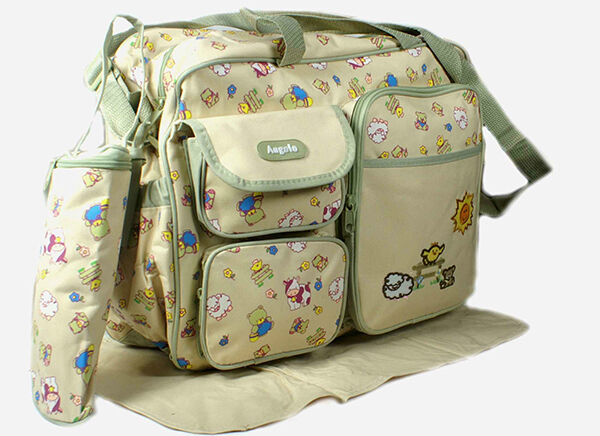 For those on the go, whether travelling locally or even long distances, caring for children requires many handy accessories. Keeping functional, nappy changing bags on hand for quick access can mean the difference between a happy or cranky child. These bags make it easier to care for children, who tend to be happier and easier to deal with when they receive the immediate care they need.
When choosing a changing bag, shoppers should have an idea of the type of nappy changing bag best serves their needs. They should also consider the features that come with a changing bag and choose the option that includes the most important features. Finally, after buying a bag, shoppers should fill it with the items they need while on the go with their child. To find a suitable nappy changing bag, buyers can head to the online marketplace eBay, which offers a wide selection and useful search tools.
Types of Nappy Changing Bags
When buying a nappy changing bag, shoppers should first determine the right type of changing bag that best suits their needs. This could be a bag for dads on the go, for twins, and more. The following table lists the different nappy changing bag types, including luxury, overnight, and tote bags.
| | |
| --- | --- |
| Bag Types | Description |
| | A changing bag in a convenient backpack form; when needed parents or guardians can just pull the bag off their shoulder and grab what they need. It is compartmentalised for easy access. |
| | Available in a variety of sporty and hip designs, including leather; designed so that fathers do not feel as conscious carrying around a changing bag for their children. |
| | Changing bags with a designer look to them, including animal prints, flower prints, and more; comes in 3, 4, and 5-piece sets. |
| | Nappy changing bags in the form of a messenger bag; typically resembles a purse with a main compartment and one or more feeding pods (bottle holders) attached to the outside. |
| | Changing bags designed for more than one day away, such as a weekend or even a night or two at the hospital after a baby's birth; also referred to as a travel bag. |
| | Perfect bag to take while shopping; design akin to a tote bag; some are open-topped, while others can be zipped closed; designed to carry over the shoulder. |
| | Small, compact changing bags made for ease of carrying; lightweight; cannot hold as much as other changing bag types; easy to stow out of the way when not needed. |
| | Larger changing bags designed mainly for those with small children close in age; feature plenty of compartments for holding items. |
When choosing a nappy changing bag, parents or care providers should make sure that the one they buy contains enough holding space for the items that need storage while on the go. Also, parents should consider the length of time commonly spent away from home.
Different Nappy Changing Bag Features
In addition to the different nappy changing bag types, there are also a variety of features available for changing bags. Shoppers should choose bags that have the features that they need the most. The table below describes various bag features, including changing mats, insulated bottle pockets, and water resistant capabilities.
| | |
| --- | --- |
| Bag Features | Description |
| | Allows for the changing of children on just about any surface; lay down the mat and instantly, caregivers have a clean, sanitised surface to change soiled nappies and clothing on. |
| | Clip for the carrier's keys; helps parents and caregivers keep track of their keys. |
| | Insulated bottle pockets keep formula warm; helps when in an area that does not offer a way to warm up a bottle. |
| | Multiple sections for storing different items; allows for storage of extra clothing in sections separate from the soiled nappies, bottles, and other items. |
| | Useful during inclement weather; helps protect the bag's contents from spills or to keep liquids that have spilled inside the bag from spilling out |
When purchasing nappy changing bags, shoppers should look for the features they need, such as extra bottle or clothing storage. They should also keep in mind that not all bags fit all situations. For example, they might wish to purchase a waterproof bag to use when it rains as opposed to a cloth bag.
Essential Items for a Nappy Changing Bag
After purchasing the desired nappy bag, parents or caregivers should then consider which items they would like to keep inside the bag. These items typically include nappies, wipes, bottles, rattles, dummies, formula, and extra clothing. The following section details the different items necessary to carry while on the go with an infant or toddler.
Nappies
Nappies top the list of essential items in a nappy changing bag. Carrying clean nappies helps keep a child from getting a painful rash if changed regularly.
Wipes
Wipes help keep a child clean. Caregivers can also use them in a pinch to clean up spills. Remember to keep wipes in the original container they came in so they stay moist.
Hand Sanitiser
After changing a child's nappy, clean up by using hand sanitiser. This helps prevents germs from spreading and keeps both parent and child healthy.
Plastic or Biodegradable Bags
After changing a nappy, dispose of all materials in by placing them in a plastic bag, or better yet, biodegradable bags. This provides a sanitary way to dispose of used nappies and wipes.
Extra Clothing
Children are notorious for making messes, so keep an extra change of clothing in the changing bag. That way parents can simply stop for a moment and change the child's clothing before moving on.
Blanket
A blanket is a must-have item. They serve the dual purpose of keeping children warm, as well as protecting them from sun exposure.
Bottle or Sippy Cup
Last, but not least, bottles or sippy cups fall on the list of essential items to keep in a nappy changing bag. Children need to keep hydrated, with bottles used for infants and sippy cups for toddlers.
The above list does not cover all items that caregivers can place in a changing bag. Parents need to decide individually which items are most important to keep in their changing bag and which items they can do without.
Popular Nappy Changing Bag Brands
When shopping for nappy changing bags, shoppers can shop by brand. The section below provides some of the most popular nappy changing bag brands available.
* Cath Kidston
* Pink Lining
* Oioi
* Mamas and Papas
* Yummy Mummy
Find Nappy Changing Bags on eBay
If shoppers want to purchase a nappy changing bag online, they should visit the eBay marketplace for a variety of product options. To find the perfect products, do a search of the marketplace by entering keywords into the search box on any eBay page. Use terms like "backpack changing bag" or "Mamas and Papas nappy changing bag", for example, to begin a search.
After viewing the list of results, narrow the choices down even further by clicking on the categories options to display only the listings that are relevant to baby items. Also, shoppers can find out more about searching for nappy changing bags on eBay by visiting eBay's Search Tips page. Moreover, eBay Stores also provide shoppers with even more infant and toddler changing bag product options.
Buy Nappy Changing Bags Online With Confidence
Shopping on eBay provides for a quick, easy, and stress-free shopping experience. Begin by looking through applicable product listings, including nappy changing bags. When viewing product listings, make sure to take notice of product cost, item quality, sizes, colours, and any other important product information. Before purchasing, ask the seller any other questions by clicking the Ask a Question link on the seller's listing page. And do not forget to review the seller's feedback rating to make sure other shoppers gave them a good customer service and product quality rating.
Conclusion
When travelling with children to the store or even long distances, parents need to take the proper care items with them, including bottles, nappies, wipes, extra clothes, formula, or other drinks. They must be ready for whatever situation may arise while on the go with young children. Other items that parents might find useful for trips include a blanket for naps and a changing pad for those times when a baby or toddler must be changed away from home.
When buying a nappy changing bag, shoppers should keep in mind the type and size of bag they want, any features they need the changing bag to feature, and any essential items they want to carry in their bag in addition to nappies, clothing, and bottles or sippy cups. The importance of keeping our children happy while on the go allows for a more pleasant experience for both the child and parent.