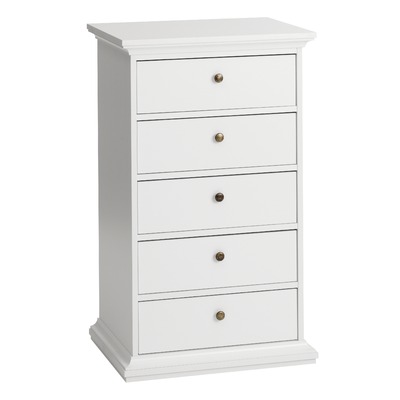 A narrow chest of drawers is a great addition to a home that is short of floor space and needs some extra storage. Ranging from inexpensive pine to high-end oak, there are lots of options for buyers of all tastes and budgets. Narrow chest of drawers can be purchased in a new or used condition. Buyers should know what to look for to ensure that they buy a quality piece of furniture. This includes examining the wood for cracks, insect infestation, and broken parts or sharp edges. A narrow chest of drawers should be durable and have good quality joints. For those who would find an expensive oak chest of drawers beyond their budget, it is possible to buy a veneered unit that is constructed from a less expensive wood and covered in a very thin layer of oak.
A narrow chest of drawers can be found at furniture shops and department stores. Buyers can also find a huge range of new and used items on eBay.
Consider the Features of a Narrow Chest of Drawers
Buyers should look at the quality of the wood used to make the narrow chest of drawers. Look for splits or cracks in the drawers and the outer unit, which could suggest weakness and a reduced lifespan, as well as poor craftsmanship. Check the joints to make sure that they are strong and well constructed. There should be no rough pieces that may catch on any clothing stored in the drawers. Open and close the drawers to make sure that they slide in and out easily, and are flush with the rest of the unit when closed. It is a good idea to check for signs of woodworm.
Buyers need to decide how many drawers they require in their unit. They also need to consider the size and depth of the drawers. The chest of drawers can have just two or three large, deep drawers; lots of wide, shallow drawers; or a number of shallow drawers combined with large, deep ones. It is also fairly common to find chest of drawers that have two small, shallow drawers side by side, followed by larger drawers underneath.
Types of Wood for a Narrow Chest of Drawers
There are two main types of wood used to make narrow chest of drawers: softwood and hardwood. These terms do not mean that one wood is noticeably softer than the other. Buyers usually choose a narrow chest of drawers based on their aesthetic preferences, but it is still advisable to know the differences between the available options.
Softwoods for a Narrow Chest of Drawers
Rather than being soft to the touch as the name implies, softwoods are those that come from coniferous trees such as cedar and fir. Softwoods often have a reddish or yellowish tinge. Softwoods are less expensive and have less fire resistance than hardwoods. However, using sustainable hardwoods is less harmful to the environment.
Pine for a Narrow Chest of Drawers
Pine is inexpensive compared with most other sustainable wood types. It is a popular material used in the construction of many pieces of furniture. The pale colouring makes pine easy to refinish. In its natural colour, pine chest of drawers match almost any pre-existing decor. Pine is very strong and makes sturdy chest of drawers. Pine can be scratched easily, so may require a protective stain or varnish. Pine has a natural, much-loved scent that lingers for a long time. The striations, or markings, in the wood provide unique patterns in every piece of furniture.
Cedar for a Narrow Chest of Drawers
Cedar is a tough and durable wood used for constructing chest of drawers. It has natural oils that help to prevent insect infestation, such as woodworm and it is naturally resistant to moisture damage, which means that it can be used indoors or out. Cedar has a reddish hue that suits modern, traditional, or rustic furniture. It is easily dented, so cannot take a lot of handling. Cedar is comparatively expensive.
Redwood for a Narrow Chest of Drawers
Redwood has a deep, rich colour. It is robust and durable, with a long lifespan. The wood does not contract or decay with age, so many antique redwood chest of drawers have survived in remarkably good condition. Redwood is resistant to both moisture and insect damage due to the oils present in the wood. Redwood is expensive compared to other softwoods, and can be scratched and damaged easily.
Hardwoods for a Narrow Chest of Drawers
Hardwoods tend to be more expensive than softwoods. Hardwood trees are not as easily sustainable as softwoods, and some have become increasingly difficult to acquire, which increases the value of the wood significantly.
Mahogany for a Narrow Chest of Drawers
Mahogany is very strong and durable and has a rich, dark colour. It is easy to clean and maintain, but it is not resistant to water damage, so it should only be cleaned with a damp cloth. Although it is very strong, it still scratches quite easily. It is expensive compared to many other woods.
Birch for a Narrow Chest of Drawers
Birch is usually yellow or white, although it is frequently stained to become an attractive amber colour. Birch is very expensive, and increasingly hard to come by as there are very few sustainable birch supplies because the trees take a long time to reach a suitable size and strength for creating furniture.
Oak for a Narrow Chest of Drawers
Oak is incredibly popular for home furnishings. It is dark, extremely strong, and has the advantage of being resistant to moisture damage, making it very easy to clean and maintain. Solid oak furniture is very expensive. To achieve the appearance of oak without the hefty price tag, it is possible to purchase oak veneer furniture. This is comprised of a less expensive wood, such as pine, overlayed with a thin layer of oak.
Types of Joint for Chest of Drawers
There are several different types of joint used to construct the drawers. Each type has specific advantages and disadvantages. Having a basic knowledge of the joint types allows buyers to choose the best chest of drawers to suit their requirements.
Butt Joint for a Chest of Drawers
Butt joints are the weakest type of joint, so they break very easily. They are usually found on the least expensive type of drawers. These joints are simply glued together and should, at the very least, be reinforced with pins or dowel joints. Butt joints are rarely used on expensive furniture.
Dovetail Joint for a Chest of Drawers
Dovetail joints are commonly used on chest of drawers. These joints are handmade and are incredibly strong, favoured by many furniture makers. If a drawer with dovetail joints breaks, it is very unlikely that the joints are the cause of the damage because they are extremely resilient. To create a dovetail joint, a triangular piece is cut away from the ends of the wood that form the back and side of the drawer. The wood that touches these pieces has another, opposing piece into which the cut away shape slots. This makes the joint strong, and it needs no reinforcing or gluing. Dovetail joints are also very attractive, adding to the overall aesthetic appeal to the chest of drawers.
Box Joints for a Chest of Drawers
Box joints are similar to dovetail joints, but they are square and machine made. They are less pleasing to the eye and are inferior to dovetail joints because their shape makes it fairly easy for the pieces to separate. If glue is added to the joints they become much stronger.
Dado Joints for a Chest of Drawers
Dado joints are fairly common and are found on inexpensive chest of drawers. They are comparatively weak, unable to withstand much wear and tear, and have a short lifespan. Dado joints are formed by a long, thin channel being chiselled into one piece of wood, and the adjoining piece slotting into the gap. Glue is often added to increase strength and durability.
Buying a Narrow Chest of Drawers on eBay
Buyers can search for narrow chest of drawers on the eBay homepage by entering a phrase such as "narrow pine chest of drawers" in the search box. They can then narrow down the search results by using the filters available. These filters can include a price range and condition. The location is an important filter to use when purchasing furniture items on eBay. Some items are large and may be expensive to deliver, so buyers may benefit from choosing items which are at a location near to their home so that they can collect it in person.
Feedback allows the buyer to look at previous transactions of the seller to get an idea of whether their purchase will be straightforward. Feedback can be positive, negative, or neutral and it is left for the seller once the transaction has been completed. A short comment is also left with the feedback, describing the service received.
Conclusion
A narrow chest of drawers is a useful piece of furniture. It can be used to provide storage in confined spaces. A narrow chest of drawers can be placed in any room and can be used to store anything from clothes to craft supplies or important papers. Whether the unit is short and only contains two drawers, or tall, containing six or more drawers, the extra storage is welcome in any home and the drawers can look very attractive. Buyers can purchase either new or used chest of drawers. Shoppers should think about the size of the unit, how many drawers they require, and how big the drawers need to be.
Buyers should consider the type of wood that they want their chest of drawers to be made from. This choice depends on taste, current decor and budget. Softwoods such as pine tend to be less expensive than hardwoods such as oak. The drawer joints are another consideration. There are several different options, ranging from weak, inexpensive butt joints to expensive, durable dovetail joints. Narrow chest of drawers can be found on eBay at a price to suit every budget.