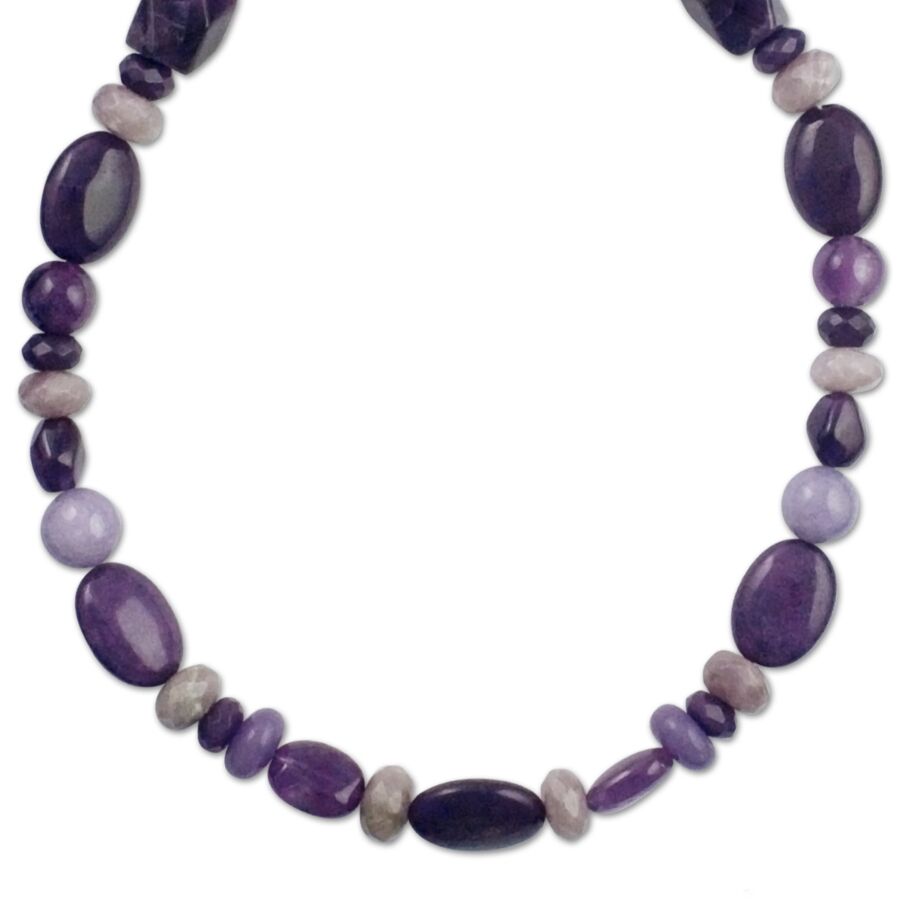 Necklaces are a type of jewellery worn around the neck and they have been an almost indispensable element of a casual or elegant outfit for centuries. They can be worn by women and men alike and are usually made ​​of a chain of metal, often a precious one, which may or may not be used to support decorative elements such as pendants. Necklaces are available in a wide range of styles and materials, with some of the most popular of them being precious metals, semi-precious gems, wood, leather, shells, and more.
When choosing a necklace, one should take into account a range of factors, with the most important of them being their body morphology, occasion, material, and price. Necklaces are available in numerous high-street stores as well as online on websites such as eBay and buyers can choose from countless models. By learning more about different types of necklaces, buyers can make an informed choice and make sure they get good value for their money.
How to Choose the Type of Necklace
Wearing a necklace is a good option for both women and men because they may help buyers create a timeless style that can easily enhance their wardrobe. There are different types of necklaces available for both genders. Each necklace length can help the wearer create a personalised outfit suitable for various occasions.
Choker Necklace
Also referred to as a 'dog collar', a choker necklace usually measures about 40 centimetres and can be either rigid or flexible. Buyers can also choose to wear checkers with or without a pendant. The choice of a choker is very important because this style of necklace is very visible and tends to attract attention. Buyers should make sure the choker is not too tight in order to be comfortable. This type of necklace works well for those who wish to appear shorter, but is not a very good choice for short people with small necks.
Princess Necklace
Princess necklaces feature a classic form and their length is usually somewhere between 40 to 45 centimetres. They are ideal for dresses and jumpers and are suitable for almost any kind of neck. A princess necklace usually falls on the bust and is suitable for women of any age.
Opera Necklace
Opera necklaces are over 45 centimetres long and they can be worn either as a single strand or as a two strand choker. By wearing an opera necklace, one can make any outfit look more refined, whether it is an elegant or a casual one. Opera length necklaces can be worn with or without a pendant and they are available in numerous styles and materials.
Lariat Necklace
A lariat is a long necklace that can be worn draped in several styles. These necklaces usually do not have clasps and they can be wrapped several times around the neck. Alternatively, they can be knotted, looped, or crossed over in several ways. They are similar to sautoir necklaces and may feature a loop at one or both ends. Lariats are suitable for elegant occasions and are not a good choice for office wear.
Sautoir or Rope Necklace
A sautoir is also known as a rope necklace and is always longer than an opera one, but it can be worn in the same style. This type of necklace is available in a wide range of materials and it is suitable for various occasions, from those with an elegant dress code to beachwear. Sautoir necklaces can be wrapped multiple times around the neck with the ends crossing over each other.
Matinee Necklace
Matinee necklaces are ideal for business or casual wear. They are usually no longer than 55 centimetres and they come in different materials. The most common of them are pearls, silver, gold, gemstones, birthstones, and diamonds.
How to Choose a Necklace According to Body Morphology
In order to look great with an outfit, a necklace should be chosen after a quick analysis of the body and face shape of the person who wears it. Those who have a square chin, for example, should choose necklaces with round elements. For a maximum effect, they can choose a necklace that forms a semicircle under their neck. The opposite principle works for a round face, as a necklace with round elements tends to accentuate the roundness of one's face. Buyers with a round face should avoid anything that is too big and circular. To make their face appear thinner, they should choose a long necklace that falls at least half-length to their chest.
Women with a heart-shaped face can balance it with a choker necklace that may soften and reduce the angle of the chin. Persons with an oval face shape seem to be the luckiest of all, as most styles of necklaces suit this morphology. Those with a short neck should avoid chokers and opt for a mid-length or long model instead. Long necklaces with or without a pendant tend to lengthen one's silhouette.
The size of a person also plays an important role when it comes to buying a necklace. Those who are petite should avoid necklaces that are too long, because they may accentuate the waist and create a 'shrinking' optical effect. Women with a generous bust should stay away from large beads and chunky pendants and opt for thinner styles.
How to Buy a Necklace in the Right Size
Different types of necklaces come in different sizes and buyers should consider this according to their preferences and the outfits they intend to wear the necklace with. Sizes may differ from one manufacturer to another and there are no actual fixed sizes for women's or men's necklaces. The chart below offers some guideline measure for both women and men.
UK Size (centimetres)

Women's (W)/Men's (M)

US Size (inches)

Women's (W)/Men's (M)

Characteristics

W 40

W 16

wraps around the base of the neck; available in leather, gold, silver, velvet, other metals

W 45

W 17-18

rests at the collarbone; ideal for open-neck tops and shirts

W 50

W 20

rests below the collarbone; works well with lower tops

W 55

W 22

rests at the neckline; ideal for taller women

W 60

W 24

rest below the neckline; works well with pendants

W 75

W 30

rests below the chest; ideal for wearing outside clothing

M 45

M 18

worn at the base of the neck; perfect for smaller neck sizes

M 50

M 20

worn at the collarbone

M 55

M 22

worn below the collarbone

M 60

M 24

worn above the sternum
When shopping for women's or men's necklaces online, buyers should make sure they read the product description carefully for each model they consider. This is the safest way to be certain the necklace one buys has the right length.
How to Find a Necklace on eBay
If you are looking for a new necklace for casual wear or for a special occasion, you may find yourself in front of a rather difficult choice. The countless number of necklaces available in so many different styles and materials may leave you disheartened, but fortunately, eBay offers a simple solution to the problem. Even though the selection of men's and women's necklaces on eBay is a huge one, the website has a user-friendly interface that allows you to browse through the styles quickly and find the necklace of your dreams in a matter of minutes.
In order to start shopping for a new necklace on eBay, simply type the style you want into eBay's search bar and you immediately get several pages of relevant results. You can then filter them according to the type of necklace you are looking for and your personal preferences, such as material, length, price, and more. When shopping for necklaces on eBay, remember that different sellers have different delivery and return policies, so you should check them out before committing to buying a certain item. In many cases, you can buy necklaces as part of a set, together with earrings or bracelets with a similar design. You can have an eye on these, especially because the sets are often cheaper than buying the pieces separately.
Conclusion
Necklaces are some of the most popular pieces of jewellery for both women and men and they come in a wide variety of styles and materials. When shopping for necklaces in high-street stores or on websites such as eBay, one should make sure they choose the right necklace for the right occasion. Choosing the perfect type of jewellery for a certain event can be something rather difficult to do because of the numerous options available on the market. eBay is a good place to find the ideal necklace, whether it is for casual everyday wear or for a special event such as a wedding.
When shopping for necklaces on eBay, buyers have the option to choose between new and used necklaces. If one chooses to shop for a used piece of jewellery, they should pay special attention to the condition of the item. Regardless of the kind of necklace one is searching on eBay, chances are they can find their favourite style on the website.