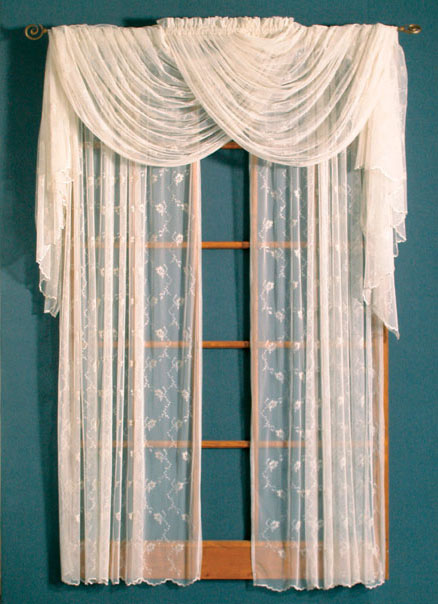 Net curtains are amongst the most popular window treatments because of their many functions. They provide privacy while allowing the room to be flooded with natural light. Shopping for a net curtain is made complicated by the sheer number of options available. There are various types of net curtains, some of which have other names that a shopper should be familiar with, like voile curtains and jardinieres.
One also needs to know some features of quality curtains, like overlocking, and how to measure curtains since they are usually ordered by meter. Finally, a few accessories will be necessary in order to properly mount a net curtain in a window. A choice usually has to be made between using net wire and curtain rods. When purchasing net curtains one must consider the different types of net curtain, how to measure the width and drop length of curtains, and how to hang net curtains.
Purpose of Net Curtains
As when shopping for anything, keeping the purpose of the item in mind can prevent one from getting sidetracked into buying something unwanted. In the case of net curtains, this is important because there are many attractive and related curtain designs that do not accomplish the same job as a net curtain. Net curtains provide privacy, as all curtains do, but they also allow light to enter. Net curtain material that are made to mute strong sunlight and different colours of nets, will add a different tone to the light that enters. Embroidered net curtains also add an ornate touch to any room. Many different embroidery designs can be found to match the décor of a room. When the window is open, net curtains allow the breeze to flow through a room while also discouraging insects and mosquitoes from entering. All these factors make net curtains an extremely popular option.
Net Curtain Types
Almost all net curtains today are made from polyester. However, there are a few different styles and materials one should be familiar with before shopping for net curtains. Here are three types of specialty net curtains to keep an eye out for when shopping.
Jardiniere Curtains
The word "jardiniere" usually refers to a kind of flower pot but in the curtain world, a jardiniere is a net curtain with a curved bottom hem. The curve creates an archway in the window that is not covered by the curtain, providing a view while regulating the amount of light that enters through the rest of the window. These curtains are ideal when there is a picturesque view that would be otherwise hidden by normal curtains. Cat owners also appreciate jardiniere net curtains because they allow a cat to sit on the window sill and look outside without the curtains getting in the way.
Voile Curtains
Voile is a sheer fabric that can be made from polyester, cotton, silk, or other fabrics. Voile net curtains are usually made of polyester, just like regular net fabric, but the weave is finer, resulting in a more elegant look. Voile curtains generally allow less light while increasing privacy in comparison to net fabric. Both net and voile come in an array of different colours.
Cafe Net Curtains
Cafe curtains cover only a portion of a window, whether it is just the bottom half, or the bottom half with a valance for the top. These net curtains are usually white with colourful patterns and designs such as cherries or familiar farm animals. The most common drop lengths for traditional cafe net curtains are 18 inches (45 cm) and 24 inches (61 cm), but some sellers also offer custom sizing.
Special Features Available in Net Curtains
While there are many high quality net curtains available that lack many special features, there are some features that might come in useful in different situations. Flame-retardant, weighted, and overlocked curtains are three specialty curtain types.
Flame-Retardant
Flame-retardant curtains are slow to ignite, making them a safe preference in many public places. Flame-retardant voile is either treated with chemicals to be more flame-resistant, or inherently flame-retardant by nature of the polyester fibres in its makeup. Another option if the curtains of choice are not available in flame-retardant fabric, is flame-resistant fabric spray.
Weighted
Weighted curtains are often defined by their weights at the bottom that make the cloth hang perfectly straight. They are less likely to flap in the breeze, giving the window a more elegant look. The weights are usually made of tiny lead squares and are hidden in the hem. Weighted curtains are a great solution for anyone who has had items knocked off a windowsill by a curtain blowing wildly in the wind. These curtains also never rarely require ironing, as the weight makes creases seemingly disappear.
Overlocking
Overlocking is the process of sealing the edge of any fabric so that it will not fray or unravel. The bottom of any net curtain will be either hemmed ,thus hiding the raw edge by folding and sewing, or over-locked by machine. However, the sides of the curtain, where they are cut according to the customer's order, will have only raw edges. Some sellers will over-lock the sides of a curtain for a fee. Others may include the service with the purchase of a net.
Net Curtain Measurements
There are two measurements needed to order net curtains. They are the drop (or length) and the width. Before buying net curtains, it is necessary to know how to take these two measurements.
Measuring Drop
The drop of a curtain, is typically measured from the top of the curtain rod or wire. Keep in mind that the pole or wire is usually mounted 6 inches (15 cm) above the window. The length of the curtain will depend on whether they will end above the window sill, end below the window sill, or reach all the way to the floor. Above-sill curtains, usually end 0.5 inches (1.5 cm) above the sill. Below-sill curtains, can finish 6 inches (15 cm) below. Floor-length curtains can end 0.5 inches (1.5 cm) above the floor.
Measuring Width
The amount of gather in the curtains is a matter of personal preference, but the standard ranges from 1.5 times the length of the rod or track, to 2.5 times the length of the rod. A gather of 1.5 times, will provide minimal gather, while 2.5 to 3 times rod length is considered very full gather. Simply measure the length of the rod or wire, usually mounted 6 inches, or 15 cm, to either side of the window. The last step is to multiply by the amount of gather desired. The resulting number, converted to meters, is the width that needs to be ordered. When two curtains are needed, remember to divide the final width in half and order two curtains.
Accessories for Hanging Net Curtains
The top of a net curtain can be one of several types, but the most common top is a rod pocket. A rod pocket heading is also called a "slot top". A rod pocket is a tube sewn into the top of the curtain to enable it to be shirred onto a curtain rod or a net wire. Another type is the tab top, which looks better with a rod, and the eyelet or gromet heading, which is also most commonly used with a rod. The heading style is typically determined by the look one wants to achieve. Regardless of the curtain heading, one has to choose between two basic methods of installing curtains. These are the rod-and-bracket method or the net wire method.
Rods and Brackets
If a tension rod will be used, not much more is needed than the correct size of tension rod. Other kinds of rods will need two brackets mounted on either side of the window. Sometimes a center bracket is also used to support the rod as well.
Net Wire and Hooks
Net curtains are most often installed in combination with a net wire. The installation is as simple as putting screws or hooks on the wall on either side of the window, and hanging the net wire between them. The wire usually comes with hooks and eyelets, that screw into the ends of the wire after the wire has been cut to the correct length. Since net wire comes in rolls of several meters, which is often enough for several windows, it usually comes with several pairs of eyelets and hooks. However, just two eyelets or two hooks are needed to install one set of curtains.
How to Buy Net Curtains on eBay
Net curtains can be found in brick-and-mortar stores as well as online. When buying curtains online, the biggest concern for shoppers is usually finding a reputable seller. This is easy with eBay's public feedback system, making it a popular place to find both net curtains and the necessary accessories.
To find net curtains on eBay, enter a search term like "white net curtains" in the search box on any eBay page to see all related listings. Within the appropriate subcategory, you can refine the search by criteria like colour, style, and type, as well as by condition, price, and location. eBay's search functions make it simple and fast to find exactly the curtains needed.
Be sure to check the over-locking options and the seller's feedback history, before entering into a transaction. To see any seller's feedback, simply click on the number next to the seller's name. You can also refine the search to show only top-rated sellers. These are sellers on eBay who have shown their commitment to excellent service over a period of time.
Conclusion
Net curtains are an excellent choice wherever thicker curtains would block too much light. Their light, airy feel can transform a room but shopping for them can be a headache if the shopper does not know what to look for. Anyone looking for net curtains should keep in mind their main purpose, whether it is to mute the sunlight or provide privacy and air circulation at the same time. Jardiniere, voile, and cafe net curtains are all special types of net curtains that can fit perfectly in different types of décor. Special features such as lead weighting may also be extremely useful.
One has to have both the drop length and the width measurements on hand so an order can be placed when the perfect style of net curtains are found. Accessories for mounting the curtains, such as net wire, are also necessary. By shopping on eBay, a buyer can purchase both net curtains and mounting accessories with a few clicks of the mouse. eBay's search criteria and feedback system, make it easy to find beautiful net curtains for any room and reputable sellers who will do their best to guarantee the buyer's satisfaction.