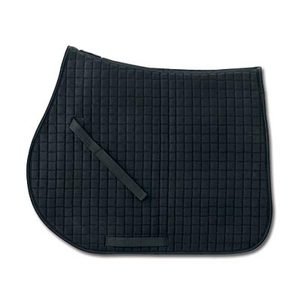 Many horse riders who take part in various different equestrian disciplines have found that a numnah not only improves their riding performance, but also keeps their horse more comfortable and gives them an added level of protection that case prevents back injuries, skin complaints and more.
Any riders who are interested in purchasing a new numnah for their horse will be pleased to hear that there are literally thousands of these products listed on eBay at any one time, meaning there's bound to be something to suit every taste.
This guide will explain everything from the basics of what a numnah is to what materials they are commonly made from and how horse riders can find themselves a fantastic deal on one simply by searching eBay.
What is a Numnah?
A numnah is a piece of material that is placed underneath a saddle to provide a layer of protective padding between the horse and the rider, it also serves the purpose of soaking up sweat caused by the positioning of the saddle, to stop horses from suffering a number of different skin complaints.
Numnahs are derived from saddle cloths, one of the earliest pieces of horse riding equipment. Although both types of equipment are used for almost identical functions, a saddle cloth is usually a square or rectangular piece of material, whereas a numnah is stitched into a saddle shape to be more aesthetically pleasing once fitted to the horse.
These have become increasingly popular horse riding accessories and a huge market has opened up, where equestrian enthusiasts are able to buy numnahs made from a whole host of different materials, colours and shapes.
One of the most popular features that is now offered with many numnahs is personalisation. Buyers will commonly be able to have either their name or their horse's name embroidered onto a numnah, for an added touch of class. Personalised numnahs incidentally also make fantastic gifts for anyone who owns or rides horses.
What Materials are Numnahs Made from?
Numnahs come in a wide variety of different styles and are often constructed from a large number of materials. Whilst this is a good thing and offers consumers plenty of choice when they begin searching for a new numnah, it also means that buyers have to do a reasonable amount of research before they make a purchase to ensure they are buying a product that will perform the functions they want it to.
Below is a list of some of the most common fabrics that are used in the manufacture of numnahs, as well as a brief description of each, outlining the advantages and disadvantages of each material.
Sheepskin

This traditional material has become extremely popular in the manufacture of numnahs in recent years. Sheepskin is used to line numnahs, providing a sweat-absorbent material that is unlikely to cause any kind of irritation to a horse's skin; sheepskin is known to be especially soft, even to horses with the most sensitive hides.

Due to these qualities, numnahs that contain sheepskin are often more expensive than those produced using synthetic materials. However, there is a possibility that a horse with sensitive skin could react badly to a synthetic numnah.

If a rider is buying for a horse with a history of these kinds of dermatological problems, it is probably worth investing a little extra money in a sheepskin-lined numnah that will protect the horse adequately whilst not affecting their health.

Neoprene

If sheepskin represents a traditional material that is used in the manufacture of numnahs, then neoprene is a modern advancement in this kind of technology.

Made from synthetic fibres, neoprene is not only flexible with stretchy qualities but it is also exceptionally strong. These qualities make it perfect for use in the construction of horse riding equipment like numnahs.

Neoprene is often used in breathable fabrics that cover large parts of modern numnahs, this stops the horse from overheating underneath the saddle and ultimately should make the horse sweat less.

Neoprene can provide some fantastic benefits when used in a numnah, riders should note that if neoprene is present in a design, it's usually a mark of its quality

Quilted Cotton

Quilted fabrics have a long relationship with horse riding and the country lifestyle as a whole, so it is no surprise to see that quilted cotton is a very commonly used material in the manufacture of numnahs.

Its great fluid absorbing ability make quilted cotton a great fabric to make numnahs with, it is also reasonably affordable when compared to some of the other materials that are used for the same purpose.

Affordable is not to say that quilted cotton is somehow inferior however, in modern designs, the fabric is often coated in Teflon or a similar substance that will make it hardwearing and water resistant.

Riders looking for great value for money when buying a numnah should look for quilted cotton designs that will provide users with good performance even when they are on a tight budget.

Rubber Compounds

Rubber is used very often on the underside of numnahs to keep them in place on the horse's back to stop the occurrence of rubbing and chaffing, which in turn can give a horse rashes or other skin complaints.

Although materials such as sheepskin and neoprene may provide some form of anti-slip protection, nothing is as good at this job as rubber. Any rider look specifically for a non-slip numnah should look for designs with rubber-lined undersides.

This anti-slip protection is extremely important in terms of safety, it's important, especially for a rider's safety that their saddle remains as steady as possible on top of the horse, a saddle that is moving around a lot on the back of a horse is extremely dangerous.

Anyone interested in remaining as safe as possible whilst riding, but who also feels it is important to take responsibility of a horse's safety and wellbeing will find that a rubber-lined numnah will keep both parties as safe and comfortable as they can be.
Although it is unlikely that buyers will find a numnah that incorporates all of these different materials, even if one of two of the items listed above are found in a particular numnah design, it is likely to point to the fact that it is of a high quality. Bear in mind the different properties that these materials have and decide which ones will be most beneficial personally.
How to Buy a Numnah Using eBay
Many horse riding enthusiasts will be pleased to find out that eBay has thousands of pieces of horse riding equipment listed on their site all year round.
They are also impressed by how easy it is to find extremely specific pieces of tack in a fast and simple manner. Listed below are some tips for anyone who wants to know the best way to find the perfect numnah with eBay.
Horse-riding is one of hundreds of categories for which eBay has developed tailored search filters. These are industry specific search categories that make it easy for shoppers to find even the rarest and most unusual equestrian items.
A good place to start is by searching for a "numnah" by inputting the word into the search box at the top of the page. The chances are that this will return thousands of results, so some degree of filtering will help the user eliminate the items they are not interested in from the items they are.
A buyer can now begin to tick the search filter boxes on the left hand side of the page to narrow down the options presented to them. For example, users are able to browse numnahs by their brand, material, condition, price, size and even colour. By selecting the kinds of qualities they are looking for in their new numnah, buyers only need to look at items that suit their requirements.
Although many riders will instantly assume that they need to buy a brand new numnah, why not look for a used model that could well end up being a bargain. Second hand numnahs are often in very good condition and may represent better value for money, especially for riders who don't believe they will be using the equipment every day of the week.
Conclusion
On eBay looking for top deal on a fantastic numnah has never been easier. Just keep the advice outlined in this guide in mind when searching for new equestrian equipment.
Look for numnahs that are constructed from the sorts of materials that can offer benefits to the performance of the equipment. Non-slip materials such as rubber are invaluable in terms of providing safety and comfort for both the horse and rider. Also look out for fabrics like neoprene, which is used to create breathable, lightweight and hardwearing bodies for numnahs.
Finally, remember to use eBay's advanced search functions and category filters to eliminate any numnahs that will not be suitable from the search. This will save time in the long run as buyers will only have to browse items that possess the kind of qualities they are looking for.