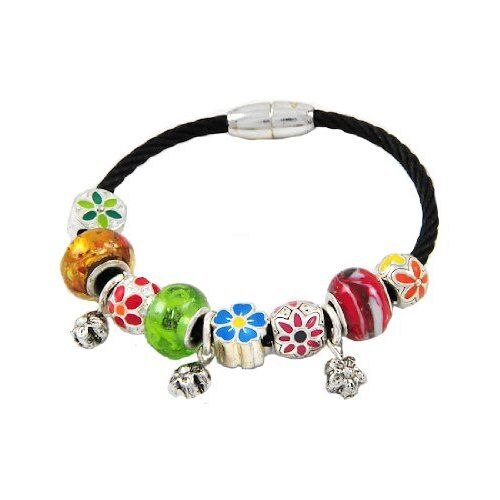 Pandora charm bracelets have a unique, patented threading system that allows wearers to add and rearrange charms, personalising them to their taste. These bracelets are popular due to their high quality design and customisable features. eBay is the perfect place to shop for new and used Pandora charm bracelets, charms, and accessories. A variety of bracelets are available, with charms or without, from a number of sellers, making it easy for buyers to find exactly what they want at a competitive price.
Buying a Pandora charm bracelet on eBay is simple. First, learn about Pandora charm bracelets, focusing on finding the right manufacturing materials, charms, accessories, fit, and trademarks. Then learn how to search effectively to see all of the items listed to avoid losing out on any bargains. Of course, knowing what to search for makes the process easier still. Finally, understand how to evaluate the items and the sellers to shop on eBay with confidence.
Pandora Charm Bracelet Materials
Pandora charm bracelets are modern versions of traditional charm bracelets. Instead of featuring hanging charms, the beads and charms used are drilled with centre holes that allow them to clip or slide onto the bracelet. Bracelets are divided into three segments to avoid charms bunching up in a particular area. Pandora charm bracelets are available in leather, sterling silver, oxidised silver, gold, or a combination of these materials. Leather bracelets come in a variety of shades, from black to pearl grey.
Pandora Bracelet Charms
Pandora charms can be removed and added to fit the wearer's needs or mood. Charms are handmade and include animals, patterns, and zodiac signs. They come in silver, gold, or, silver and gold, decorated with a variety of semi precious and precious gemstones, or coloured enamel. Murano glass beads, available in a wide range of beautiful shades and designs, can be used to add colour to the bracelet. As everything is handmade, matching colours, designs, and sizes can be somewhat challenging. Beads that look similar may vary in shape, colour, and pattern, so it is best to buy beads from the same place at the same time. This usually means that they are from the same batch.
Pandora Charm Bracelet Clasps
Pandora charm bracelets come with two types of clasps: a trigger clasp and a Pandora locking clasp. The trigger clasp is easy to open and close, but the slightly more expensive Pandora locking clasp can be quite difficult to open. This secure clasp is designed to look like a charm, blending into the bracelet without breaking the visual effect created by the charms. As the Pandora locking clasp is so difficult to open, the manufacturers have developed a special lock opener to keep the fingernails of their customers looking as good as their bracelets.
Pandora Charm Bracelet Accessories
Pandora bracelets feature clips that are designed to stop charms from sliding into the next section. Two clips fit over the threaded sections of the bracelets to create three separate sections. These clips are not needed with leather bracelets. A safety chain can be added to stop the bracelet from falling off the wearer's arm if the clasp becomes undone. These chains fit onto the bracelet in the same way as the charms: one end is secured as the first charm and another as the last. Small, decorative spacers can be used to add definition by separating charms on the bracelet, allowing specific beads and charms to stand out.
Fitting a Pandora Charm Bracelet
As the charms fit directly onto the bracelet, it is important to buy the right size and allow for space for the charms. Measure the wearer's wrist with a tailor's tape measure and add two to three centimetres for charms. If you are buying a Pandora charm bracelet as a surprise gift, measure the inside of the wearer's wristwatch. The table below list common Pandora charm bracelet lengths, with a short description.
Pandora Charm Bracelet Length (cm)

Description

19

Average bracelet size

35

Double leather small

Equivalent of 17 to 18 cm bracelet

38

Double leather medium

Equivalent of 19 cm bracelet

41

Double leather large

Equivalent of 20 to 21 cm bracelet
Remember that the larger the number of charms added to the bracelet the smaller it seems. It is recommended to add no more than five charms to single strand bracelets and no more than seven charms to double strand designs.
Recognising Genuine Pandora Charm Bracelets
A simple method of verifying the authenticity of a Pandora charm bracelet is checking the catalogue number by performing an internet search. Discontinued designs may not be listed on the Pandora site, but they should be easy enough to track down. Next, check what is stamped on the bracelet. Older silver, and silver and gold bracelets are marked with "925 ALE", while solid gold bracelets are marked with "585 ALE". These numbers relate to the purity of the metal and are not trademarks. However, "ALE" denotes the company founder's initials. An "S" is added to the front of the silver bracelets so that the marks comply with EU standards.
Buying a Pandora Charm Bracelet on eBay
Using eBay's search feature helps you to can find whatever you are looking for. Simply type a phrase, for example, "gemstone Pandora charm bracelet", into the search field, which is displayed on every page. eBay offers handy tips and suggestions for search phrases while you type; if you see what you are looking for in these suggestions, just click to autocomplete the search phrase. This displays all of the products listed that are tagged with the keywords that you input.
Refining your eBay search is incredibly easy. Simply choose the most appropriate item characteristics that you want to display a more specific set of listings. The advanced search function can be used to further narrow or expand your search results or for more specific searches.
Evaluating a Pandora Charm Bracelet Before You Buy
Before committing to buy a Pandora charm bracelet, learn all that you can about the item. The information that you need to do this can be found on the item listing page, which is accessed by clicking on an individual listing. Check all of the information supplied carefully, including the item description, the bidding and buying options, the seller's accepted payment methods, postage and packaging costs, the terms of the seller's returns policy, and the seller's feedback information. If you would like to ask the seller a question about the listing or to see additional photos of the item, use the "Ask a question" link to contact him or her. Remember to add the postage and packaging fees to the Pandora charm bracelet's selling price to work out the total cost of the item.
Evaluating Sellers
The information that you need to evaluate sellers can be found in the seller information section of the listing page. Seller feedback is accessed by clicking on the number next to the seller's username. Buyers leave feedback for sellers about their products and services at the conclusion of each transaction. Once a seller has received at least 10 detailed seller feedback responses, their seller ratings are displayed. This is based on specific feedback about his or her communication, the accuracy of the item description in the listing, the time it took for the seller to send the item, and how reasonable the postage and packaging costs were. You can also see comments from individual buyers along with a list of items previously sold. Power sellers who receive the highest detailed seller ratings are listed as Top-rated sellers.
eBay Shops
If you find a seller whose products and customer service are excellent, visit his or her eBay shop. Many sellers specialise in specific types of merchandise, making it easy to find accessories and matching items in one convenient location.
Conclusion
The versatility and customisable design of Pandora charm bracelets make them the perfect accessory. Rather than hanging off the bracelet, charms clip or slide onto it. Charms can be added, removed, or reorganised with a minimum of fuss to create a unique look.
Finding the right Pandora charm bracelet depends on knowing what to look for. Choose the best material from leather, silver, gold, or a combination of these, and choose the preferred clasp style. Clips, spacers, and safety chains can be added as needed, but the real delight of Pandora charm bracelets lies in the huge selection of handmade decorative pieces available. Find the right length of the bracelet by measuring the wearer's wrist and adding a few centimetres to allow for charms.
eBay sellers offer a range of Pandora charm bracelets and accessories at competitive prices and finding the right bracelet is easy. Simply use the site's search function and refine your search by choosing the right category and item features. For more control over your search, use the advanced search option. Once you have found the bracelet that you want, remember to take a moment to learn all that you can about the item and the seller. Simply click on an individual listing to visit the item listing page. If you find a seller that you like, visit his or her eBay shop to see more great deals on Pandora charm bracelets.