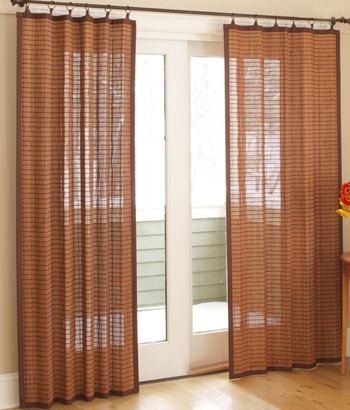 When furnishing a living or working space, it is important to consider the choice of curtains very carefully. When shopping for new curtains, it is vital that the buyer choose curtains that are both functional and stylish. Curtains can be the focal point in a room, enhancing the windows, or curtains can accent the existing interior decor. One of the most popular types of curtains is the panel curtain. This type of curtain is functional while adding a touch of modern styling to any room. For those that favour minimal decor, clear lines and solid colours, panel curtains are the perfect choice. They can blend into the background or introduce bold colours and patterns into a room. They are truly are the epitome of the modern design aesthetic. Not only are they used as window treatments, but their versatility allows them to be hung from the ceiling to create cordoned off areas of rooms, creating open spaces while still maintaining privacy.
The eBay is a wonderful resource to turn to when looking for panel curtains to suit individual needs, but it helps to have some level of understanding of these curtains before conducting a search.
What Is a Panel Curtain?
As opposed to other styles of curtains which typically feature two pieces of hanging material simply drawn across the window to block out light, panel curtains feature any number of hanging 'panels' hung at varying intervals and often on multiple tracks. This allows the user to slide the panels across the tracks independently, thereby altering the amount of window that is opened or covered. What´s more, a multiple panel system allows users to mix and match both fabric types and designs, giving them flexibility when it comes to decorating chosen space. Panel curtains are also perfectly designed to allow the user to customise the movement of the panels to accommodate for the sun as it moves across the sky and the variations in temperature during the day. The lightweight, modern look of panel curtains means that they can literally breath light and air into any space in any home or office.
Combining Functionality and Aesthetics
As mentioned above, a single panel curtain setup typically consists of many different, individual panels. This configuration makes it ideal for dressing large-scale window surfaces, but, regardless of the size of window, it gives the decorator a variety of possibilities when it comes to finalising the decorative aspects as well as the practical needs of the space. For example, consumers can make choices regarding the amount of privacy required versus the amount of light they would like to let into the room, or the level of heat retention provided by their panel curtains versus the amount of protection they are seeking from the sun's UV radiation, such as when choosing blackout fabrics. With each individual panel selected independently of the other, consumers purchasing panel curtains need to think of how best to mix and match their panels to get the exact blend of functionality and aesthetics that they desire.
Panel curtain users are also not bound to having a single design across of their chosen panels. User´s can opt for a uniform colour or a shade across all the panels in their plane, or, just as easy, decide to vary them in order to play with highlighting the colour of the walls by matching the walls or being in contrast to them. Another popular design choice is for decorators to select a palette of colours for the panel curtains that utilise smooth colour gradients, in that a sequence of colour panels would build colour from yellow to orange to red in order to create a focal point in the room.
While decorators can vary the functionality and design of the individual panels in their panel curtain installation, there is also the option of alternating their length. This approach allows the decorator to assimilate all of the above variation in function and design as well as allow for some truly unique and customised panel curtain fittings. For example, one might want to leave part of the view completely unobstructed during the day so only employ a half-length transparent panel for blocking the sun's glare, but use it in conjunction with a full-length opaque or net panel for extra privacy at night.
At just a glance, the flexibility and unique design options offered by panel curtains are obvious. Decorators need to think about all of the available options while shopping for their panel curtains in order to completely personalise their panel curtain installation to suit their design needs as well as the practical needs of the space the panel curtains are hanging in. and functionality preferences.
Styles and Prints and Panel Curtains
The style and prints featured in modern panel curtain designs cover a wide range of possibilities, including soft shades with a touch of understated style and bolder statement curtains that offer a visual spectacle. Apart from standard designs of simple colours or patterns, albeit striking patterns, panel curtains also offer consumers the unique option of designs employing the digital printing method. The digital printing method not only means that users can completely customise their own set of panel curtains, but it also means that the everyday consumer can discover panel curtain prints that feature images of picturesque landscapes or scenes that help bring any outdoor location indoors. This allows users to convert the view from their window from an industrial lot to a blue summer sky, or a small back yard into an endless beach. With digital printing, the designs options for the panel curtains are truly limitless, offering pattern options that range from floral to stripes to animal prints.
Panel Curtains and Textile Walls
Any decorator purchasing panel curtains should also be aware that the use of panel curtains is not just limited to dressings windows. Panel curtains' modern, slim-line design also means that they are perfectly suited to act as an easy-to-use room dividers. Panel curtain forms textile walls which can be installed to create new, modular room structures, allowing users in a space to maximise the potential of any given space. Anyone looking to use their panel curtains to enhance the privacy or expand the usability of a single room can purchase them in much the same way as any other panel curtain, the only difference being the location of their installation. Once installed, the panel curtain function in exactly the same way as any other panel, but it just gives decorators an extra means to easily modify a space.
Choices of Fabric for Panel Curtains
Panel curtains can be found in a range of different fabric types, each with their own individual benefits. Careful consideration of the fabric type when purchasing will mean that the decorator is guaranteed to find a panel curtain, whose look, feel, and function, is perfectly suited to needs of the space.The fabrics listed below are just some of the options available to those looking to purchase their own set of panel curtains.
Polyester
Polyester is a fabric that is highly suited to use in panel curtains for the home or office. Polyester panel curtains can feature a number of different designs by means of various printing or weave techniques. By using digital printing methods, the fabric can mimic natural fibres like wood, leather, paper or bamboo. A person will also find it easy to clean, being that polyester is dirt and moisture resistant.
Blended Fabric
Blended fabrics can often be utilised to create beautiful structures in the fabric design. For example, users can find cotton-polyester or linen-polyester weaves that have their own unique character, or even weaves that include metal or nylon fibres, giving the panel curtain a glamorous look.
Trevira CS
For demanding work or office spaces, one can opt for panel curtains that employ the Trevira CS fabric. Trevira CS features a flame-retardant mixture of phosphorous and other organic compounds certified according to Ökotex 100 regulations.
Natural Fabrics
Panel curtains can also make use of natural fibres such as silk, leather, paper and other usable plant fibres. Apart from their unique look and feel, the weight of such designs also means that users will have the added benefit of a more solid panel, making it perfect for use in creating modular rooms as described above.
Planning the Rail System
When planning the rail system, a buyer should should be aware that in order to combine and move individual panels independently, multiple curtain rails will be required. Depending on the planned length of the panel curtain system and the number individual panels to be hung, the number of rails needed will vary, but, in any case, there should always be a minimum of two and a maximum of five rails in any given installation. Once a person has measured the length of the rail system, they then have to calculate how many individual panels they will need to cover the space entirely, if that is the look they are going for. For example, a 10 metre panel curtain would use 15 individual panels with a width of 70 cm each. Once this is calculated, the buyer can decide how many rails they would like their panels to be spread across. This decision depends on the purpose and design of the panel curtain and also the available space. After the buyer is happy with their design, it is simply a matter of purchasing the necessary rails and the panel curtains to fit.
How to Buy Panel Curtains on eBay
eBay is home to a large selection of panel curtains and rail systems, and as is the perfect place for buyers to find the perfect panel curtains for any space. On the the homepage, simply type 'panel curtains' into the search box and a number of listings for different panel curtains will appear on a results page. What´s more, you can search for particular panel curtains by including the type of fabric in the search query. For example, if you enter 'polyester panel curtains', only those listing that match that description will appear on the result page. You can then sort the results based on colour and brand.
The seller will specify the buying the method. There are two: auction or you can pay the list price. If you participate in an auction, you could very well pick up the panel curtains for a steal, but there is also the chance that you will be beaten by a higher bid. To participate in an auction, you will have to register as an eBay member first. The registration process is fast, and it is free.
Conclusion
Panel curtains are a perfect, manifold solution to window dressing in any space, whether in the home or office. Their lightweight modern design means that they can add functionality to a room without overcrowding and draining the life from the space. Panel curtains come in a variety of different styles, designs, and fabric types and decorators can mix and match these qualities to find the perfect panel curtain setup. With the advent of digital printing, panel curtains have become their own windows on picturesque vistas, effectively bringing the outdoors, indoors. Another use of panel curtains is that they can also be used to create modular rooms within a larger space. Any purchase of panel curtains requires careful consideration of all the above criteria, including the size of the space and the length and number of tracks, but once the buyer knows what it is they wish to get of out their panel curtains, the only limit is their imagination.