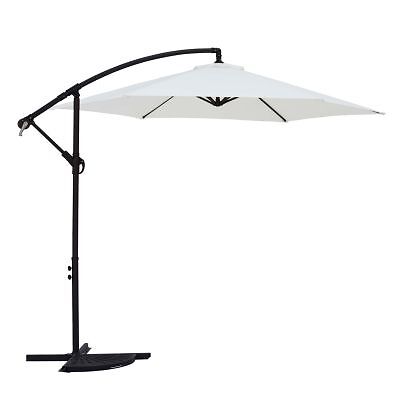 As garden furnishings go, parasols provide not only beauty, but serve an important purpose. Parasols can provide protection from the sun, wind, and even the rain all while adding bright colour and texture to any garden decor. However, choosing the best parasol and base for one's garden and purchasing these items on eBay is no easy task. There are several different considerations to take into mind before making a purchase.
Regardless of where it is purchased, buying a parasol and base includes choosing a type of parasol. Closely connected to this, the material that the parasol is made of must be considered. Next, buyers must choose the type of base they need and whether or not other accessories will be necessary to go with their parasol. Finally, buyers who are interested in shopping for a parasol and base on eBay will need to take additional factors into account such as searching techniques and best practices that will make their buying process go smoothly.
This guide will provide readers with all of this information including important tips surrounding the eBay shopping experience. By the end, readers should feel confident that they can locate and purchase the perfect parasol and base on eBay.
Types of Parasols Available
One mistake that parasol buyers make is assuming that they are all the same. In fact, there are four distinct types of parasols to choose from. What differentiates one type of parasol from another is its mechanical function as well as its aesthetics. The following sections will briefly outline each of these four types of parasol, crank parasols, pulley parasols, cantilever parasols, and tilt parasols, in order to help buyers decide which is best for their garden set-up and needs.
Crank Parasols
Crank parasols, as with the pulley parasol, are given their name because of the system used to raise and lower the fabric of the parasol itself. Crank parasols are perhaps the most popular on the market and are enjoyed by users because they are simple to operate; just turn the crank one way to open the parasol and the other way to close it. Another reason that crank parasols are so popular is because they are appropriate for pretty much any age or size operator.
Pulley Parasols
Pulley parasols work very much the same way as crank parasols. However, rather than turn a handle, pulley parasols require their operator to tug on a rope to operate a pulley system in order to raise the parasol, and then finally securing the rope once the parasol is up at an acceptable height. When ready to let the parasol down, the rope is simply loosened. The benefit of the pulley parasol is the speed in which it can raise and lower a parasol. The flip side is that it is much more difficult to operate than a crank parasol as it requires a certain degree of strength to raise the parasol and technique to secure the rope at the end.
Cantilever and Tilt Parasols
Though technically two separate types of products, the main idea of cantilever parasols and tilt parasols is to provide increased function to the outdoor space. Easier to rearrange than either the crank or the pulley parasol, cantilever and tilt parasols are designed to allow the user to easily readjust the shading function of the parasol as the sun moves in the sky. Let's now take a look at the differences between these two parasol types.
Cantilever Parasols
Cantilever parasols are built at a permanent angle. They may alternately be called hanging parasols. Rather than allowing a user the ability to use the parasol in a traditional manner, this angle is designed to help keep the parasol fixed in a more shade-conducive position. These parasols are suspended from their frame and cannot fit in the middle of a garden table in the same manner as traditional or tilt parasols.
Tilt Parasols
Tilt parasols, on the other hand, more likely resemble crank and pulley parasols in that they can sit in the middle of a garden table. However, unlike their fixed-structure counterparts, tilt parasols have a mechanism in the middle of their support bar that allows for the unit to bend at various angles as the sun moves through the sky.
Materials for Parasols
In addition to the general type of parasol that is most appropriate for one's garden, there is also the question of the material with which the parasol is made. While the shading element of the parasol itself is generally made of some combination of synthetic and natural fabric, the posts and arms of the parasol can be made of a number of different materials. The most common types of material are aluminum, stainless steel, teak, and wood. Each has its own pros and cons, which are depicted in the following table:
| Material | Pros | Cons |
| --- | --- | --- |
| | Strong; lightweight; resists weather damage | Pricey |
| Stainless Steel | Durable; weather and rust-resistant; | Pricey |
| | Strong; durable; resistant to weather, rot, and insects | Pricey |
| | Durable; stylish; great value for money; | Must be treated or a parasol cover used to guard from rot and weather damage |
In addition to the pros and cons outlined in the table above, buyers will want to consider the type of garden furniture that they already own so as not to inappropriately mix materials. For example, a stainless steel garden table with a wood parasol may look mismatched whereas a aluminum parasol may blend right in with the decor.
Considering a Parasol Base and Other Accessories
After deciding upon the type of parasol that will be purchased along with the material with which the parasol should be made, the buyer is ready to move on to the purchase of a parasol base as well as other accessories to augment the parasol in one's garden.
Parasol Bases
There are two major types of parasol bases that users must consider. Anyone purchasing a crank, pulley, or tilt parasol will need a fixed base whereas anyone purchasing a cantilever parasol will need to either secure the cantilever parasol to a solid surface or else weigh it down with a much heavier, product-specific base.
In addition to the type of base, buyers will want to consider the material with which their base is made. Since the purpose of a parasol base is to secure the parasol in place and protect it from the wind, bases are generally made of heavy material such as iron, concrete, bronze, stone, and steel.
Parasol Accessories
Though not a requirement, another possible purchase that users can include when buying a parasol and base are parasol accessories. Depending on the individual's plans for using the parasol, helpful accessories include parasol lights, parasol covers (especially helpful for wood-framed parasols), and parasol heaters.
Buying a Parasol and Base on eBay
The decision to buy a parasol and base from any retailer involves considering the type of parasol as well as the material of the parasol and the type of base. However, when buying a parasol and base on eBay there are additional factors that need to be taken into account. Minimally, this includes learning the proper searching techniques as well as taking the time to evaluate each search result before committing to a purchase.
Searching eBay
A great benefit of shopping with eBay is the many different sellers and offers that are available for each item that a buyers wants. However, learning to search these sellers and offers is the key to success. When looking for a parasol and base on eBay, this can mean beginning with a general search in the search bar on any page of the website. Those only looking for a basic idea of what is out there may begin with the search term "parasol". However, those with specific needs, such as colour and/or material, may want to start right off with a more specific set of keywords, such as "green aluminium parasol".
Evaluating Search Results
Once a user has generated an acceptable amount of search results for their parasol and base, the time has come to evaluate the results. eBay provides its users with several tools in its Help page that can help them to become better buyers and get the perfect piece for their money. Minimally, this should include a careful reading of the listing page as well as a look through the seller's feedback and reputation. This is the best way to make any eBay buying experience a pleasant one.
Conclusion
Learning how to buy a parasol and base on eBay is a multi-step process. Buyers need to take time to carefully consider both the purchase itself as well as important eBay success strategies. This guide has taken readers through this process in an easy, step-by-step manner which begins with the buyer deciding upon the type of parasol he or she wants. There are four major types: crank parasols, pulley parasols, cantilever or hanging parasols, and tilt parasols.
After considering the type of parasol that one wants to buy, the next step is considering the material that will make up the parasol's frame. Popular options include aluminum, stainless steel, teak, and wood. Each has its own set of pros and cons which, along with garden decor, can help buyers to make a choice. Finally, a buyer must decide on the correct type of parasol base and which parasol accessories may be appropriate.
Once all this has been taken into account, the eBay buying process can begin. Buying a parasol and base on eBay begins with searching and ends with the proper evaluation of the products listed from each search. By paying attention to the tips in this guide, users can be on their way to getting a beautiful garden parasol and base in no time at all.