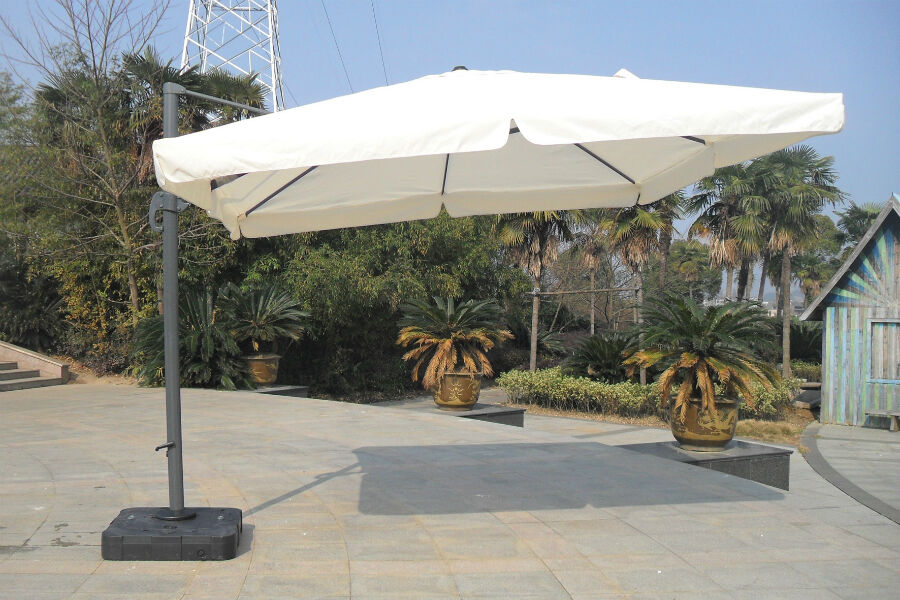 Nothing beats sitting in your garden on a warm summer's afternoon, tempered by a cool breeze. The only problem is, that on some afternoons the sun can be too hot, and the pleasure of a quiet afternoon in the garden has to give way to a quick retreat back into the house. One of the best ways to avoid this problem is to add a parasol to your assortment of garden furniture.
Not only can a parasol be functional, keeping off the sun and occasionally the rain too, they also add a splash of colour contrast against the lawn. But what kind of parasol should you buy? There are a number of factors to consider, and the best way to begin is by identifying your personal needs and situation. Then, once you are armed with the right type of knowledge and you know your requirements, finding the right parasol becomes that much easier.
History of the Parasol
The history of the parasol can almost be said to be the history of humanity, or the history of the umbrella, since they are effectively the same invention, although they are commonly used to protect against different things. As long as people have gone out and spent time in the sun, they have needed protection from it. The ancient Egyptians and the Chinese both used parasols, as did the Greeks. While the parasol did originate as a hand-held sun shade, it did not take long for it to migrate out to the garden as a fixture. In fact, the parasol's beginnings happened so long ago that no one knows exactly when, although there are records of outdoor parasols being used in the ancient city of Nineveh.
British use of outdoor umbrellas, or parasols, dates back to the end of the seventeenth century, when they were used to shelter the outdoor customers of London coffee shops. From there, it was just a small step to the back garden.
Anatomy of the Parasol
The basic structure of the parasol, whether a garden parasol or a lady's umbrella, has not changed in hundreds of years, if not longer. It consists of a shaft, ribs, and a canopy. The shaft provides the main support, and may be either rigid or collapsible for extra mobility. The ribs are what give the canopy its shape. Originally wood, they are most commonly metal now and need to be both light and rigid. They are usually jointed, allowing them to lie flat when furled, yet still produce a curve when extended. The final, main component is the canopy, which is constructed from a number of fabric sections that attach to the ribs. The canopy has to be produced in that way because it is impossible to create the necessary curves in a single piece of fabric.
Choosing a Parasol for Your Garden
The first step in choosing a parasol for your garden is determining your needs. It is not enough to simply say that the parasol should provide shade, as every parasol will do that. What matters are such things as the size of the garden, the height and diameter of the parasol, and even the pattern printed on the top. Other factors include whether the parasol is fixed, or removable.
Consider the Garden Environment
Step out into your garden and take a look around. This is the space where you will need to fit a garden parasol and it is important to take it into consideration when looking for one. If you already have garden furniture, you will probably want to choose a parasol that matches the existing furniture in both size and appearance. It is often possible to choose a parasol that mounts in the middle of a garden table, and if so it is important to make sure that it is neither too small nor too large. Too small, and it only shades the table unless it is angled just right. Too large, and it can either overbalance or get carried away in a high wind. If you do not have existing garden furniture, you may want to pick up a complete set that includes a parasol so that everything fits together and matches.
For those who do not want to place their garden parasol in the middle of their table, it is also important to consider the surface. Will it be resting on a hard surface such as cement or concrete, or is there no such surface, meaning the parasol has to be placed directly on the lawn?
Consider How it Will be Used
Some people like a parasol they can leave in their garden all year, while others would prefer one that is more easily portable and can be stored indoors when not in use. Parasols that are left outside all year, or even all season, are often made of heavier fabric than portable ones, for reasons of both weight and durability. Fixed parasols are also more likely to be designed with a joint so that they can be angled against the sun, where portable ones will normally rely on a fixed shaft.
One advantage of the more portable parasols is that they are not necessarily restricted to use in the garden. It is quite possible to take one to the seaside where it can provide shade for sunbathers on the beach.
The following table gives a brief overview of some important decision points for anyone buying a parasol for their garden:
| Feature | Details |
| --- | --- |
| Shaft Joint | Allows the parasol to be angled against the sun without changing its position. Very helpful for fixed-mount parasols |
| Heavy Canopy | Provides extra protection against weather, important for parasols which are kept outside in all weathers |
| Fixed base | Allows for a permanent or semi-permanent mounting, good when you have a hard surface such as brick, concrete, or tile in your garden |
| Portable Parasol | Allows for easy placement wherever it is needed outside the garden, like the beach |
| Large Parasol | Good for fixed use, especially when mounted over a table |
In all cases, it is important to pay attention to exactly where and how you will be using the parasol so that you have a better idea of exactly what you need and how you will be using it.
The Garden Parasol Purchase Decision Process
The first step in making the commitment about which parasol to buy is to determine your budget. Once you know your budget, the next step is to itemise your needs so that you know exactly what you really need as opposed to what you only want. Once that fact is determined, you can match the list against your budget so you will be able to tell at a glance whether any given parasol does or does not meet your needs.
Buying a Parasol for Your Garden on eBay
Buying a parasol for your garden can be done quickly and easily on eBay. All you have to do is enter your desired search terms into the box that is found on every eBay page and watch the results appear. It only takes a moment to produce an overflowing screenful of results. Once you have the results on screen, the next step is to narrow them down to just the ones that fit your criteria. You can use the filters in the sidebar to limit your search by anything from material to size. eBay's sort function lets you make sure that the ones you are most interested in are at the top of the list.
After you have found the right parasol, your next step is to find a seller, and the best place to start is at their profile page where you can see everything from their feedback to their location. You can also find out if they have any special shipping policies, or whether they bundle items such as selling a garden parasol with lawn chairs. If the seller is close enough, it may even be possible to pick up your parasol and avoid the necessity of paying for shipping.
Conclusion
Buying a parasol for your garden can provide you with hours of afternoon comfort on some of the hottest days of summer. A parasol is a simple accessory that looks good in any garden, providing both a splash of colour and an oasis of shade. Regardless of whether you want something to go with your existing garden furniture set, or whether you want it as the central piece for a new arrangement, a parasol is a must for anyone who loves to spend time in their garden. You can choose anything from a large and heavy parasol that will fit in the centre of a garden table, to a portable, lighter one that can be taken elsewhere, like down to the seaside if need be. It is all about matching the purchase to the intended needs. That being so, identify your needs and how much you have to spend, and buying your parasol becomes easy.