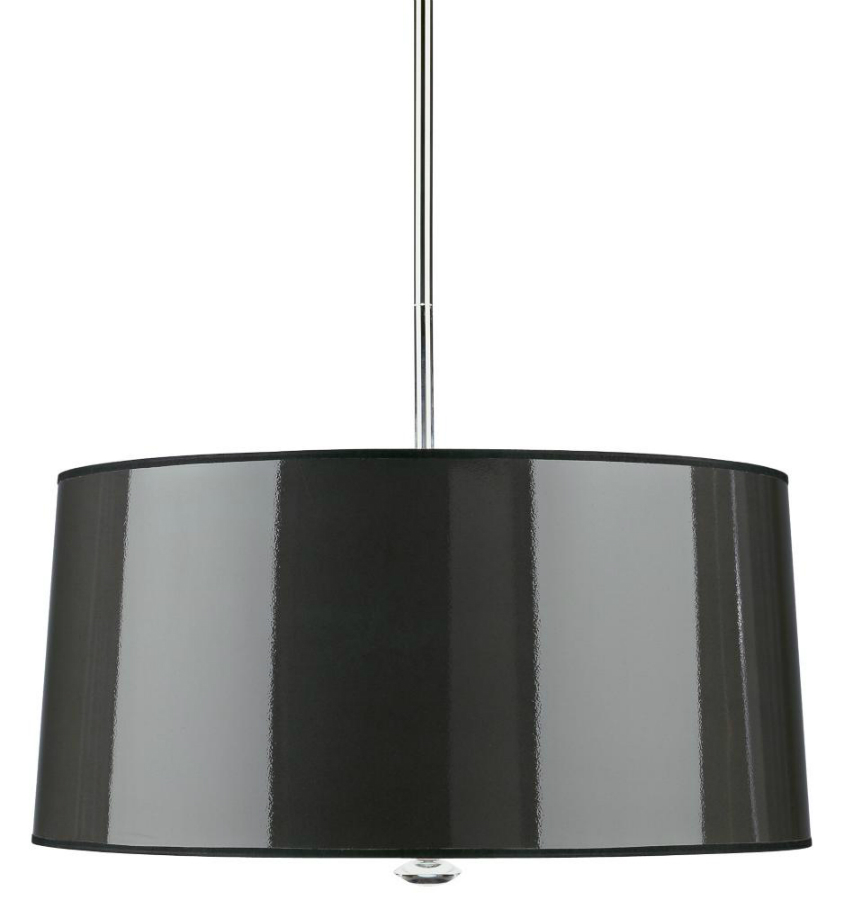 The correct lighting in a room is essential to any home. Whether an intimate atmosphere, illuminated kitchen table, or well-lit workspace is required, a well-positioned pendant light could be the solution. A pendant light is essentially a light that hangs from the ceiling, suspended by either a cord, rope, chain, or pole. The name pendant originates from the light's resemblance to ladies' pendant necklaces and, despite having been in existence in one form or another for many centuries, they can be stylish and contemporary as well as traditional. The wide variety of pendant lights available both online, at sites such as eBay, and at bricks and mortar stores, means that a pendant light can be found to fit any décor scheme, whether modern, traditional, rustic, or new age. On eBay, pendant lights can be found easily ranging from brand names and new models, to used, vintage, and antique.
About Pendant Lights
Pendant lights are characterised by their dangling nature and usually contain a single bulb. This distinguishes them from chandeliers as, although they are also suspended from the ceiling by a single cord, they contain many bulbs on several arms. Simplicity of form is key to pendant lighting; however, the overall effect of the lighting does not have to be plain. The bulb is covered by the pendant itself, and this can be made from a wide variety of materials. Glass is a popular choice, but, metal, plastic, terracotta, and rattan are also used. Lampshades of fabric or plastic can cover the bulbs.
Design of Pendant Lighting
The design of the pendant has very little limitations in terms of style. Mini bulbs can be used in conjunction with very small pendants, and these are usually hung as groups for a modern look. Extremely large pendants are also used to give a dramatic look. Elongated pendants can be used in specific areas, such as over pool tables and kitchen islands, and these usually contain one fluorescent tube and are hung by chains, low over the desired area for bright illumination. Budget, style, and the look hoping to be achieved are key in the purchase of a pendant light. Pendant lights are often used by interior designers to highlight certain areas of a room, for example, a work area or bedside table. They can also be used to create atmosphere and light darker areas of a room, such as the corners, without taking up the precious floor space that a floor lamp would. Pendant lights have the advantage of being able to be hung at various heights, and this aids in the highlighting of certain areas. Pendant lights are often hung low over dining areas to create a well-lit, yet atmospheric hue in a room. When grouped together, each light can be hung at a different height to create a design feature out of a simple essential item. Versatility is a major factor in pendant lighting, and it is probably this that has led to its enduring popularity. They can be used just as effectively as general lighting as highlights, and they work well in complimentary lighting schemes where there are a number of different lighting features. The wide variety of designs also makes pendant lights popular, as it is possible to find a light that will suit almost every home décor.
How to Choose a Pendant light
There are several factors to consider when buying a pendant light. Firstly, a budget must be set. One of the joys of pendant lights is that they are available at all budget points. It is often possible to find the desired style of light in the set budget by looking at alternative materials and finishes. This is where eBay comes into its own as budgets and criteria can easily be set and adjusted, and all of the possibilities brought up, making it simple to see all that is available.
Location
The area that it is to be lit is the next consideration. As pendant lights can be used as general lighting and as task lighting, these options must be considered. The size of the space and position in the room have to be taken into consideration, so that an incorrectly sized item is not purchased. Also, if the light is to be used to highlight a certain area, it must be assured that it will not cause an obstruction, pose as a hazard, or interrupt people's sightlines if it hangs too low. Obviously style and décor are important in choosing a pendant light. Because they are available in so many different sizes, colours, and materials, it is important to think about the overall look of the room and decide which style of light would be complementary to the decor scheme.
Fitting Needs
How the pendant light is going to be hung should be worked out before purchase. If a single light is bought, it can easily be positioned at the existing light fitting. However, if multiple pendants are bought, an electrician may be required to properly and safely install the fittings if there are no existing multiple lights. Multiple pendants can also be hung along a track. It is wise to read the installation instructions carefully prior to purchase so that unforeseen costs are not accrued by the purchase of an incorrect pendant light.
Material, Size and Setting
The material used in the pendant light will influence which room it is used in and its style. Glass pendants can be sleek and modern, but work equally well in cut glass and more ornate designs. Metals such as brass, chrome, bronze, and steel are often used, in either brushed or polished finishes. Again, because of the variety of styles, these can be contemporary or rustic. This is also true of lampshades, which come in a multitude of colours, sizes, and designs. Rattan pendant lights work well in covered, outside areas and conservatories or with matching indoor schemes. Terracotta pendants provide rustic outdoor or kitchen lighting. The size of the pendant light can influence whether the look achieved is traditional or contemporary. A relatively old-fashioned looking pendant can look very modern when it is an outsized design. Equally, a contemporary pendant can work in a traditional setting if it is small and unobtrusive.
Other Criteria
Below is a step-by-step guide to choosing the right pendant light. It is a good idea to use a piece of paper to keep track of the requirements and answers to the below questions, so that a clear picture of the pendant light required can be drawn up, and used as search criteria.
Set a Budget
It can be tempting to veer off course when searching for pendant lighting, as so many varieties at as many budgets are available, but by making a clear decision, not only does it narrow the search, it provides clear guidelines.
Decide on the Needs to be Met
The room in which the light it to be used, and its location within that room, determine the kind of pendant required. For example, lighting over a surface, such as a table, can be large and hung lower than a light in the middle of a room. If the pendant is to be the main light in a room, it will have to be sufficiently bright, however, an accent light can be softer.
How Many Pendant Lights
This is a matter of personal choice, but also the location of the light and look of the room have to be considered. Multiple lights can have a dramatic look if hung close together, but spread out can provide high quality light to a dark space. Retailers sell pendant lights both individually and as sets of multiple lights, so this should be borne in mind. If multiple lights are desired, or just a repositioning of an existing fitting, electrician costs should be taken into consideration.
What Material or Finish is Desired?
The correct lighting can bring a whole room together, so to achieve a cohesive look, consider the rest of the room's décor. The finish chosen for the pendant light could reflect the materials used in the room, such as chrome finishes, or make a statement by being different.
Finding a Pendant Light on eBay
From the eBay homepage select the category Home & Garden. Hovering over the words Furniture & Living on the menu on the left hand side of the page, click on the word Lighting. Select Ceiling Lights & Chandeliers from the left hand menu. Pendant lights can then be selected from the resulting menu. Use the list compiled by using the points above to search for specific criteria in the search bar at the head of this page. For example, if the desired item is a chrome kitchen pendant light, search for "pendant light chrome." Searches can be taken to more-refined levels using various criteria, such as brand, condition (new or used) and price range. There's a variety of options in the left hand menu that can be combined to refine searches which should allow the ideal pendant light to be found.
Conclusion
No matter what type or style of pendant light is required, there is one available to meet any needs. eBay has the ideal search tools for finding the perfect item for any combination of budget and style. It is easy to browse through the thousands of options or to use the filtering tools to pinpoint searches to a specific style, number, and material of the desired pendant light.