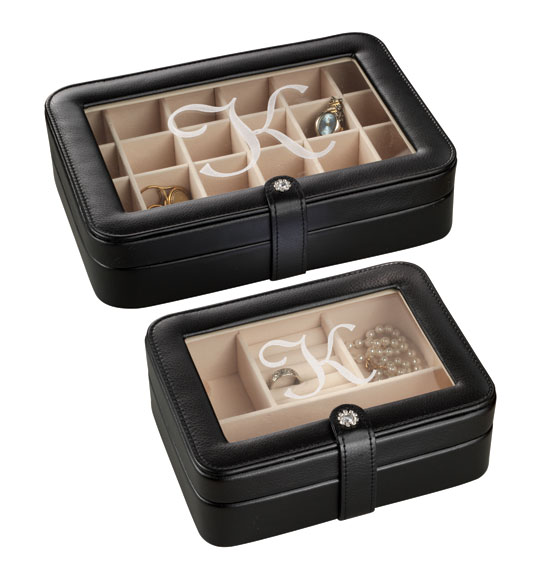 What is a more useful-yet-beautiful, affordable and distinctive gift than a jewellery box? The answer is a personalised jewellery box.. Women who have everything are notoriously difficult to shop for, but a well chosen jewellery box bearing her own monogramme is a gift by which few fail to be charmed. Plain and stylish jewellery boxes for men also exist, although they are a little harder to find. Nevertheless, many have a neutral appearance and suit either gender. And for decades, a jewellery chest been a great choice to give to a young niece, daughter or granddaughter, or even a newborn infant.
Personalised jewellery boxes are available from jewellery shops, many of these being chain operations with premises in major town centres. Small independent jewellers may offer this service as well. It is unusual to accomplish the mission in one visit, and a return trip to pick up an engraved item is a virtual certainty. The range on offer may be rather limited; hence, ordering over the Internet can open up more possibilities, and can save valuable time, transport costs, and shoe leather. eBay, the ever-growing online auction website, boasts many styles of jewellery boxes, which sellers are willing to personalise before sending out to a customer.
The prospective purchaser of a personalised jewellery box needs to consider which material would best convey their sentiment, which special features are desirable, the spending limit, and how to word the inscription.
The Appeal of Personalised Jewellery Boxes
Jewellery boxes are as diverse as can be imagined. They can be minimalist style statements, seamlessly blending into a bedroom's decor and furnishing scheme, or extravagantly ornate, decorative artefacts, upstaging their own contents in terms of aesthetic appeal.
Among the classier-looking designs are oak jewellery boxes with drawers, brass handles, and contrasting wooden top, for example; however, malachite, mother of pearl, onyx, and quartz also feature at the higher price end, and mahogany and labradorite, a type of multi-coloured crystal, are two other relatively rare materials found both in antique and high-end contemporary jewellery boxes.
Materials for Personalised Jewellery Boxes
From lightweight lacquered wood, glowing like ebony, to frail, intricately carved filigree structures, the jewellery box variations are numerous. Particularly sumptuous are reproduction inlaid jewellery boxes, crafted by using assorted species of wood to create delicate marquetry patterns.
Silver Jewellery Boxes
The glint of silver as sunlight filters into a modern princess' boudoir can be supplied relatively inexpensively, when a doting partner, parent, devoted friend, or close relative makes the decision to buy a tasteful jewellery box in this precious metal. Better still is having it engraved with its owner's name or with a fond inscription.
Having a silver or silver plate jewellery box personalised is often very straightforward, as the design tends to carry an oval, rectangular, or diamond-shaped panel on its lid ready for engraving, and silversmiths who trade in such items are more than happy to engrave the customer's message. Indeed, there is a thriving industry producing small, silver-plate caskets, which can be ordered by brides to present to their bridesmaids, mother-in-law, and flower girls as a thank-you.
Wooden Jewellery Boxes
The next most popular material for personalised jewellery boxes is wood.. Oak, mahogany, cherry, bamboo and exotic burlwood are just some of the genera of wood from which jewellery boxes are made, most of them personalisable.
Other Materials
Capable of being personalised with a little ingenuity and creativity, leather jewellery boxes make a statement and can, in many cases, be unisex. Modern and sleek, mirrored jewellery boxes fit in well with monochrome, contemporary decor, or can suit an art deco interior.
Alternative Types of Jewellery Boxes
There are considerable differences between the types of jewellery boxes that exist. Some are miniature trinket boxes, cherished for their petiteness, while others are multi-tiered edifices intended for the seriously gem-endowed owner. Certain enduring styles of specialised jewellery box survive all changes in taste across the decades.
Travelling Jewellery Boxes
Normally a compact version of the standard jewellery box but made from lightweight materials, the type of jewellery box specifically intended for travel generally has a great many small compartments, which click shut securely, an overall tightly closing clasp fastening, good-sized integral mirror and a carrying handle. The finish is often leather, suede, or faux leather, and contains high-gloss plastic, faux alligator, or other imitation animal pelt.
Much of the fun of obtaining a travel jewellery box is their vintage feel, harking back as they do to the 1960s and 1970s when travel was finally available to all members of society, and affordable carrying cases, in which to pack such essentials as jewellery, had swiftly to be invented and manufactured.
Musical Jewellery Boxes
At one time, a standard occupant of every little girl's dressing table, this kitsch item typically has a small ballerina folded inside who springs up when the lid is opened, and twirls as the music from a hidden mechanism plays.
Musical jewellery boxes on sale today are mostly small, painted wooden containers designed with little girls in mind, easily personalised with a painted name.
Russian Jewellery Boxes
Typically circular, in contrast to the standard square or rectangular design more usual in the West, authentic Russian jewellery boxes are exceptionally ornate, and bring an extra touch of glamour to their owner's dressing table. Having fewer compartments, often just one drawer, storage capacity is not their main advantage. Instead, craftsmanship and the blend of semi-precious materials are what make these decorative items really stand out.
A circular Russian jewellery box is often a feat of workmanship, crafted from many pieces of the same stone, such as amber, quartz, or onyx with some added embellishments, such as curlicues, carved drawer handles, and a sumptuously lined interior.
Budget Options
Even when shopping on a small budget, the prospect of giving a personalised jewellery box is not out of the question. When made out of less costly materials, jewellery boxes are still quite attractive and can be just the ticket for younger princesses. There are a few ways to obtain this coveted item when money is tight.
Pre-Personalised Returned Jewellery Boxes
Firstly, a perfectly flawless jewellery box which has already been tattooed or stencilled with its original recipient's name may be found. Such items, returned by a customer, need to be disposed of, and retailers tend to sell them off at a fraction of the original price. The chance that the name in question corresponds to the one searched for is, of course, slim.
DIY Personalisation
With a little DIY ingenuity, by purchasing a plain wood jewellery box, generally made from plywood and pine, intended for painting or decoupaging, the customer on a budget can create a stunning and unique personalised jewellery box for a loved one.
Deciding on the Inscription
When personalising a jewellery box, simply instructing the etcher, engraver, or painter to place the owner's name in a prominent place is a popular decision. However, marking the date and occasion on which the gift was presented is naturally another favourite approach for the giver who has selected a jewellery box as their chosen token of esteem. Hence, some examples may include inscriptions, such as: "To Fiona on her 21st birthday, 6th of December 2012. With much love, from James" or "Love and kisses to my darling wife, Jenny, on our 10th anniversary" may be sufficient, if the giver chooses not to include their own name.
By acknowledging the significance of the landmark date, be it an 18th birthday, an engagement, or the birth of a child, it is preserved throughout time, and the jewellery box's status as a lifelong keepsake is ensured.
There is, however, a plethora of distinctive wooden, and wood inlaid, jewellery boxes out there, and a solution to personalising a wooden jewellery box exists. Simply buy the plain, raw wood box, and then paint, stain or varnish it personally, creatively adding the inscription as part of the finish.
Buying a Personalised Jewellery Box on eBay
Buyers can consider an alternative route to getting that personalised jewellery box. Many sellers of bronze and silver plaques can offer a slender, lightweight plaque and an assortment of shapes. These vendors inscribe the wording you request. Ordering a plaque separately makes it possible to widen the jewellery box search considerably, and to add the engraved plaque personally, widening vastly the jewellery box possibilities.
Choosing a jewellery box on eBay can be mind-boggling; hence, limiting the search to the personalised variety, while that does mean being restricted largely to silver boxes and a small number of wooden ones, is for some a good decision.
Those choosing to use some ingenuity in regard to the personalisation aspect can narrow the search for a box by using a keyword search. One of the better-known brands is Mele & Co. Typing the keywords "Mele jewellery box drawers&" into the search field on eBay's website narrows the range significantly and should call forth a manageable list from which to make a final decision.
Conclusion
Whether buying a jewellery box as a Mother's Day gift, as a birthday present, or to say thank-you to a partner who has just had a baby, personalisation is the ultimate touch. Although, on the face of it, a rather traditional purchase, with the number of novelty twists on jewellery boxes that exist on the market, purchasers can make a very individual statement. From vintage Indian-carved wooden boxes to trendy shoe-shaped jewellery containers, finding the item that reflects the recipient's personality and taste is a fully achievable feat.
Probably most popular of all are silver jewellery boxes. These are classic and sleek, and can last for a lifetime. As part of a dressing-table set, such a jewellery box is a fitting home for precious treasures. Engraved with the recipient's name, a silver jewellery box accompanies a female, or for that matter, male, owner through life. There is no paucity of marvellous jewellery boxes ripe for personalisation on eBay, and no matter what the buyer's spending limit, a box to fit the bill can be found.