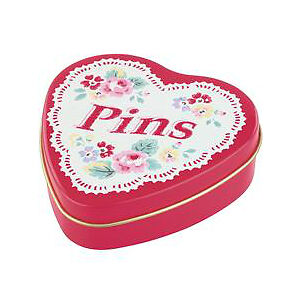 Pin tins are a useful invention, designed, as they were originally, to keep small sharp objects safe and tidy. They do exactly the same job today, helping to make sure that precious items stay out of the reach of inquisitive children and animals. In fact, nowadays they are not merely practical, but also attractive, and whether buying them for day-to-day use or for adding to a prized collection, there is a wide range of handsome items from which to choose.
Tin Goods
Tin is a silvery white colour and is derived from the mineral cassiterite. It is used to coat other metals to prevent corrosion. Metal pin tins are actually lidded airtight containers made of tinplate or aluminium. Tin is used for a wide range of goods, including kitchen and cookware items, such as biscuit tins and roasting dishes. In particular, the range of small tins, suitable for a variety of uses, is extensive and worth exploring as it includes mint tins, toffee tins and brightly coloured tins for holding children's playing cards.
Everyday Uses of Pin Tins
Pin Tins are not exclusively used for storing pins. They have a wide range of possible uses in the household.
Needlework
As the name suggests, these little tins were originally designed to provide a receptacle for storing plain pins, such as those used in dressmaking, and remain a feature of every well-kept sewing or knitting basket. Often circular, and between two and three inches in diameter, some have a lid that fits snugly over the bottom half, ensuring contents will not spill. Other versions are made as rectangular boxes, approximately three inches by two inches in most cases, and have hinged lids. Pin tins can be sold alone as decorative boxes, delightful to look at and a lovely addition to a collection, or they can be purchased complete with plain pins. These come with a variety of attractive pinheads, sometimes made of pearl or coloured materials and fashioned in glass or plastic. Sets complete with pins make a lovely gift for anyone who sews, or enjoys embroidery, knitting, crochet, or quilting; there are also sequin pins, which are often used by dressmakers when adjusting shirts or bridal gowns.
Crafts
Fans of delicate craftwork involving small parts or pieces, including jewellery makers, find pin tins very useful for storing items such as beads, miniature parts, or glass stones. If not stored safely, loose items such as these can quickly disappear and they tend to be hazardous underfoot. Miniature sewing/craft kits are easy to pack, making them ideal when travelling or going on holiday. They normally comprise pin tins containing assorted needles, threads, pins, hooks, and eyes, and a small pair of scissors.
First Aid Kits
Ideal for pills, lozenges or pastilles, pin tins can also contain safety pins, which have much more widespread applications, including providing effective fastenings for cloth bandages. Three or four varieties of safety pin in their own container can easily be stored in a first aid kit and will always come in handy. Besides their medical use, safety pins often save the day when part of a hemline drops unexpectedly or an essential button is lost, so knowing exactly where to find them is a boon.
Smokers' Accessories
Pin tins are about the same size as tobacco tins, and smokers use them for loose tobacco supplies, as long as the design is to their liking. They are also perfect as elegant cigarette and cigar boxes, and continue to be manufactured for these purposes up to the present day. There are charming, and very petite snuff boxes, about two inches by three inches, also available in tin, which are fast becoming as sought after by collectors as their counterparts in other, more expensive materials.
General Uses
Popular designs seen on the lids of pin tins include button motifs, and indeed some are used to store odd buttons or badges, and also trinkets. While jewellery boxes provide ideal storage, when travelling, it is more convenient to use a pouch or a tin. Certainly, elusive cufflinks and tiepins benefit from being kept together in a secure container. In fact, any number of small items, such as drawing pins or paper clips, can be collected and stored in a pin tin, making them a useful part of home office equipment.
Pin Tins as Collectables
As they are small items and have been around for several centuries, pin tins are now eminently collectable goods. Popular varieties include those decorated in Victorian style, dating perhaps from the late 1890s or the 1900s; those embellished in oriental fashion, with archetypal scenes featuring Chinese or Japanese decorative elements; and those featuring art deco illustrations, retro advertising brands, or Hollywood pin-up girls from the 1950s.
Victorian Pin Tins
Antique pin tins from the Victorian era, as designed for a lady's boudoir, may well have been used to store hairpins for real hair or wigs, as well as dressmaker's pins. Usually, these have printed lids and some also have printed messages inside the lid. Slightly larger tins, up to seven inches by three inches, sometimes had a pincushion embedded on the top of the lid – a feature rarely seen in contemporary versions.
Sports Memorabilia
Particularly in the 1960s, designs for pin tins were used to commemorate great football teams in the UK, while sometimes in the USA they were painted with important messages encouraging purchasers to learn about everything from fire safety to which politician would make the best state governor. Nowadays badges are mostly used for this sort of propaganda.
Designer Tins
Contemporary designs also appear on pin tins, particularly those by brands that also make kitchenware, including linens and other household articles. The same can be said of other tin items. Biscuit and cake storage tins with shabby chic designs, seasonal decorations and kitsch floral patterns continue to be popular.
Buying Pin Tins
Buying pin tins for everyday use is a straightforward and inexpensive process. A quick search on eBay will provide an overview of products available, and normally these will be subdivided into several different categories, and displayed on the left hand side of the page. Listings marked Buy It Now include all those items available at the stated price, and on eBay, there is a helpful set of frequently asked questions that will answer any queries about how this works. The purchaser merely has to contact the seller to place an order. Postage and packing costs are normally additional and will be stated alongside the article price, so it makes sense to bear these in mind when choosing a product. Buying collectable pin tins is likely to be via auction, and the seller may place a reserve price on the tin, which is the minimum price they will accept for it. Popular items may attract quite a few bidders, so it's useful to have worked out a buying strategy in advance.
Find Pin Tins On eBay
Use the eBay categories to search for pin tins. To do so, click on All Categories and then select Collectables, and then Tobacciana/Smoking. Alternatively, select Crafts from the Home & Garden menu on the homepage and search for pin tins under the options here. Another way to find pin tins on eBay, use the search function at the top of the page. As pin tins come in different styles and varieties and can often be used for more than one purpose, search terms such as "vintage tin" or "sweet tin" can generate equally useful results as typing in "pin tin." The search can then be refined using the pane on the left hand side of the page. Available options include selecting by Type and specifying a Price range. Shoppers can also filter by Auction or Buy It Now buying formats.
Conclusion
It's possible to find an extensive variety of pin tins online, whether these are wanted as collector's items or for everyday, practical use. eBay offers comprehensive online help and support for purchasers, whether they have general enquiries or want to know more about how auctions work. With good choices available, and support from eBay, buying pin tins has never been easier.