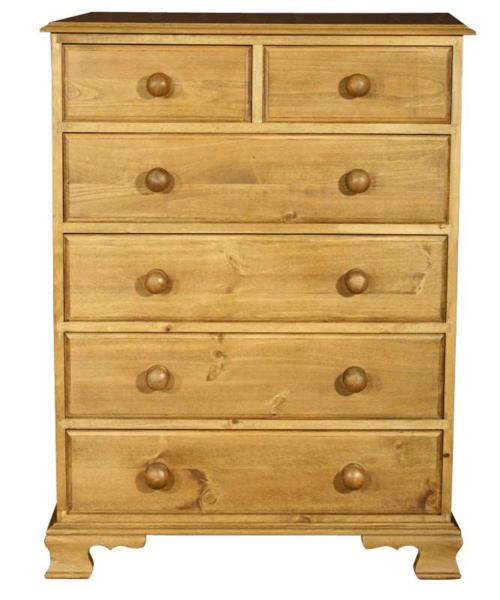 A pine chest of drawers is a desirable piece of furniture. The neutral colour means that it fits well into any room and with any existing decor. Pine is a sustainable resource that reaches maturity around one third faster than other woods, making it environmentally friendly and less expensive. It is also easier to work with, meaning that labour costs are reduced, and this saving is passed onto the buyer. Shoppers can buy a new or used pine chest of drawers, but should remember to check for quality and condition before they purchase. Buyers need to understand the difference between the type of drawer joints, as some are much weaker than others. This allows them to make an informed choice by understanding the load capacity of the chest of drawers, so that they do not overload the drawers and risk breaking them.
Pine chest of drawers can be found at furniture shops, department stores, and secondhand shops. eBay also has a large selection.
Factors to Consider When Buying a Pine Chest of Drawers
Pine is an incredibly popular material for constructing furniture. There are a number of factors that should be considered by the buyer before purchasing a pine chest of drawers.
Budget for a Pine Chest of Drawers
Pine is considerably less expensive than many other woods, especially hardwoods such as cedar and oak. This is largely because pine trees are a sustainable resource. Pine trees mature much faster than many other types of wood, and are therefore more readily available. Pine is also easier to work with than many hardwoods, as the wood is slightly more malleable before it is cured and finished. The time that it takes to create a chest of drawers using pine is reduced, resulting in lower labour costs and therefore, lower prices to the consumer.
Aesthetic Appeal of a Pine Chest of Drawers
Pine is favoured by many because of the attractive open grain. Pine has visible growth lines, with large, dark markings indicating winter growth and paler markings indicating the fast spring and summer growth. The dark round circles are known as knots, and are the result of new branches forming. Knotty pine is highly prized because of the large number of knots present. These features make each piece of pine furniture entirely unique, with different patterns, knot placements, and striations. Pine also has a distinctive scent that lasts for many years.
Versatility of a Pine Chest of Drawers
Pine has a neutral colour that allows it to blend well into any living space, regardless of the colour of the walls, flooring, or curtains. This makes it incredibly versatile.
Buying Used Pine Chest of Drawers
Buyers can choose to purchase a brand new pine chest of drawers, or they can opt for a used model. If well maintained, a pine chest of drawers lasts for many years so, provided it is in good condition, buying a used pine chest of drawers is a great way of getting a piece of quality furniture while saving money. There are a number of things buyers should look for when buying a used chest of drawers to make sure it is a quality item.
Overall Condition of a Pine Chest of Drawers
Look at all the outer surfaces of the chest of drawers. Look for any split or cracks in the wood as this indicates that it has not been well maintained, is of poor construction, or is likely to be approaching the end of its life. Despite the strength and resilience of pine, it can be scratched easily and acquire small dents. Some people like to keep their wood furniture pristine, but others appreciate the well-used, well-loved look. This look is known as weathered pine, and it brings a certain rustic charm to the chest of drawers.
Sturdiness a Pine Chest of Drawers
Try to rock the chest of drawers. Pine furniture should be heavy and sturdy, and there should be no loose parts. If the drawers are removed, the empty unit should still be strong and solid. It should not lean to one side or wobble from side to side. The drawers should also have very little or no give.
Signs of Insect Infestation a Pine Chest of Drawers
A well maintained pine chest of drawers should be free from insect infestation, such as woodworm. Evidence of woodworm can be found in the form of lots of tiny holes. If a chest of drawers is riddled with woodworm, it will be weak and of limited use. Buyers are better to choose an insect-free chest of drawers to give them many years of use.
Types of Joint for Pine Chest of Drawers
Knowing the difference between the types of joint for chest of drawers allows buyers to make an informed purchase. Some joints are considerably weaker than others, and are more likely to be found on lower quality models.
Butt Joint
Butt joints are found on lower quality pine chest of drawers. They offer the least strength and sturdiness of all joint types and are prone to breakage. They cannot handle hard use and do not have a large load capacity. The joints consist of two pieces of wood that rest against each other and are simply glued together. This type of joint relies solely on the strength of the glue, although they are often reinforced with the use of tacks or pins.
Dovetail Joint
Dovetail joints are aesthetically pleasing and very strong. They are formed by hand and require a great deal of skill and precision. These joints are formed with interlocking parts cut into the ends of each piece of wood. They are slotted into each other, creating an incredibly strong joint that cannot be broken easily. The angled shape of the interlocking pieces means that the joints do not slip apart from each other. Dovetail joints are found most commonly on high quality pine chest of drawers and they have a load capacity that is significantly greater than other joint types.
Box Joint
Like dovetail joints, box joints are formed using a system of interlocking pieces. Box joints are considered weaker than dovetail joints, but stronger than butt joints. These joints have less aesthetic appeal and are found on low to medium quality furniture. Box joints have square voids into which one half of the joint is slotted. This creates a locking system similar to a dovetail joint. Box joints are machine made and, although they use a similar system, box joints remain inferior to dovetails. The shape of the interlocking pieces enables them to slip free with relative ease, especially if there is pressure or stress on the joint. Glue can be added to reinforce box joints and to reduce the likelihood of them coming apart.
Dado Joints
Dado joints are used on inexpensive furniture and are notoriously weak. Dado joints have a narrow line or channel chiselled out of one side, and the other side of the joint slots into this channel. These joints, like butt joints, do not have a very large load capacity. They tend to separate even under moderate stress, or to snap apart completely. Glue is often added for extra reinforcement and joint security.
How to Buy a Pine Chest of Drawers on eBay
eBay has both new and used chest of drawers available to buy. Buyers can search for pine chest of drawers from the eBay homepage by entering a phrase such as, "new large pine chest of drawers", into the search box. They are then able to narrow down the results using the filters available. These filters enable the buyer to find the best chest of drawers for them by selecting a price range or condition. The location filter allows the buyer to choose an item that is located close to home, which can be useful when buying large items, such as a pine chest of drawers, which can be expensive to deliver. The seller should state in their listing whether they can deliver the item or whether it should be collected in person.
Feedback
Feedback is ideal for finding out what previous buyers thought of the service offered by the seller. Feedback is left for the seller once the transaction has been completed. Sellers who have a high percentage of positive feedback are more likely to offer a great service.
Conclusion
For a versatile chest of drawers that works well in any living space, a well built pine model is ideal. Pine is a strong, long lasting material that needs very little maintenance, but it is prone to scratching and picking up dents with hard wear. Some people like to keep their furniture in perfect condition, but others find that a few light scratches and dents adds character and charm. If buying a used chest of drawers, it is advisable to give it a thorough examination, making sure it is strong and sturdy, with plenty of life left in it, and no indication of woodworm infestation. A pine chest of drawers is considerably cheaper than that made of other types of wood and so is attractive to those who value both quality furniture and value for money. eBay offers buyers a large range of pine chest of drawers in a variety of sizes and styles, in both new and used condition, and all at great prices.