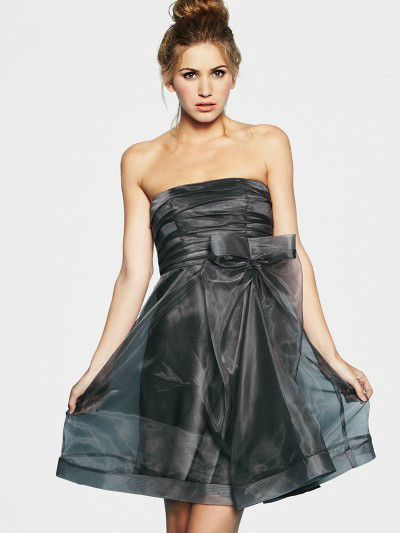 Every bride wants her big day to be a spectacular one, and to look her best. In addition to choosing a wedding dress that flatters her figure, a bride also styles the bridal party. Although bridesmaid dresses are often unfairly stereotyped as being less than attractive, stunning designs are readily available. However, keep in mind that bridesmaids come with different body types. Women who need to buy a plus-sized bridesmaid dress have to consider factors, such as the style of the dress, its fabric, sleeves, and length so that the dress is flattering. The bridesmaid's comfort level should also play a role in which dress she wears. However, every woman, regardless of her size, can find a dress that flatters her figure and fits well.
With a bit of research and planning, it is easy to find an attractive plus-sized bridesmaid dress that matches the wedding's theme and the other dresses. While shopping through specialty bridal shops is a common option, women can also turn to online auction sites such as eBay,, which offer great deals and a wide selection of bridesmaid dresses.
Bridesmaid Dress Etiquette
Wedding customs change over time and many traditions are being replaced by new ideas. However, custom does dictate that the bride makes the final decision when it comes to which dresses her bridesmaids will wear.
However, gone are the days when every bridesmaid must wear the same dress. Some brides even let the bridesmaids pick their own dresses, provided they meet certain criteria. For example, the dresses may need to be from the same designer, made of the same fabric, or be the same length or colour.
In addition to looking the part for the wedding theme, bridesmaids have a variety of responsibilities, including providing emotional support for the bride throughout the planning process and on the big day. They are also responsible for organising the hen night.
Factors When Buying a Plus-Sized Bridesmaid Dress
Whether the bride or bridesmaid is choosing the dress, it is important for the wearer to be comfortable. Even if a dress does look great, women of all sizes may be overly conscious of showing off certain features. For bridesmaids who wear plus-sized dresses, this may be more pronounced. Keep in mind the length of the dress, how much flesh is shown, and whether the dress is form fitting or loose. A strapless dress may be a sticking point, as they are often worn without a bra, but the dress alone may not offer sufficient support for a plus-size woman.
Beyond the style of the dress, women should consider the material, colour, sleeves, and length. A tight-fitting sheath dress hugs the curves of the body and shows off the legs, both of which can be uncomfortable for some women.
Fabrics for Bridesmaid Dresses
The choice of fabric for a bridesmaid dress depends heavily on the woman wearing the dress. Some fabrics cling to the body and show off every curve and ripple. Light silks, high gloss satins,, and other shiny fabrics also attract attention, so these are best kept above the waist, if they are going to be used at all. Cotton and jersey are comfortable and generally have enough structure to look good on a variety of figures. However, fabrics with a lot of drape, such as chiffon,, may not flatter everyone.
Colour for Bridesmaid Dresses
Black and other dark colours, such as chocolate brown, are always a slimming option for bridesmaid dresses. However, jewel tones such as emerald or garnet, or even a rich bold plum, are also flattering. Colour is influenced by complexion and hair colour, as well as the bride's theme.
Sleeves for Bridesmaid Dresses
Sleeves can help plus-sized women to feel more comfortable in their dress. Cap sleeves,, which cover just the tip of the shoulder, are a good option for summer, while long or three quarter length sleeves are good for winter. Off-the-shoulder sleeves or a one-shoulder design also look flattering because they draw attention away from other parts of the body. If the bridesmaid is wearing a sleeveless dress, consider adding a jacket or shawl to the outfit to cover the arms and shoulders. A capelet, which is a very small cape-style outer garment, is another option.
Dress Length for Bridesmaid Dresses
A mini dress is not always a good option for a plus-sized bridesmaid dress as the length of the dress can cut off the legs visually and make the wearer look squat and disproportioned. Instead, go for a dress that is cocktail length or falling slightly above the knee. Longer styles include tea length dresses, which fall to about mid calf; ballerina length dresses, which end just above the ankle; and full length dresses that sweep the ground. Longer skirts in general can make a woman appear taller, provided they do not have too much volume.
When to Buy a Bridesmaid Dress
When buying a bridesmaid dress, it is a good idea to order it early. This gives the bride and bridesmaid time to have any alterations made. However, ordering too early can be a problem. A woman's weight can fluctuate, which affects the fit of a dress. A women should buy her bridesmaid dresses when it is convenient and it seems like there will not be any complications: three to six months is typically considered a good buffer.
Fitting a Bridesmaid Dress
Sizing varies from country to country, so when buying a plus-sized bridesmaid dress, especially online, pay attention to the country of origin. Actual sizes for bridesmaid dresses can also vary by the designer, so a woman who is typically a size 18 in an ordinary dress may need a size 16,, for example. In addition, some women may have a larger-than-average bust, hips, or even shoulder width, so this needs to be taken into account. All of these discrepancies mean that it is a good idea to use recent measurements rather than to guess a size. While most bridal shop professionals and dressmakers can help women to take their measurements, it is equally easy to do at home with a soft cloth tape measure.. Women should be wearing only the undergarments that they would wear with their bridesmaid dresses when taking measurements.
Measuring the Bust for a Bridesmaid Dress
Wrap the tape measure around the fullest point of the bust. The tape measure should go under the arms and across the back while remaining parallel to the floor. The tape measure should not be too tight or too loose: two fingers should slide comfortably underneath it.
Measuring the Waist for a Bridesmaid Dress
Measurements for the waist should be at the natural waistline, which is slightly above the navel and below the rib cage. This is typically the narrowest point of the waist. As with the bust measurement, keep the tape measure parallel to the floor. As tempting as it may be, women should also not suck in their stomachs, as this can easily give the wrong measurements.
Measuring the Hips for a Bridesmaid Dress
Measure the hips at their widest point. In addition, keep the back straight and feet close together for this measurement.
Measuring the Arms for a Bridesmaid Dress
Women who need plus sizes may also measure their arms for both arm circumference and sleeve length. To measure arm circumference, relax the arm and wrap the tape measure around its widest part. For sleeve length, women will need a friend to help. Start by bending the arm at a 90 degree angle, with the hand resting on the hip. Have the friend place the tape measure at the centre back of the neck, then measure from there to the outer shoulder, down the arm, over the elbow, and to the wrist. Do not measure the different parts of the arm separately; bend the tape measure as necessary to ensure one continuous measurement.
Styles for Plus-Sized Bridesmaid Dresses
Some dress styles are universally flattering, making them a good choice for bridesmaid dresses. This helps to ensure a consistent look for the bridal party. These styles include A-line dresses, empire waist dresses, and halter neck dresses.
A-line Bridesmaid Dresses
The A-line dress is a classic silhouette with a fitted top and flared skirt. The skirt helps minimise the stomach, which can be beneficial for plus sizes. The A-line dress is also versatile as it can be created with a variety of fabrics.
Empire Waist and Belted Bridesmaid Dresses
Like A-line dresses, empire-waist dresses help to conceal a larger lower half. This style of dress raises the waistline to just under the bust, which makes the body appear longer and draws attention away from the midsection. The same effect can be achieved with belted dresses or a sash, provided the belt or sash sits above the stomach.
Halter Neck Bridesmaid Dresses
Halter neck bridesmaid dresses also work to draw attention away from the midsection by placing the attention on the shoulders. However, keep in mind that a halter neck dress may require a strapless bra or a special halter neck bra. This style of dress also shows off the arms, so the bridesmaid needs to be comfortable with the style.
Buying a Plus-Sized Bridesmaid Dress on eBay
When you are ready to shop for a plus-sized bridesmaid dress visit the eBay home page and enter a phrase into the search box. This can be anything from "size 18 bridesmaid dress&" or "plus size green bridesmaid dress&". From there you can filter your results by category and a variety of other features. You can also filter items by price to ensure that you stay within a budget.
Researching Sellers on eBay
Before making a purchase, look at the seller's feedback and rating. Positive feedback and high ratings are a good indicator of sellers that offer a quality service. In addition, reading the specific feedback left by other buyers can give you a good idea of what to expect.
After you have made your purchase, leave feedback for the seller about your own experience. Be honest and fair in your comments. If you like the seller, you can also save him or her to your saved sellers list, which you can use to search for items in the future.
Conclusion
Every woman has the right to look stunning in a dress, whether she is the bride walking down the aisle or a bridesmaid. Women who need plus-sized bridesmaid dresses should keep a few shopping tips in mind. Firstly, women should take their measurements so that they can properly size a dress, and buy the dress early enough to allow for alterations or any changes in body shape. The bridesmaid's comfort level is also important. The dress should be flattering and accommodate any insecurities that she may have.
Certain cuts of dress, including A-line and empire waist dresses, are universally flattering, while others are better tailored for a specific body type. The fabric also plays a role, with shiny or clingy fabrics revealing more of the body's curves, lumps and bumps than their cotton or jersey counterparts. Colour is also important in a bridesmaid dress, as it should suit the wearer's complexion and match the wedding theme. Dark colours are slimming, but bold jewel tones look good too.
Consider whether the dress should have sleeves. If not, a shawl or a jacket may be a good addition to the outfit. Finally, remember that longer lengths make women appear taller if the skirt is not too full. Unless the bridesmaid is comfortable wearing a mini dress, stick to a cocktail length dress or longer. Whatever style of plus-sized bridesmaid dress women are looking for, eBay is an excellent place to begin the search.