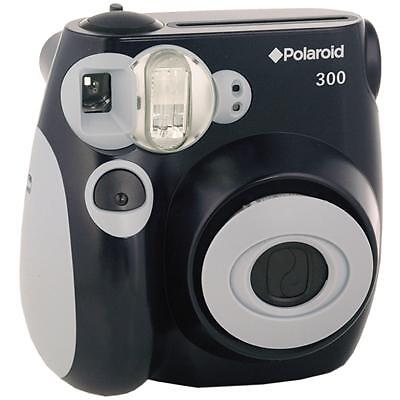 There is a great selection of Polaroid cameras available to buy on eBay and there are also several different ways to purchase them. There are new models which can be bought instantaneously for the asking price, or they may sometimes be secured with a well-chosen offer. Classic and vintage models are also available. These can be bid on in auctions held by both authorised dealers and private sellers.
Investigating which is the most suitable Polaroid camera is easy, thanks to eBay's product reviews and buying guides section. Advice on a particular purchase can be found using the search facility, or alternatively individual categories can be browsed for articles of interest.
Buying a Polaroid Camera on eBay
Having located a suitable Polaroid camera to buy as described above, the decision remains of whether to buy it new or second-hand.
Polaroid cameras can sometimes be found for sale with accessories, such as cases, straps, and even spare film. As these are not always listed with the camera itself, it is worth looking at what other items the camera seller currently has for sale by clicking on the "See other items" link. Extra items can usually be bought with a minimal increase in postage, so purchasing them from the same seller can be a good way of saving money.
Buying Possibilities on eBay
Some cameras are available for purchase immediately, which can be the most convenient method. However, when looking for a real bargain, it is often better to buy cameras which are for sale by auction. Where a camera is offered with no reserve, if no-one else places a higher bid, the camera will be sold for the vendor's starting price. Bidding on a camera at auction does not guarantee the item will be won, so is not a suitable method of purchase when the camera is needed right away.
Every eBay listing includes delivery details and method of payment information. It is a good idea to check these before committing to bidding on, or purchasing, a camera. It may be that different payment methods are requested if the item is personally collected. The item may also be offered with the option of specifying express delivery, for a small additional cost.
When confirming a bid, offer or purchase on eBay, it should be remembered that this is a binding commitment to buy the item at that price. Failing to honour this commitment causes inconvenience to the seller and can result in a non-paying bidder strike against the purchaser. Strikes can mean restrictions on what future items can be purchased, so should be avoided whenever possible.
Finding Polaroid Cameras at Auction
Bidding on a Polaroid camera can be fun, as well as a great way to find a bargain. Cameras sold at auction are often bought for a far lower price than those bought instantaneously. Clicking the "Auctions only" tab will display only those Polaroid cameras which can be bought at auction. Occasionally these will also have a "Buy It Now" price, meaning they are also available to be bought immediately for the price listed. Placing an acceptable bid will remove this facility, so it is worth considering this when bidding on a rarer model. Using "Buy It Now" will secure the item, whereas there are no guarantees of success with an auction bid.
With auction listings, a potential buyer can place a bid on a particular camera in the hope that they will win the item. If their bid is the highest when the auction finishes, they will then be able to purchase the camera. If they are outbid, an email message will inform them. They may then choose to increase their bid, if there is enough auction time remaining.
Finding Polaroid Cameras to Buy Now
If the Polaroid camera is required as soon as possible, then the best option will be to look for cameras which are offered with a Buy It Now option. Clicking on the Buy it now option will show only those cameras that can be bought straight away.
Finding the Cheapest Polaroid Camera
When looking for the very best deal, this can often be found by ordering the list of suitable cameras using Price + P&P: lowest first sort option. This criterion will first display only the very cheapest cameras. It is still worth browsing further down the list to check there are not more expensive cameras bundled with accessories that elevate them to Best Buy status.
Buying a Polaroid Camera
As new products usually come with a warranty, they can offer greater peace of mind. If no warranty is explicitly stated in the eBay listing, it can be worth checking this with the vendor using the Contact Seller facility. At the same time, it is often worth reading their returns policy in case there is a problem with the item when it arrives. For additional peace of mind, most new electronic and electrical items on eBay are offered with an optional Extended Warranty.
Buying a Used Polaroid Camera
If a suitable model of Polaroid camera can be found locally, it will offer the advantage that it can be completely checked over before payment is made. To identify Polaroid cameras which are available locally, begin by selecting More Refinements on the left of the page and then clicking on Item Location. Tick the box next to Within and select the desired maximum radius from the current location and enter the current postcode.
If the camera is being examined in person, it can be a good idea to use the checklist below. However, sometimes local purchases may not be possible. In this case, it is still important for the purchaser to obtain as much information as possible about the condition of the Polaroid camera under consideration. One possibility is to ask the vendor to go through the below checklist and feedback with anything this highlights. Additional photographs can then be requested of any new imperfections this brings to light.
Whether checking the camera in person, or with the seller's help, communicating with the vendor will be necessary to arrange this. Every item listed on eBay has a Contact Seller facility which can be used for this purpose.
| | |
| --- | --- |
| Camera Body | General check of camera body condition. Some cosmetic marking may be acceptable, cracks, or dents to the casing are not. |
| Lens | Take a picture of a flat surface to check that the lens is undamaged. |
| Flash and Battery | Take a low light picture to check the battery and flash are functioning correctly. |
| Viewfinder | Check viewfinder clear is clear and not cracked or hazy. |
Choosing an eBay Vendor
Having chosen a Polaroid camera, it is worth spending a moment to choose the best eBay vendor. Clicking on a seller's feedback score will display their recent eBay activity, allowing different vendors to be compared for speed and reliability. When the camera has arrived and is found to be as described, the buyer should always remember to add their good feedback to the seller's record.
Locating Polaroid Cameras on eBay
The easiest way to find a Polaroid camera on eBay is to use the search facility at the top of every page. For example, to find a Polaroid camera, simply type "Polaroid camera" in the search field.
Alternatively, it is possible to browse the Polaroid cameras that are on offer. Starting on the eBay homepage, expand the All Categories menu, select Cameras & Photography and then click Search. Click on Film Photography and then Film Cameras. Expand the Brand category on the left of the page, then tick Polaroid and select Go.
The options on the left side of the page can be used to focus the search on the most suitable cameras. For example, they can be used to display only the Medium Format Polaroid cameras. If no cameras are currently found with the desired attributes, the search can be saved for future use. It is also possible to request an email notification, should suitable devices later be listed on eBay.
Conclusion
Finding the most suitable Polaroid camera available on the eBay website should be fairly straightforward. Purchases can be researched in the available reviews and guides. Suitable products can then be searched or browsed for, until a shortlist of potential items is arrived at. Before the purchase or bid is made, any queries about the item can be clarified by contacting the seller. A smooth transaction will almost certainly be the end result of the good research and enquiries that were made made prior to purchase.