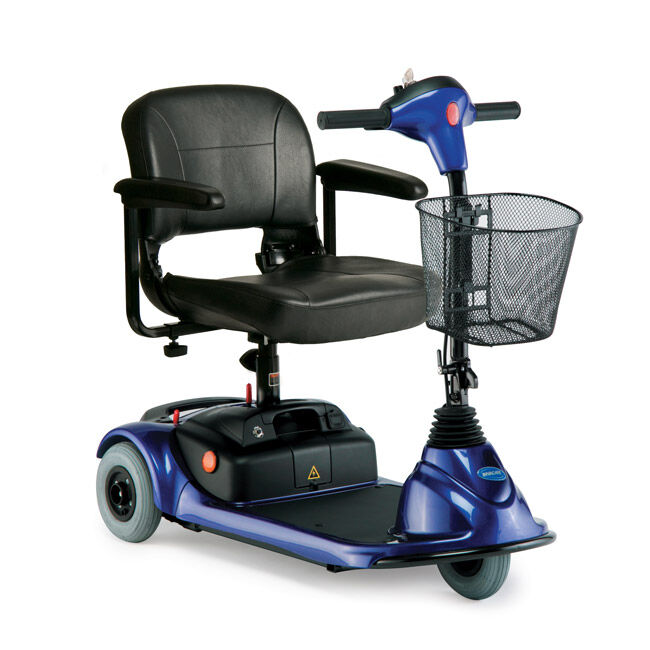 For people with mobility issues, a wheelchair may not be the best option. The answer for many people is a portable mobility scooter. It is a bit sleeker than a wheelchair, and can provide a greater range and faster movement. There are many factors to consider when it comes to buying a portable mobility scooter. For example, the buyer must choose the right level of stability, comfort, speed, and accessories. Portable mobility scooters are designed for indoor and outdoor use, and the buyer must decide how and when the scooter is to be used.
There are many reputable manufacturers that design scooters for people with different types of mobility issues. Buyers can purchase scooters at a variety of specialist retailers, cycling shops, and online at eBay. eBay has a wide array of portable mobility scooters and they can often be purchased at a better price than a bricks and mortar shop.
Portable Mobility Scooters vs. Powered Wheelchairs
Portable mobility scooters have several distinct advantages over powered wheelchairs for people with mobility issues, in addition to a difference in their design. Portable mobility scooters are more compact, lighter, and can be more manoeuvrable than wheelchairs. Also, they are more aesthetically appealing to many people. However, portable mobility scooters require an upright posture, strength in the shoulders and hands, and at least some mobility and strength in the upper body. Their design means that portable mobility scooters have a limited turning radius, low ground clearance, and less support, such as head or leg rests.
Components of a Portable Mobility Scooter
All portable mobility scooters have the same basic components: a seat in the back of a wheeled platform, controls on a column in front of the seat, known as the tiller, and a base unit to support the feet and batteries. Some scooters are rear wheel drive and others have the power connected to the front tyres.
Base Unit for a Portable Mobility Scooter
The base unit is the frame of the portable mobility scooter. The frame is made of steel, aluminum, or composite materials and the floor of the base unit is usually made of fibreglass or composite materials. The base unit houses the battery, wheels, and drive train of the scooter, so it affects the comfort and safety of the rider. The overall stability of the base unit should be evaluated before buying a portable mobility scooter. A stable scooter should not tip over when sharp turns are made. The floor should support the feet at a comfortable angle.
Front and Rear Wheel Drive for a Portable Mobility Scooter
Front wheel drive scooters are usually smaller and intended for use indoors and on flat surfaces. The motor sits over the front wheels and the scooter pulls the driver. Front wheel drive scooters have less capacity and are less capable of going up hills and handling outdoor terrain. Rear wheel drive scooters are designed to push the driver along rather pull them. They have a larger engine, can travel faster, require less battery charging, and can handle a larger weight capacity. However, some rear wheel scooters are not suitable for indoor use.
Brakes for a Portable Mobility Scooter
A regenerative brake system is used on rear wheel drive scooters. The motor works with the braking system to slow down the scooter initially, then brings it to a gentle stop. When the brakes are applied, excess power is channelled to the batteries. These types of scooters are equipped with a clutch or release lever to disengage the brakes manually. This allows the scooter to be pushed in case of an emergency. Other types of scooters use disc brakes. Front wheel drive scooters usually have a disc brake and a parking brake that is applied to the rear wheel.
Batteries and Chargers for a Portable Mobility Scooter
Portable mobility scooters use a variety of battery types. Typically, they have a 12 or 24 volt electrical system. Batteries are intended to last for at least one year, but can last much longer with regular charging and careful use. The following table provides information about the types of batteries commonly used in scooters
Type of Battery

Benefits

Notes

Lead acid

Least expensive

Longer running time

Longer life

Requires most maintenance, including charging and regular checking of water and electrolyte levels

Potential for acid spillage and explosion

Sealed lead acid

Requires less maintenance than open lead acid batteries

Cases are vented to prevent gas build up

Gel cell

Most common type

Charging is the only maintenance required

Safest type

Most expensive

Shorter life
Batteries are usually not included with new portable mobility scooters. Chargers for batteries are either onboard or external. Onboard chargers allow the battery to be charged during extended use. External chargers require extra equipment and can charge the battery away from the scooter.
Wheels and Tyres for a Portable Mobility Scooter
The wheels of a portable mobility scooter are usually between 15 and 25 centimetres. Larger wheels provide more stability and better handling when it comes to obstacles. Smaller wheels are usually intended for indoor use. The types of tyres available include pneumatic, foam filled, and solid. Pneumatic tyres are similar to those found on cars. They require maintenance to ensure that the air pressure is sufficient, but they provide shock absorption. Foam filled tyres can not be deflated, so they require less maintenance than pneumatic tyres. Solid tyres do not require maintenance, but offer little shock absorption. Grey tyres are available for indoor use to prevent marking. Tyres for outdoor use often have a deeper tread to handle mud, grass, and gravel. These tyres can collect dirt, which can spread if used indoors.
Seating for a Portable Mobility Scooter
To provide comfort to the driver, most portable mobility scooters have a chair-style seat with a back and armrests. Seats are made of hard plastic or fibreglass and have padding. Upholstery is less expensive than vinyl, but provides less padding. Some scooters have ergonomically designed seats and lumbar supports. Armrests can be either fixed or can be flipped up. Padded armrests provide more comfort, but can be more difficult to grasp.
Tiller for a Portable Mobility Scooter
The tiller is both the steering mechanism and the main control centre for the scooter. The controls include steering, braking, accelerating, and reversing. The controls available on the tiller include joysticks, loop handles, and thumb levers. Thumb levers control the speed by the amount of pressure applied to the lever. The tiller can be adjusted for the height and body position of the driver. It can also be moved out of the way to allow the driver to get on and off the scooter easily. Tillers can be designed for either right or left-handed drivers.
Manufacturers of Portable Mobility Scooters
There are many manufacturers of portable mobility scooters that are available in the United Kingdom. The following list is a sample of some of the biggest manufacturers in the market.
Drive Medical
Drive Medical provides medical equipment to customers throughout the world. The company's products are not exclusively powered: it makes walkers, crutches, bath safety equipment, and non-powered wheelchairs in addition to portable mobility scooters. Drive Medical's scooters are available in both three and four wheel models. The designs are made to ensure the rider's comfort and safety, and have up to a nine mile maximum range.
Pride Mobility
Pride Mobility has distributors in North America, Europe, and Asia. The company designs a wide variety of mobility products including powered wheelchairs, lifts and ramps, and lift chairs. Pride's portable mobility scooters are designed to be manoeuvrable and to provide outdoor capabilities. Their scooters are built with either three or four wheels, which can be selected according to the amount of stability that a driver requires.
Shoprider
Shoprider is a company that started making mobility products in 1988. In addition to portable mobility scooters, they design powered wheelchairs and accessories such as baskets, mirrors, and extra large foot plates to be used with scooters and wheelchairs. Their portable mobility scooters come in a variety of colours and have both front and rear wheel drives. The scooters offer stability, a comfortable ride, a simple and elegant style, and ease of use.
Sterling
Sterling Scooters, a subdivision of Sunrise Medical Limited, provides portable mobility scooters for use in the United Kingdom. These scooters have either three or four wheels and can be dismantled and reassembled quickly for easy portability. The scooters do not have wired connections. Sterling models include flip-up armrests and swivel seats.
How to Buy Portable Mobility Scooters on eBay
When you have considered all of the variables and manufacturers of portable mobility scooters, it is a good time to visit eBay to take a closer look at the scooters available. You can access the site's search engine by typing in the text box found on most pages. Type "personal mobility scooters&" and you can scroll through the listings. To narrow the results, you can add more terms to the search.
Researching Sellers on eBay
A portable mobility scooter is a fairly significant purchase, so you want to ensure that the seller is reliable. eBay provides a great deal of information on sellers: each product page includes seller information. From here, you can see the seller's positive feedback rating and whether he or she is a "Top-rated seller", as determined by eBay. By clicking on the seller's username, you can find out more detailed information, including the most recent feedback and other items for sale.
Conclusion
Portable mobility scooters provide another option for people with mobility issues other than travelling by wheelchair. The scooters can make the driver feel more mobile and independent when riding either indoors or outdoors. There are many factors to consider when buying a portable mobility scooter, including the frame, engine, brakes, and wheels. All of these factors are significant when choosing between the many models of portable mobility scooter that are available on eBay.
If a buyer wants to take short trips around their local area, then a scooter with a more robust engine, larger wheels, and deeper treaded tyres is required. Scooters can be customised to interact better with the driver. Comfort, stability, and speed are all variables that need to be balanced when purchasing a scooter. Once buyers have decided which portable mobility scooter best meets their needs, they can visit eBay to find an excellent range of products.