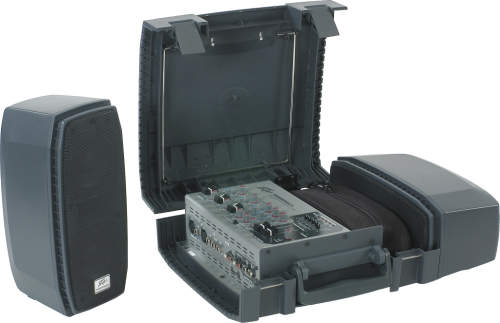 For a wide range of people and groups, a Portable PA (Public Address) system is a very useful piece of equipment to have. From schools and youth groups, public speakers and small businesses, even buskers – any person or organisation that regularly holds fetes, functions, or musical performances will know that it is worth investing in this small but useful box of tricks.
But what, exactly, is a portable PA system? Put very plainly, it is a small system comprising of a microphone, amplifier and speakers that enables a voice or sound to be projected further than the natural range. They are found in use in schools, colleges, youth groups, gym classes, solo musicians or small bands – the range of users is endless. PA systems come in many shapes and sizes, from those used by rock groups at concerts in Wembley Stadium right down to one used by an entertainer at a children's party in a church hall.
This buying guide will be looking specifically at portable PA systems. These are the smaller systems that are designed to be packed up and transported with relative ease, usually small enough to be carried to and packed away in a large car or small van by one or two people.
What to Look for When Buying a Portable PA System
A portable PA system can be a significant investment for the buyer, so it is important to make the right purchase. Budget is often one of the key factors when making a purchase such as this, but there are several other important criteria that should also be looked at before making a decision.
Here are some of the main features to consider when thinking about the purchase of a portable PA system.
Size and Range
There are a wide range of portable PA systems available to buy today, covering a wide range of potential uses. One of the first things any prospective purchaser should think about is what size of events the portable PA system will be used for. If the system will generally be for use in smaller spaces, such as village/church halls or meeting rooms, then it is best to look at one of the smaller systems available. If, however, the system will be used in larger spaces such as theatres, school assembly halls, or even outdoors, a larger, more powerful system will be required to make sure the sound is heard clearly throughout the required area.
Battery Powered or Not?
Again, thinking about the type of events the portable PA system will be used at – will there be power available at all the venues? Some systems can be used with battery-only power, a useful feature to have if accessing mains power could be a problem. Also, different systems will have different lengths of battery life, so if battery power is required, ensure that the length of battery power available on the chosen model will be long enough to last through the longest event that might be held.
Portability
Buyers should think very carefully about how they are going to transport the portable PA system. Will they be responsible for moving it single-handedly or will there always be a second person around to help? How big is the vehicle that will be regularly used to transport the portable PA system? Weight, size, and portability are all important points that should be considered carefully before making a choice. Many portable PA systems come with built-in wheels and handle to allow for easy manoeuvring, and others are so small that they can be carried in one hand. Be clear on what size and weight of system will be manageable for the person(s) and their mode of transport.
Compatibility
Many portable PA systems now come with the option to plug in other electrical items; for example, an iPod or other music player or perhaps even a laptop, via a USB port. If this is a feature that may be useful at some point, it is worth clarifying that any system looked at comes with USB ports. Also check that the system has enough USB ports for all the devices that are to be connected to the system at the same time. Some systems also come with Bluetooth compatibility and again, if this is an important feature, it is important to check that any favoured systems have this feature.
Microphone
What kind of work will be done using the portable PA system? Speaking? Singing? Dancing instruction? Leading a gym class? Answering this question will help determine what kind of microphone is required. Most portable PA systems come with a standard hand-held microphone, either wireless or connected to the amplifier with a lead, and this is generally suitable for most purposes. However, if the person using the portable PA system is going to be moving around a lot; for example, as a dance or gym teacher, then it is worth considering buying a either a clip-on microphone or a head microphone. A clip-on microphone is simply a very small microphone that clips onto the user's clothing, enabling them to work hands-free. Similarly, a head microphone is a unit with an ear clip at one end and a small microphone on the end of a small 'arm', close to the user's mouth. Either of these alternative microphones is a suitable options for someone looking for a hands-free solution.
How to Buy a Portable PA System
PA systems are a specialist piece of sound equipment, so it is unlikely that there will be many options available on the high street. However, some larger department stores or 'catalogue' stores may offer a very limited range of simple systems.
If there is a specialist music or sound shop in the nearby area, then it is worth paying them a visit to see the range of portable PA systems they stock. The benefit of buying from a specialist retailer is that the staff will generally have expert knowledge of the products they are selling. They will be able to discuss the buyer's specific requirements for a portable PA system and make expert recommendations based on those requirements. These types of stores will generally have a much wider range of products on display, letting the buyer see and, importantly, try out a number of models before buying.
Portable PA systems may also be available on second hand notice boards online. Finally, it is also worth taking a good look at eBay as there is usually a wide range of portable PA systems for sale on the site at any given time.
Looking for a Portable PA System on eBay
To view all the portable PA systems for sale on eBay at any one time, start the search in the musical instruments section. Select the heading All Categories on the left hand side of the page, then select the option for Musical Instruments. The section within Musical Instruments that contains the largest amount of portable PA systems is called Pro Audio Equipment. Listings for portable PA systems are mainly found within the Speakers and Monitors section.
There are a number of options open to the buyer to narrow down the search results further within the Speakers and Monitors category. These are shown on the left hand side of the page and include options such as selecting a particular brand of portable PA system, opting for a new, used, or refurbished model and specifying a price range to search in. Opting to search for fixed price listings if required rather than auctions is also possible.
It may also be useful to do a general search for portable PA systems across the entire eBay system as sellers often put items in unexpected or incorrect categories. An overall search using the search box at the top of the eBay home page can often provide excellent results that would not have been found otherwise.
Conclusion
A portable PA system is an important purchase for any buyer, and it is very important that the right system is purchased for their individual needs. The right portable PA system can make or break an event or performance, so each purchaser should be very clear on what they want and need from their new portable PA system.
It is hoped that the information and suggestions laid out in this buying guide will help any prospective purchaser pick the right portable PA system for them and their event.