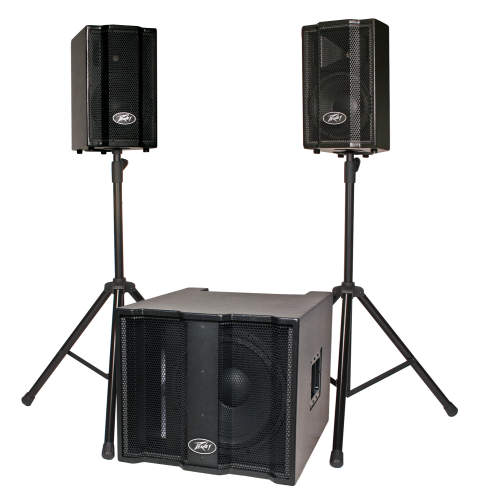 Portable sound systems are used to amplify speech or music in a host of situations, including use by DJs at clubs and discos, in exercise classes, for performances by musicians or bands, by conference speakers, for karaoke, or by tour guides who need to be heard clearly above a crowd.
Sound Systems Explained
Understanding the essential elements of a sound system will help buyers to consider which kind of system will suit their individual situation best.
What Does a Sound System Include?
There are three main parts to a sound system: an amplifier, a speaker, and a pickup. The pickup could be a device such as a CD player or MP3 dock for playing pre-recorded music, or a microphone for amplifying the voice. Most units have the capacity to do both, and many also have inputs for other devices such as a keyboard.
Many users need a sound system which can be moved from place to place as needed, and a portable sound system is ideal for this. Some portable systems have everything housed in one case, while other may have a few separate parts, which can nevertheless be moved without much difficulty.
All-in-One or Separate Components?
Smaller systems tend to be all-in-one units i.e. everything is contained in one housing. There are several advantages to a single unit system. Firstly, all components match, and do not need to be set up separately. They are compact and easy to transport; the smallest can be attached to the body or carried with a handle, while larger ones often have wheels and a retractable handle for easy transportation. There is usually the option to connect other devices, such as a keyboard, and they probably have bass and treble controls to adjust the sound. However, they can be heavy, and if one component fails, it may be necessary to replace the whole unit.
Larger systems may have separate components e.g. amplifier and pickups combined, but separate speakers. These are slightly less easy to transport, but are still considered portable, as the separate units are generally lighter. Parts can also be replaced individually if they fail. Some users feel they offer more flexibility – for example, specific speakers such as sub-woofers and tweeters can be used, so the sound can be better controlled, which may be important for musicians.
Peripherals include hand-held microphones, which may be wired or wireless, a wireless receiver, and microphone stands. Hands-free microphones such as a tie-clip or belt-clip versions, may be useful in situations such as a conference.
How Are Sound Systems Categorised?
Sound systems are generally categorised by output. The higher the wattage, the louder the sound that can be produced.
For small venues, such as a room, up to 30W is considered to be sufficient. There is only likely to be moderate background noise, and nearby walls and the ceiling will reflect the sound.
Larger venues (e.g. small hall or conference room), require a higher wattage system, especially if there are high ceilings. Large or outdoor venues with lots of background noise have little or no capacity for sound reflection from walls and ceilings, and so require the highest wattage.
Mini-Systems:
| | |
| --- | --- |
| Venue | Small rooms (e.g. pub musician), or outdoors with limited range (e.g. tour guide). |
| Wattage | Up to 30W |
| Style | Single unit, lightweight |
| Best for | Speech, pre-recorded music, or single user |
| Portability | Easily carried e.g. carry bag, body attachment, or handle |
Mid-Range Systems:
| | |
| --- | --- |
| Venue | Larger room / small hall (e.g. exercise class, conference event), street performances |
| Wattage | Up to 50W |
| Style | Likely to be single unit. |
| Best for | Speech, pre-recorded music, or small number of musicians |
| Portability | May have wheels or trolley, and retractable handle. |
Larger Systems:
| | |
| --- | --- |
| Venue | Larger hall or outdoor event e.g. sporting event, place of worship, school |
| Wattage | Up to 150W |
| Style | Could be single unit, but may have some separate components e.g. separate speakers |
| Best for | All events |
| Portability | May have portability aids e.g. wheels and handles, even on separate components |
Largest Systems
Anything over 150W is not usually considered to be portable, as the components are too large to be housed together or transported easily.
Battery or Mains-Powered?
It is possible to get portable sound systems which are powered by battery, systems which are mains operated, or systems offering both. Battery operated units can be used easily, especially outdoors. Battery life varies can vary between 8 and 200 hours, but more powerful systems may drain the battery more quickly. Mains-powered systems are a good option for indoor venues. Some portable sound systems have the capacity to be powered using different voltages.
Active or Passive Speakers?
Sound systems may have either active or passive speakers. Passive speakers do not have a built-in amplifier; they require a separate amplifier, speaker and mixer, and so are less likely to be used on portable systems.
Active speakers have the speaker and amplifier housed in one unit. This is an easier and cheaper option, and so they are generally used in portable sound units, especially the all-in-one designs.
How to Buy a Portable Sound System
There are several important aspects to be taken into account when deciding which is the best portable sound system. If the system will be used in a variety of situations, consider the maximum likely output needed – it is relatively easy to operate a sound system at lower capacity, and the sound quality will be better than trying to operate a less powerful system at full stretch.
Where Will It Be Used?
Naturally, where the sound system will be used is one of the most critical considerations. Take into account both the size of the venue (or for an outdoor venue, think about how far the sound has to travel), and also the amount of background noise that is likely to be present.
For a small room, or in an intimate outdoor setting, a mini-system or smaller mid-range option will be ideal. It can be moved easily, even by one person, although it is important to consider the weight of the unit, and whether the venue has stairs. Larger rooms or halls will need a more powerful system, and most outdoor events will require a unit with a high output.
How Will It Be Used?
Next, take into account how the system will mainly be used. Will it be mainly used to amplify music? Music covers a wider frequency range than speech, so it will be important to choose a system that encompasses a wide audio spectrum, and remember that music also sounds better in stereo, so ensure that the system can accommodate this.
Who will be using the system? A single user, such as a tour guide or solo musician, will probably be well served by a smaller system, but a rock band may be better off with separate components.
How Much Portability Is Needed?
The level of portability needed is also an important consideration. If the system will be installed and then not moved, then separate components could be an option. However, if the system is to be used on the move, such as a street entertainer, then an all-in-one or mini-system is likely to be a better choice.
Who will be available to move the sound system? If it is a single user, then again, all-in-one units are much easier to transport. If several people are present, then a system with separate parts could be considered.
Setting a Budget
Once all these aspects have been taken into account, decide on a budget range for the portable sound system, bearing in mind to include any peripherals which may be needed, and also any shipping costs.
Making the Final Decision
Browsing online can be a useful way to look at systems within the allotted budget, to allow products to be compared, customer reviews to be read, and perhaps manufacturers' websites to be visited for detailed information. Portable sound systems can be heavy, so consider sellers who offer free shipping, and remember to check the returns policy to see whether return shipping is included in the event of a problem. If buying a used sound system, ensure that all the components are working correctly, especially if purchasing an all-in-one model.
Buying a Portable Sound System on eBay
To buy a portable sound system on eBay, start at the home page, and go to All Categories. Under the Sound & Vision menu, select Performance & DJ Equipment. Alternatively, search under the category Musical Instruments and its subcategory Pro Audio Equipment Portable sound systems can also be found by refining the search further using key words.
Conclusion
A good portable sound system can make all the difference to an event, ensuring that the user can be heard clearly, and that listeners have an enjoyable experience. Buying a sound system that can be moved easily when needed, suits the venue well, and delivers an excellent all-round performance will ensure a portable sound system that is perfect for each individual circumstance.