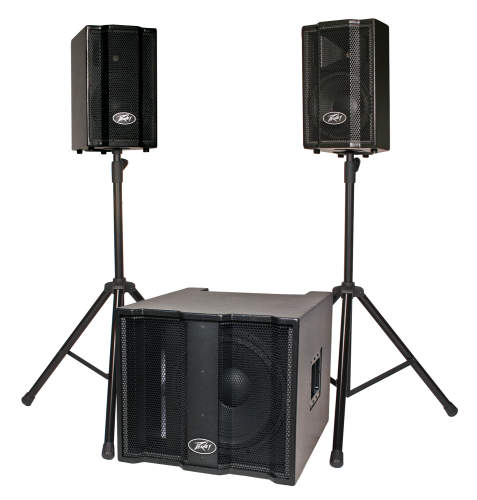 Portable sound systems have come a long way from the early days of lightweight transistor radios. Portable sound systems now come in a wide-ranging variety of sizes, designs, and functionality. eBay is host to leading brands and retailers of personal and commercial sound equipment, systems, and accessories.
About Portable Sound Systems
Music lovers from all spectrums have never had so much choice in systems. Technology refinement and innovation have produced sound systems with increasingly smaller, lighter, and more powerful features. When deciding upon sound equipment, buyers need to consider whether it interfaces with other systems that can extend its functionality.
Types of Portable Sound Systems on eBay
Designs include music equipment that not only operate in standalone mode, but also plug-in and interact with other diverse technology platforms. These include large home entertainment theatres, small personal tablets, MP3 players, and even public PA systems. Almost every type of sound system and component can be found in the Sound and Vision category on eBay.
Type

Description

Use

Portable, Wearable Music Players


Easily slipped into pockets, clipped onto clothing, or worn on a cord, the iPod and other digital MP3 players are everywhere. All that is required is a lightweight pair of headphones or earplugs. Size ranges from tiny designs that easily fit into the palm of a hand, up to hand-held devices with 7-inch display screens.
Most players are easily recharged via a computer USB port, and music files can be uploaded and downloaded via PC or tablet. They may also be plugged-in to TV home entertainment systems, and listened to through surround sound stereo speakers.
They come in a wide range of colours and finishes, with white and black being popular.

Listening to music, radio and other recordings while on the go.
Perfect for use in the workplace, on public transport or while exercising.

Amplifiers and PAs


A public address sound system usually comprises amplifiers, mixers, speaker and microphones. They may be a little unwieldy but are quite portable and easy to set-up.


Live music events
Social club gatherings
Outdoor events e.g. picnic days

Band and DJ Equipment


These include amplifiers and PA systems, as above. They can also include stage lighting and effects equipment, karaoke systems, and Bluetooth and MP3 portable sound systems. Portable record turntables are usually part of the DJs equipment set.


Live music events and dance clubs

Boom boxes and Portable Stereos


Much larger than the personal MP3 players, boom boxes come with external speakers, so are great for parties and other social occasions. They are also known as portable stereo systems as they comprise different sound equipment components. These include radios that play on AM or FM frequencies, CD players, MP3 player capability and cassette player capability.


Parties and social gatherings

Portable Disc Players, Radios and Sound Docks


There are many lightweight and compact CD, mini-disc and radio playing systems on the market. They can often be plugged-in to computers or home entertainment systems with the right cables and adapters. Interfacing with MP3 players and even smartphones can be possible depending upon brand and built-in functionality.


Generally personal use to listen to at home

Speakers


While speakers are integral parts of the above types of sound system, they can also be purchased separately to enhance sound quality and extend the listening reach of small systems.
Choosing a Portable Sound System on eBay
Having decided upon the type of sound system they are after, eBay buyers then need to consider several other buying factors. It is important to check that the sound system interfaces easily with other sound equipment and systems, such as speakers, home entertainment systems, and MP3 players. Check if it is Wi-Fi capable and if it has been produced by a reputable brand. Do not forget to check the seller's conditions and if they offer any guarantees or return policies.
eBay Search Filters
A powerful and useful feature on eBay for buyers is the ability to filter search results. This gives shoppers the ability to select items based on condition, colour, price, features, brand, model, sellers, and other characteristics. This is a powerful comparison tool when making a buying decision. This, coupled with eBay Buyer Protection policies and detailed information on sellers, helps greatly when settling upon a specific portable sound system.
Condition
One of the most important filters is the condition of the sound system, as this will have a big impact on price paid.
| | |
| --- | --- |
| New | New systems are, of course, the most expensive, but this is usually offset by standard warranties and the widest available choice of brands and designs. |
| Used | Used items can offer good value for money, but should be closely examined to make sure they are fully operational. Whether any form of warranty or guarantee is offered is also important. The seller's eBay reputation and readiness to respond to questions are important to look at here. |
| Refurbished | Considering used items that have been manufacturer or seller refurbished may also provide very good value. |
eBay Sellers, Reputation, and Warranties
The right brand and design is a major buying decision. Many leading electronics manufacturers produce sound systems of all types, and are represented on eBay. Aside from unique visual design features, the brands reputation for producing robust systems with good warranties should be a major factor. Searching for a sound system by brand, and then looking for a seller with a good reputation for that brand is a good first step.
Seller Reputation
As part of the buying decision, eBay shoppers can examine the reputation of individual sellers. Every seller has the number of sales made on eBay listed, along with a feedback score. Top sellers earn badges for reliability and good service. Potential buyers can view the feedback that other buyers have made.
Buyer Protection
eBay has a system of safeguards for buyers. These include investigating any problems that the buyer is unhappy about e.g. items not received in time, or wrong items sent. eBay will investigate on the part of the buyer, and assist with resolving any issues, including getting a refund if necessary. UK buyers can also take advantage of the Square Trade Warranties option that provides extended warranties on specific items including portable sound systems.
Accessories
There are often a varied range of accessories that buyers may want to consider purchasing as part of their portable sound system package.
| | |
| --- | --- |
| | Accessories include armbands, mini speakers, batteries, computer adapters, protective covers, and screen protectors. Highly decorative cases and covers are popular for iPods and MP3 players. |
| | High-quality headphones with in-line audio are used with most sound systems to enhance sound quality. They are essential equipment for DJs. |
| | Stands and cases are essential equipment to safeguard valuable and heavily used sound systems. |
| | These are essential interface devices for portable sound systems to connect with other sound system types e.g. MP3 players to connect to home entertainment systems or personal computers. |
| | Media consist of sound and video files that can be purchased, downloaded, or streamed and recorded via the Internet. Media also consists of consumables such as CDs, mini-discs, cassette tapes for recording and playing. |
Finding a Portable Sound System on eBay
A large number of personal and commercial sound systems are easily found on eBay. Starting with the All Categories link on the eBay home page, the searcher will see all the major categories on eBay displayed. Select the Sound and Vision category link, and the Sound and Vision main page will be displayed. To browse through personal portable sound systems simply select the iPods & MP3 Players link on the left-hand side of the page. To find other portable sound systems select the Home Audio & Hi-Fi Separates link from the Sound and Vision main page. Lightweight and compact sound equipment and systems like amplifiers, cassette and tape players, CD and minidisc players, stereos and boom boxes, can all be found under this category. Alternatively, enter the term 'portable sound systems' in the search box at the top of any eBay screen. Sort through the search results by sub-categories, and use the Condition filters on the left-hand side to list out new, refurbished or used items.
Summary
Portable sound systems are versatile and multi-functional. Selecting a suitable system includes examining extended functionality, e.g. how compatible they are with PCs and laptops, tablets, MP3 players and other sound equipment and systems. The wide range of designs, sizes, brands and prices available on eBay give the buyer an excellent range of choices. eBay tools such as search filtering can greatly assist in comparing items before the shopper makes a decision. Features like eBay Buyer Protection and visibility of seller reputation helps give the shopper peace of mind when making a purchase.