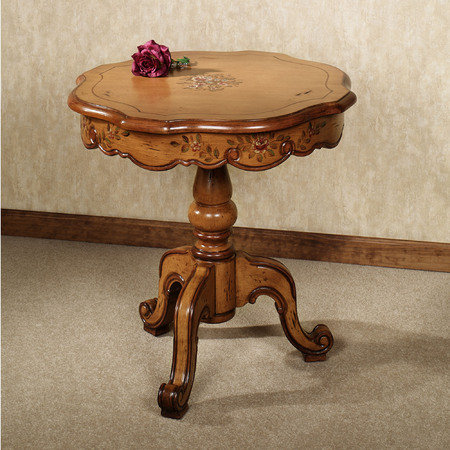 A pre-Victorian table is an item rich with history and can add elegant style to any room. Pre-Victorian tables are generally antiques, and can become a charming focal point in any area of the home. From dining tables, side tables, to bedside tables, there are a wide variety of pre-Victorian tables available for purchase on eBay. These antique tables can also be very valuable, depending on the maker, age, and condition. Learning about the history of pre-Victorian tables can provide buyers with insight on the different types and styles that may best suit their personal tastes and existing décor. This guide also provide factors that should be taken into consideration and methods to help maintain pre-Victorian tables in great condition to help make purchasing these antique pieces an easy and rewarding process.
History of the Pre-Victorian Table
Tables were used as far back as ancient Egypt, yet unlike contemporary tables they were not used for seating but to keep items up off the floor. They were rudimentary platforms made from stone. Greeks and Romans began to use tables made of wood, marble and metal and they were larger and sometimes round and used for eating. As styles changed and developed over the course of history, tables designs grew to reflect the popular trends of the periods and to suit the different seating styles that were prevalent at the time. Tables were not just for eating, and a variety of other tables were crafted for different purposes such as writing. The pre-Victorian period typically refers to the Georgian era of 1714-1830 (and loosely, up until 1837) which encompasses the reigns of George I, George II, George III and George IV. It was a significant era in terms of the production of furniture and tables. Various styles and design methods were adopted by table-makers that to this day are still used and admired.
Discover the Pre-Victorian Table
Pre-Victorian tables come in a wide range of styles and types. Earlier tables often featured more simple, refined and elegant styles than those of the Victorian period, which tended to favour more lavish and ornate designs. Those patterned in the Rococo style celebrated a time of British prosperity and was inspired by French, Gothic and Chinese styles – a sign that the British were starting to travel and see the world. A table created in this style was often asymmetrical and was a move away from classical styles. Neo-classical furniture design and tables often had geometrically smooth lines and straight legs. Table-makers from during this era took their inspiration from classical Roman and Greek furniture. The Regency period was directly before the accession of Queen Victoria, which heralded the start of the Victorian era. This style of furniture was elaborate and inspired by the Grecian, French and Jacobean aesthetics. Table legs were turned rather than square and more exotic woods were imported for table production.
Parts of a Pre-Victorian Table
A pre-Victorian table consists of three main parts.
| Part | Description |
| --- | --- |
| Top surface | Usually smooth, hard and flat. The top surface must be sturdy. |
| Legs | The number of legs that each table has will depend on the size of the table. The legs must be strong, sturdy and properly-connected to the top surface. If the legs are not strong enough, the whole structure will collapse. |
| Drop leaves | Drop leaves could be lifted to add an extension to make the table's surface larger or tucked away to make it space-efficient when it was not being used. |
Materials Used in a Pre-Victorian Table
There are many types of pre-Victorian tables, made from different woods. The following table features a list of some of the most popular woods used in crafting pre-Victorian tables.
| Material | Description |
| --- | --- |
| Mahogany | The most popular material used in the Georgian era, it replaced Walnut as the most common choice among table-makers. |
| Rosewood | This kind of wood got its name from its strong and sweet smell. It is strong and durable and was used on the facades of furniture. |
| Zebrawood | This wood has dark stripes on a light background, hence its name, zebra. While it was popular in the pre-Victorian times, zebrawood is now a protected tree and can't be used for commercial purposes. |
| Kingwood | It has a similar appearance to rosewood, although it is popularly used as a veneer. It has a dark brown-red background with black stripes. |
| Oak | Popular in Regency furniture, the oak tree takes up to 200 years to mature and features a dark-unrefined grain. |
Types of Pre-Victorian Table
Pre-Victorian tables come in a variety of styles and types. The table below outlines a few of the different types of pre-Victorian tables.
| Type | Description | Advantages | Considerations |
| --- | --- | --- | --- |
| Side Table | Usually small and stands next to the bed. | This is useful for items to be placed beside the bed. | Although small, this table serves a good purpose. |
| Drum Table | A round table with a flat surface. | This type of table has a top surface that is quite spacious. Suitable for writing. | A popular table in the Georgian era. |
| Tilt-top table | The surface of the table is hinged to a central pedestal. The top surface can be tilted to a vertical position when it is not being used. | Can be tucked away into a small space when not being used. | Originally used for small social gatherings. Extremely popular during the Georgian era. |
| Sofa Table | The sofa table was often built with drop leaves. This type of table was produced with dining, writing and serving tea in mind. | Good for holding books, lamps or ornaments on. | Usually placed directly in front of a sofa. |
Factors to Consider When Buying a Pre-Victorian Table
There are many factors to consider when buying a pre-Victorian table.
Design – Furniture was all hand-made up until 1860 when machines were first introduced to cut furniture. Furniture that was mass produced will feature precise and symmetrical cuts. Antiques were handmade and will be less symmetrical and even.
Finish – During the late Victorian period, varnish and lacquer were not used on furniture; so pre-Victorian tables typically feature a shellac finish.
Condition – An antique piece of furniture will be either classed as mint, excellent or good. It is rare to find a pre-Victorian cabinet without the occasional blemish, but some quality pieces of furniture still do exist.
How to Care for a Pre-Victorian Table
As with all pieces of wood furniture that are precious, Pre-Victorian tables should be treated with care. If the table is going to be used, it may be advisable to drape a tablecloth over it so as to protect it from any spillages and scratches. Alternatively, use placemats and coasters to prevent staining of the table. As pre-Victorian tables are made of wood, they should be polished twice a year using a beeswax-type polish. The polish should be applied and then rubbed smoothly off twelve hours later. It is important not to use contemporary furniture polishes or oils as they may destroy the original finish of the item. Avoid placing any antique furniture in direct sunlight or near sources of heat that may fade or damage the finish, as well as dry out the wood. Antique furniture can also be delicate, so take care when moving a pre-Victorian table.
Popular Makers of Pre-Victorian Tables
Here is a list of a few of the most popular Georgian table-makers. Tables made by or associated with these makers would be valuable pieces of antique.
Thomas Chippendale (1718-1779)
George Hepplewhite (1727 – 1786)
Thomas Sheraton (1751 – 1806)
Accessories for a Pre-Victorian Table
The following is a list of accessories that may complement pre-Victorian tables:
Table Cloth – This will protect the table from spillages and scratches.
Placemats and coasters – These will protect the table from stains if a wet plate or cup is placed upon its surface.
Soft cloth – This should be used to wipe away any dust or dirt.
Beeswax – This could be used to polish a pre-Victorian table.
Finding a Pre-Victorian Table on eBay
Once you determine the type of pre-Victorian table you want to purchase, visit the Antique portal on eBay, click on 'Antique Furniture', then 'Tables' and start searching item listings. The Categories list on the left-hand side of the eBay page helps to narrow the search.
Searching for a Pre-Victorian Table on eBay
Search eBay listing titles for specific words when shopping for a pre-Victorian table. For example, to find a pre-Victorian dining table, type 'pre-Victorian dining table' into the search box, and then click the Advanced button to customise the results. Also visit eBay's Search Tips page for more advice on searching for a pre-Victorian dining table with keywords. If you can't find the pre-Victorian dining table you want, try shopping eBay Stores.
Conclusion
There many types of pre-Victorian tables for a buyer to choose from. The years that led up to the Victorian period were important ones for British culture, politics, architecture and also furniture-making. Some of the most sought-after furniture in Britain's history was created during this period. Once you have collected all the information you need about these historic pieces, you can buy a pre-Victorian table safely and securely on eBay.