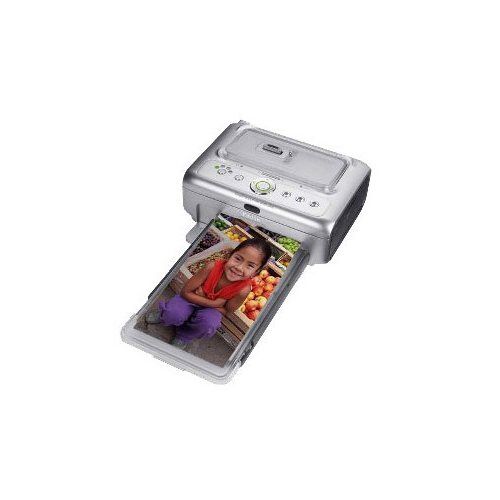 A printer dock is a special printer to which a camera can be attached and photos printed straight out onto photo paper. There is no need to attach the camera to a computer, making it quick and easy to print photos either at home or on the move. With most photography being done digitally these days, there are fewer and fewer photo processing laboratories on the high street, which means having to send photos off to be printed, a process that can take several days. A large number of people are therefore finding printer docks an attractive solution.
About Printer Docks
The quality of photos printed by printer docks is usually considerably higher than that of a standard home or office printer. Most use thermal dye, where heat is used to transfer the image onto paper. On most printers, the paper will go through the printer several times, printing the three colours (cyan, magenta and yellow), followed by an overcoating. This overcoating will protect the image from UV light and air and will make the print water-resistant. The print is therefore much closer in appearance and quality to one from a photo laboratory than from an inkjet or laser printer.
Due to the way printer docks print images, the ink comes on a roll within a cassette and has to be printed onto special paper. The printer will come with a limited amount of ink and paper, and more can be purchased from the manufacturer. Ink packs will come with exactly the right number of sheets of paper, and it is necessary to use the paper provided rather than the sort of photo paper that can be bought in packs in the shops for use with inkjet printers as this will not be compatible.
Choosing a Printer Dock
The choice of printer dock will depend largely on what camera it is going to be used with as not all printer docks are compatible with all cameras. Kodak are well known for having a wide range of printer docks on the market; however, other manufacturers such as HP, Sony and Canon also sell printer docks. Also worth considering is the cost of refills for the ink and paper, and features of the printer dock, such as red-eye reduction, ease of use, print time, portability, and compatibility with memory cards.
Printer Dock Manufacturers
Manufacturers typically design their printer docks to be compatible with their cameras and can often be found being sold as a bundle.
The Kodak EasyShare range are perhaps the most well-known, with both the cameras and printers coming under the EasyShare brand, making it easy to find out which printers are compatible with which cameras as they will be clearly labelled.
The Canon Selphy brand of printers will list a number of compatible Canon cameras; however, it is important to remember with any brand that if the printer is older than the camera, compatibility of newer cameras will not be listed on the box for the printer dock.
Sony and HP are both reputable brands who make their own printer docks although they do not have as big a variety of models as Kodak and Canon. Being less common will also mean that getting refill ink is more difficult.
Printer Dock Refill Costs
The cost of refill ink and paper varies between manufacturers. Availability is also something to take into consideration as the specialist ink cassette and paper sets are usually only sold in specialist shops or online, especially for the less popular brands and models of printer.
Printer Dock Features
Each printer dock will be advertised as having a number of features. Some people will find that they want or need some of these features, while others will feel that they are surplus to requirements and not worth paying extra for. Red-eye reduction is an important feature if the photos will largely be of people, whereas Bluetooth or Wi-Fi compatibility can also open the printer dock up to additional uses, such as being able to print from a mobile phone.
Ease of Use of Printer Docks
Most printer docks have been designed to be easy to use. Some offer a one touch printing function, which is great for anybody who wants to make prints very quickly. Others may want to make adjustments to their prints and will be more concerned about how easy it is to make adjustments such as turning on red-eye reduction or including a date stamp on the photo.
Some printer docks rely on the screen from the camera, while others will have their own screen which can be used to change settings on the photos or convey messages, such as the ink cartridge is in need of replacement or the paper tray needs filling up. In addition, some machines provide a message saying exactly what is going on, while others inform users through a series of flashing lights.
Print Time Using Printer Docks
The time it takes for a photo to print using a printer dock can vary considerably. For people who will mostly be printing a few photos at a time, this is unlikely to matter too much, but for those planning on filling an album full of holiday snaps from photos printed using a printer dock, a printer which is quick can save a significant amount of time. Print times for printer docks typically range between 40 and 90 seconds, so there is a big time saving to be made.
Printer Dock Portability
Whilst printer docks are generally quite small, some will be bigger and heavier than others. There are a few printer docks available which can be powered by battery, which are great for taking away or using to hand out photos at a party or event as there is no need to worry about finding somewhere to plug it in. A number of printer docks in the Canon Selphy range have batteries available for them, while this is a feature not usually found on printer docks from other manufacturers.
Printer Dock Compatibility
Most people looking for a printer dock will be looking for one that is compatible with their existing camera. Some printer docks allow memory cards such as SD cards and Compact Flash to be plugged in, which means that they can be used with almost any camera. Many of the printer docks in the Canon Selphy range offer this feature and have a small screen built in for navigating through the memory card. Other models, including many of the Kodak EasyShare printers have a slot for a memory card but no screen, so can be plugged into a TV in order to choose between photos.
More recent printer docks have Wi-Fi and Bluetooth connectivity options, allowing printing from mobile phones and other wireless devices.
Finding Printer Docks on eBay
There are a few places on eBay where printer docks can be found. Some are listed under Printers or Digital Photo Printers, while others can be found in the Cameras & Photographysection. From the homepage, select Electronics from the left hand side of the page.
Within the Electronics section, select Computers, Tablets & Networking followed by Printers, Scanners & Supplies and then Printers. It is possible to narrow down the search by selecting the Digital Photo Printer option from the filter on the left, and then again using the Thermal option in order to remove inkjet photo printers, which are usually full sized printers rather than printer docks.
Alternatively, again in the Electronics section, select Cameras & Photography. As some printer docks come bundled with cameras, there will be a number listed under Digital Cameras, while others will be listed as Camera & Photo Accessories.
As printer docks can be found in a variety of categories, searching for terms such as "printer dock"' or "photo printer", or alternatively brand names such as "Kodak Easyshare" or "Canon Selphy" are another way of finding printer docks for sale. Performing this search using the search bar on the eBay homepage will maximise the number of results found.
Conclusion
Whilst the number of companies making printer docks is relatively small, there are a great variety of different models on the market. Most of these are compatible with a wide range of cameras. However it is important to check compatibility between the camera and printer dock before purchasing. The other variables between printer docks, such as the time they take to print, the cost of refill ink, and the features that they have, will have varying degrees of importance, depending on who will be using the printer dock and how often. However, these features are all secondary to whether or not it will be compatible with the camera being used.