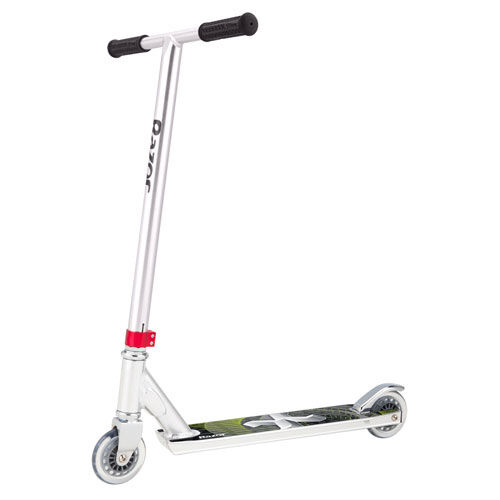 The push scooter is the hottest innovation in self-propelled transportation since inline skates. Anyone can learn to use them in minutes, making scooters great recreation for kids or adults. And since they're lightweight and usually fold up, they're a practical means of transportation as well. Push scooters come in a few different styles, each adapted to different riding styles. So how you plan to use your scooter is the most important factor in deciding which model is right for you.
There are 2 main types of push scooters:
Recreational
In choosing the right push scooter, a rider must first decide what type of scooter is right for them.
Learn about different types of push scooters, the parts of a scooter, and how to best operate a push scooter before buying to avoid any costly mistakes. Become educated before buying a push scooter in a shop or online.
Recreational Push Scooters
Whether you're looking to get a push scooter for transportation or simply ride around neighbourhood, there's a scooter engineered for you. Recreational scooters are:
Simple. They include two wheels at each end of the flat deck (where you stand) and handlebars about waste high (can be adjusted up or down on most scooters) above the front wheel for steering control.
Simple fender brake. Most modern recreational scooters have a brake over the back wheel oppose to hand brakes. The back brake is very user friendly. When stepped on, the back fender brake slows down the back wheel, thus slowing down the scooter.
They fold up. Another main feature of recreational push scooters and most modern scooters, they have the ability to fold up. They are designed to be lightweight, so the user can easily fold it up, carry it, and store it in a relatively small space.
Most recreational scooters are designed exactly the same as trick scooters, but do not have trick accessories.
Trick Push Scooters
Trick push scooters are almost identical to recreational scooters. The design remains the same, but trick scooters often have extra accessories. These accessories include,
A wheelie bar. A wheelie bar is a bar over that back wheel that when pressed, tilts back the scooter to perform wheelies more simply.
Hand brakes. These are like bicycle brakes that run from the handlebars to the rear brake. You won't find many of these anymore due to safety concerns, but some trick scooters have hand brakes which are used to perform certain tricks.
Rotating deck. Another feature which is common among both trick and recreational scooters is the ability for the deck to rotate 360 degrees. This is typical of both types of scooters but is only utilized when doing tricks.
How to Choose the Best Push Scooter Frame for Your Needs
Most kick scooter frames have the same design. There are four main parts of every kick scooter:
Wheels
Most scooters come with:
Larger wheels than in-line skate wheels to make the ride smoother and faster.
Scooter wheels have different ratings. Like in-line skates, scooter wheels come with an ABEC rating for the bearings. The higher the ABEC rating, the smoother and faster your ride.
Wheel Ratings:
| Wheels | Size | Description |
| --- | --- | --- |
| | 100 mm | Typically made of solid polyurethane with a small hub in the centre. These wheels can go moderately fast speeds and provide a reasonably smooth ride. They are small enough that they won't be cumbersome if you want to do tricks. |
| | 180 mm | Smoother ride. Will clear cracks and bumps in pavement more easily, but are not well suited to doing tricks. These wheels are usually constructed of a spoked metal wheel covered by a thin polyurethane tire. |
Most scooters are constructed to fit both a child and adult, but some models of children's scooters come with large wheels with knobby tires for greater traction and safety. These are typically much slower than standard polyurethane wheels
Decks
The deck is the part of the scooter that you stand on.
Have a Length from 16 in up to 23 in.
Lightweight aluminium or steel frame manufacture.
Wood laminate or wood and fiberglass laminate can be used but regardless of what material is used, all decks are made to be strong and lightweight.
Lined with Grip Tape for better foot traction.
A Urethane Cushion between the deck and the frame is some times used to absorb shocks and make your ride smoother.
Handlebars
The Handlebars extend with a single round shaft down to the Deck and the front wheel. It turns to steer. Handlebars typically adjust in length from as low as 22 inches up to 36 inches. They have a quick-release Clamp ring or push-pin to adjust the handlebars.
There are two types of handle bars: T-style and Ball.
T-style
T-style handlebars that turn to let you steer the scooter. These are the most common types of handle bars.
Two foam-covered grips extending from either side of the centre stem. Most T-style bars turn to let you control the direction of your scooter. T-style handlebars are the standard handlebars on bicycles, as well as scooters.
Ball
A rubber ball replaces the "T" at the top of the handlebar. The rubber ball sits high on the bar that extends down to the deck and the front wheel.
Always fixed. These handlebars are always fixed. Since they are fixed you have to lean to turn the scooter. The bar helps you balance while you ride the scooter surfboard-style, leaning side-to-side to turn.
Brakes
Mostly all scooters have brakes to help you stop, especially from faster speeds. While the most common brake is a simple fender brake many scooters use handbrakes just like those on bicycles.
Fender brakes are very simple braking mechanisms. You just step on the rear fender, which is mounted on a hinged spring over the back wheel. The fender presses against the wheel using friction to stop.
Handbrakes use a caliper mounted on the wheel that you operate with a hand lever mounted on the handlebars. Just as on a bike, when you squeeze the lever the brake pads pinch the wheel and stop the scooter.
How to Fold a Push Scooter
Most scooters are designed to collapse so you can carry them easily. Typically, scooters have a folding mechanism at the bottom of the handlebar assembly.
The handlebar assembly usually includes a quick-release lever allowing you to collapse the handlebars before you fold the scooter.
You simply unlock the mechanism, fold the scooter and re-lock the mechanism to hold the scooter in its folded position.
A typical folded size for a scooter is: W 4 in; H 7 in; L 23 in. Most scooters weigh approximately 6 lbs making them very light to carry when folded. On average folding scooters can support up to 350 lbs.
How to Buy Push Scoters on eBay
eBay offers thousands of different Push Scooters for all different ages, including recreational and trick style scooters. eBay sellers are known for their competitive pricing and their unbeatable reliability. The advantage of buying on eBay is the wide selection and flexible payment options.
You can buy both new and pre-owned Push Scooters. Pre-owned scooters are much cheaper. New is more expensive but you know what you are going to get. However a new scooter on eBay is still much cheaper than from a sporting goods store.
To search for Push Scooters go to the Sporting Goods > Scooters > Push Scooters portal. From there you can choose your specific scooter style by clicking the links on the right side of the page. You can also type in specific search terms in the search box provided on each web page, such as "blue trick push scooter". Using the search feature will help you find exactly what you want.
When searching through listings, carefully review all the data. Make sure the item matches what you had in mind. Look over the photographs a couple times. Feel free to Ask the Seller a question if you want additional details. Visit the Buying Tips page for more information.
Once you're ready to buy, either place a Bid, Buy it Now, or put down your Best Offer. Buying with PayPalwill ensure the transaction will go smoothly. eBay users are protected by the Buyer ProtectionBuyer Protection Program.
Conclusion
Choosing a push scooter means picking the right scooter for the buyer's individual needs, style and budget. Recreational push scooters are for general fun and transportation, in urban areas for adults or to and from school for children. Trick scooters are primarily for fun and to show off for friends. There are thousands of push scooters on the market today. Finding the right Push Scooter is simple and easy on eBay.