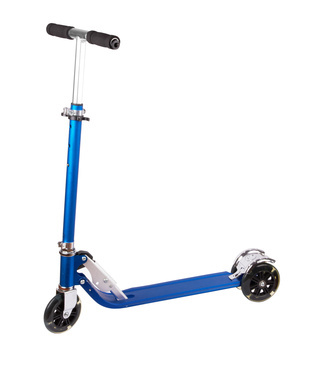 Push scooters have become ever more popular amongst children of all ages and grown-ups alike. Modern push scooters are lightweight, compact and the folding versions are easy to carry in a backpack or store at home.
With UK sales of new scooters running at 10,000 a week, it's more than likely that someone you know will be thinking of joining in the fun.
Whether you are using your push scooter to commute, to get about more generally or just for fun, you should bear in mind that accidents can happen. This guide aims to keep you and your children out of harm's way.
Younger People and Accidents
Research has shown that the frontal lobe of the brain, which recognises danger and helps assess risk, is not fully developed until about the age of 25. No matter what the mode of transport, younger people are naturally at greater risk. With so many under-25s using push scooters, accidents are going to happen.
In the UK, the DTI's Home Accident Surveillance System shows that in 1998 over 2,200 people who had been using scooters were injured seriously enough to need hospital treatment. This statistic pre-dates the craze for push scooters so it is likely to have risen.
The majority of injuries sustained have been cuts, bruises and sprains, but one third involved broke bones or dislocated limbs. Tragically, one child has been killed while using a scooter on the road.
Take a lot more care going down hills; your push scooter can gain speed surprisingly fast. It is much better to dismount at a safe speed than to wait until it's too late and suffer a fall.
Folding Mechanisms
If you are looking for a push scooter that's safe, watch out for the folding mechanism.
Most are well designed and will not cause an injury. However, there are a couple of models that have crept onto the market which could trap a child's finger.
If you are buying a push scooter on eBay, check the folding joint closely; if you need to, ask the seller for more close-up photos so that you can assess the mechanism for danger. Alternatively, ask your seller to arrange a video call with you.
Hours of Darkness
The dark brings added dangers; unlike bicycles, push scooters tend not to have lights and reflectors. This means that other people will find it hard to see you if you are out on your scooter at night.
There is an extra element of risk for you; all of the usual hazards are more difficult to spot for the night time scooter user; potholes, uneven paving, puddles, mud and grit are much harder to see at night or in poor weather conditions.
If you are using your push scooter in poor or failing light, wear reflective clothing; it will help keep you safe. Many people would suggest that you should not to use your push scooter when it is dark.
Roads
* A small child on a push scooter is virtually invisible to a driver in a large vehicle.
* Drivers do not expect to see scooters in traffic; they are not looking out for them.
* Small wheels can catch in drain covers or potholes all too easily.

Stay away from roads. Scooters were not designed for roads. Similarly, roads were not designed for push scooters.
Do not even cross the road on your push scooter; pick it up and take the usual pedestrian's precautions.
* Look right,
* Look left,
* Look right again.
* When you can see that it is safe to do so, cross the road quickly, but do not run.
Think Safety
Dropping down off the kerb while on your scooter could easily cause a fall. Trying to hop back on to a kerb can backfire, again causing a fall. Take a second to think about what could happen if you fell in front of a moving vehicle. Think safe, stay safe. Keep off the roads.
Pavements
Most people think that it is perfectly alright to use a push scooter on pavements. The law is a grey area. Either way, you should bear in mind:
* Narrow pavements may make it unsafe for you to scoot without pushing pedestrians out of the way.
* If the footpath is crowded or busy, it is not safe to use your push scooter.
* Watch out for uneven paving.
Take much more care when you are around elderly or disabled people; they may be frightened of not being able to get out of your way in time.
Busy Spaces
To avoid bumping into passers-by, scooters should stay well away from places where they could surprise a pedestrian. Watch out for:
* people coming out of doorways
* be especially careful near shops, pubs and restaurants
* exits from tube, metro, bus and rail stations.
Please Do Not Use a Push Scooter Indoors
Even when you are being very careful, it is all too easy to scare other people by riding a push scooter. Although it is very tempting, please do not use a push scooter in any indoor area:
* Airports.
* Railway stations.
* Shopping centres.
Invest in Protective Gear
If you are buying a push scooter for a child and you want to make sure they stay safe, it's a good idea to invest in:
* helmet,
* knee pads,
* elbow pads,
* wrist protectors.
Stunt riders of push scooters, regardless of their age or experience, should always wear all of this gear.
A brand new safety helmet can be bought on eBay for just a few pounds; not much to ask for years of safe scooting.
Wearing protective kit will protect you, or your child, from an estimated 60 percent, nearly two out of three, of the worst type of injuries that affect push scooter users.

Children will often moan about being made to wear this gear. There are two remedies for this:
* Make sure your child wears a helmet and other gear from the earliest possible age.
* Let your child choose his or her own safety gear; that way you are giving your child the chance to buy the stuff they think is 'cool'.
Following this advice could save you hours of waiting in the A&E at your local hospital.
At the Very Least, Wear Your Helmet
Now that you have a better idea of why safety gear matters, remember to make good use of it. Every time your child is out on their push scooter, put a skid lid on.
For preference, add elbow pads, wrist protectors and knee pads.
Safe Push Scooters
Push scooters must:
* comply with the Toys (Safety) Regulations 1995.
* the European "Essential Safety Requirements".
* be CE Marked..
They should also comply with the Toys Safety Standard EN 71.
If you are injured by a defect in a scooter, you could take legal action against the manufacturer or the importer.
For Safety's Sake, Shop Easily on eBay
Now that you know how important the safety kit is, shop at your leisure on eBay for safety helmets, knee pads, elbow pads and wrist protectors.
Product Finder
Use the Push Scooter Finder to quickly narrow down item listings by brand, model and condition (new or used).
Keyword Search
Search eBay listing titles for specific words. For example, if you want to find a safety helmet suitable for use on a push scooter, type the keywords "Safety Helmet Push Scooter" (without quotation marks) into the Search box. Click, "Search title and description" to expand your results. Visit eBay's Search Tips page for more tips on searching with keywords.
If you can't find exactly what you want, try browsing eBay Stores or tell the eBay Community what you're looking for by creating a post on Want It Now, or save a search on My eBay and eBay will email you when a matching item becomes available.
Buy Your Push Scooter Safety Gear with Confidence
Make sure that you know exactly what you're buying and understand how eBay and PayPal protect you.
Know Your Item
* Read the details in the item listing carefully.
* Remember to add delivery costs to your final price. If you're buying a high value item, check that the seller will insure it until it is delivered to you.
* If you want more information, click the "Ask seller a question" button on the seller's profile or the "Ask a question" link at the bottom of the item listing page.
* Always complete your transaction on eBay (with a bid, Buy it Now or Best Offer) otherwise you will not be covered by eBay Buyer Protection.
* Never pay for your eBay item using an instant cash wire transfer service like Western Union or MoneyGram. These are not safe ways of paying someone you do not know.
Know Your Seller
Research your seller so that you feel safe and positive about every transaction.
* What is the seller's Feedback rating?
* How many transactions have they completed?
* How many positive responses do they have?
* What do buyers say in their Feedback?
* Are they positive about the seller?

Most top eBay sellers operate like retail shops and have a returns policy.
* Do they offer a money-back guarantee?
* What are their terms and conditions?
Buyer Protection
In the very unlikely event that you do not receive your item or it is not as described, eBay Buyer Protection covers your purchase price plus original delivery cost.