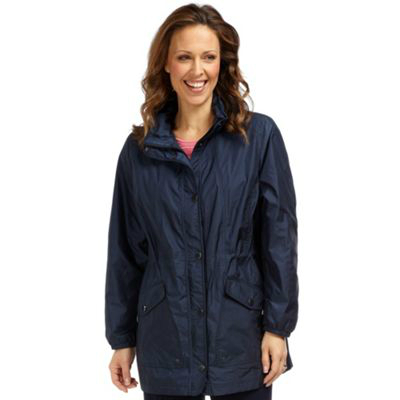 Charles Mackintosh created the first raincoat back in the early 1800s. The first versions were constructed with rubber, meaning they had poor breathability. While raincoats protected men against the elements, they typically became too warm to wear. Manufacturers eventually developed raincoat materials that repelled moisture and eliminated perspiration. Subsequent raincoat innovations hastened the evaporation process, as well as increased raincoat lifespans. Recent raincoat production has included the introduction of visually appealing colour designs and patterns.
Men who live in the UK understand that the climate requires a waterproof raincoat that allows the skin to release perspiration into the air. However, most men do not know where to find highly-functional and stylish raincoats. The best option is to shop on the leading online auction site, eBay. Before men begin raincoat shopping, they should rank the factors they consider important for buying a raincoat. Then, men can learn about the features of raincoats and the two types of waterproof, breathable raincoats that most men buy.
Factors to Consider Before Buying a Raincoat
Buying a raincoat seems like a simple task. After all, the garment is intended to protect men from the rain. However, men's raincoats have different levels of effectiveness for repelling moisture. In addition, men must weigh other features, and then rate the importance of each feature before they shop for a raincoat. Past experiences typically form the basis for ranking raincoat features. In addition, men may have to consider personal metabolism, which can accelerate perspiration rates and intensity levels.
Waterproof
This may seem like a no-brainer, but some raincoat manufacturers produce raincoats that can only withstand light precipitation. Therefore, the important water-repellent qualities vary between a man who lives in a semi-arid climate and a man who lives in an area that experiences consistent heavy precipitation. Moreover, the waterproofing capability of a raincoat often depends upon the level of care a man takes to ensure a raincoat's water-repellant capability. Many men do not perform the level of maintenance required to sustain a waterproof raincoat.
Comfort
Nothing may be as uncomfortable as standing in a heavy downpour and sweating profusely under a raincoat. Many men falsely believe that the higher a raincoat's waterproof capability, the lower a raincoat's breathability. The type of fabric plays a huge role in determining how fast perspiration is expelled from the inside of a raincoat. Manufacturers have devised certain features to accelerate perspiration evaporation, such as adding vents to raincoats. Men also need to consider humidity levels and the type of men's clothing worn under a raincoat.
Durability
Nylon and polyester fabrics come in different weights, which are also referred to as deniers. While heavy raincoats last longer, they also present some potential problems. Some manufacturers do not specify fabric weights. Men should consider 70D raincoats as the standard weight. Raincoat weights can vary between 15D, which is wispy to 450D, which is bulky. The question to ask is how a man plans to use a raincoat. Heavier raincoats can slow down hikers and backpackers, while lighter raincoats may not provide the level of protection required for high elevation activities. Men have to decide the weight-protection balance before they shop for raincoats.
Appearance
For years, raincoats were considered functional garments that served to protect men from precipitation. Manufacturers now produce raincoats with some elements of style that appeal to a growing segment of men. Raincoats designed for outdoor activities look trim and possess athletic tailoring attributes. Manufacturers construct raincoats for everyday use with heavier materials that present a more bulky appearance. Raincoats can also be designed using numerous colour and pattern combinations.
Price
High-end raincoats possess superior waterproofing and breathability, which tend to make these types of raincoats pricer than their lower-end counterparts. Price does not become a consideration for men who need raincoats for strenuous outdoor activities, but it does become a factor for men who want to buy raincoats for normal use. Creating a budget should be the final consideration for buying a men's raincoat.
Recommended Raincoat Features
Men should write down the features that they want in a raincoat. There are dozens of features, but none more in demand than the following features. Some of the features add to a raincoat's cost.
Seam Taping
Manufacturers create puncture holes caused by sewing needles that stitch together fabric sections. Seam tape seals the puncture holes to ensure raincoats possess waterproofing capabilities. All high-end raincoats contain factory-taped seams. Look for raincoats that have full seam taping, as some manufacturers omit side seams to lower production costs.
Hoods
Some raincoats do not include hoods, such as the type of raincoats that men wear for everyday use. The cost of making a hoodless raincoat is less, and umbrellas may make hoods an unnecessary feature. Some raincoats are made with hoods that can accommodate hiking or cycling helmets. Men can find raincoats that have detachable hoods and hoods that they roll into a storage space on top of the shoulders. Raincoat hoods are made with different sized brims, which influence how well the hood prevents rain from hitting a man's face. Soft shells have traditionally not included hoods, but manufacturers are beginning to incorporate hoods into soft shell designs.
Vents
The scientific principle is easy to understand. Direct air exposure accelerates the evaporation process. A raincoat's most important vent is the front zipper, which runs from the neck to the bottom hem. Unless they buy ponchos, men should expect a lengthy front zipper to provide ample evaporation. Some front zippers zip both ways, giving users two venting options. Manufacturers also produce chest and pocket vents that further reduce perspiration levels.
Lining
Manufacturers construct raincoats with two, two and a half, and three layers, or linings. The number of linings influence both weight and breathability. Some manufacturers produce back linings, while other manufacturers line the fronts of raincoats. The Gore-Tex Pro Shell receives critical praise for producing a three-layer, laminate raincoat that is also lightweight and possesses excellent breathability.
Drawcords
Drawcords constructed in a raincoat's hem allow men to adjust the raincoat's fit, as well as prevent low-level winds from reaching the skin. Drawcords also close the area near the hem to prevent snow from entering the inside of the raincoat. Since drawcords are optional features, raincoats designed with drawcords cost more than raincoats that do not have drawcords in the hem.
Comparison of Waterproof/Breathable (WP/BR) Raincoats
While there are different categories of raincoats, WP/BR raincoats work best for the widest range of users. Consumers who need raincoats for strenuous outdoor activities, such as backpacking or mountain climbing, should buy raincoats that provide protection for those specific activities. Manufacturers construct WP/BR raincoats with fabrics that repel steady precipitation and allow perspiration vapour to evaporate. WP/BR raincoats can either be made with laminates or coatings, with laminates getting the slight edge for superior breathability capabilities. Here is a comparison between laminates- and coatings-constructed WP/BR raincoats.
Category

Laminates

Coatings

Popular Brands

Gore-Tex

eVent

MemBrain Strata

Hyvent Raincoats

Materials

Expanded polytetrafluoroethylene (ePTFE), polyurethane (PU), or polyester

Many types of polyurethane (PU)

Recommended Users

Cyclists

Trail runner

Boaters

Fitness walkers

Sports spectators

Travellers

Waterproof Performance

Same

Same

Breathability

Superior to coatings-constructed raincoats

Not as breathable as laminates-constructed raincoats

Price

Typically more expensive than coatings-constructed raincoats

Typically better priced than laminates-constructed raincoats
Hybrid raincoats are the most popular type of raincoat amongst mountain climbers and long trek backpackers. Manufacturers construct hybrids with laminates to provide the same level of breathability as WP/BR laminates, but they also add stretch to the soft shell fabrics. This provides climbers who backpack with more flexibility during steep climbs.
Buying a Raincoat on eBay
Men's raincoat sizes in the UK are similar to the raincoat sizes of US men, typically running from extra small to multiple sizes of extra large. Once a man knows the size of the raincoat he needs, he can use eBay to conveniently find sellers who offer similar sizes. Men can even find brand new raincoats, because sellers either bought the wrong size or they changed their minds about buying a particular style. eBay offers raincoat buyers a search engine that operates on keywords that are typed directly into a search bar. The keywords should correspond to the item for which you are looking. To find a raincoat that meets your shopping criteria, type specific keywords into the search engine and then navigate through the search results pages. For instance, type "raincoat with hood" or "extra large raincoats" to narrow the search results and reduce the amount of time you spend searching for the right raincoat.
Top-Rated Sellers
Consumers may come across numerous sellers who have the type of raincoat that matches their criteria. However, only consider buying from eBay's Top-Rated Sellers. These sellers have established reputations for selling high-quality products and offering generous return policies. Raincoat buyers should look for sellers who offer returns at least 14 days after delivery. Every seller has a product page that consists of an enlarged product photograph, as well as information about delivery terms and accepted payment methods. Consumers can also review customer feedback on seller product pages. Look for sellers who have garnered positive feedback that goes back at least one year. Moreover, try to find sellers who have received positive feedback for selling men's clothing.
eBay Stores
While eBay is known for auctions, raincoat buyers can cut right to the chase and buy raincoats from sellers with whom they have established a strong business relationship. Many eBay sellers specialise in selling specific products, such as men's raincoats, which means that consumers can buy directly from a seller's eBay store. Some men's favourite sellers may also offer discounts on shipping charges and they may bundle products at prices that are lower than if they had bought the products separately. They may be able to find an eBay seller who offers both a raincoat and a pair of rainboots at a discount.
Conclusion
The wet and windy climate in the United Kingdom means men need to find a durable raincoat that keeps them both warm and dry. Waterproof and breathable raincoats are the most popular types of raincoats due to the numerous situations in which men can wear them. Men can buy laminate or coating WP/BR and they should understand the difference between the two subtypes of raincoats before they begin shopping. Raincoats that possess extra pockets, drawcords, and vents within the linings provide men with quicker evaporation rates than other types of raincoats. Men should list and rank raincoat buying criteria to ensure that they find the right raincoat that meets their needs.
Raincoats made with breathable fabrics and multiple features tend to cost more than a man is willing to budget. However, cost should not be the most important factor of buying a raincoat. Men need protection from driving rain storms and heavy snow showers. Since many men wear layers of clothing to keep warm during the colder months, the raincoats they wear should not trap heat and cause discomfort. Buying a raincoat for UK living is just not the same as buying a raincoat for someone who lives in the arid regions of Italy or Spain. However, men who live in each of these three countries share a common bond: they can conveniently find the raincoats that match their needs online at eBay.