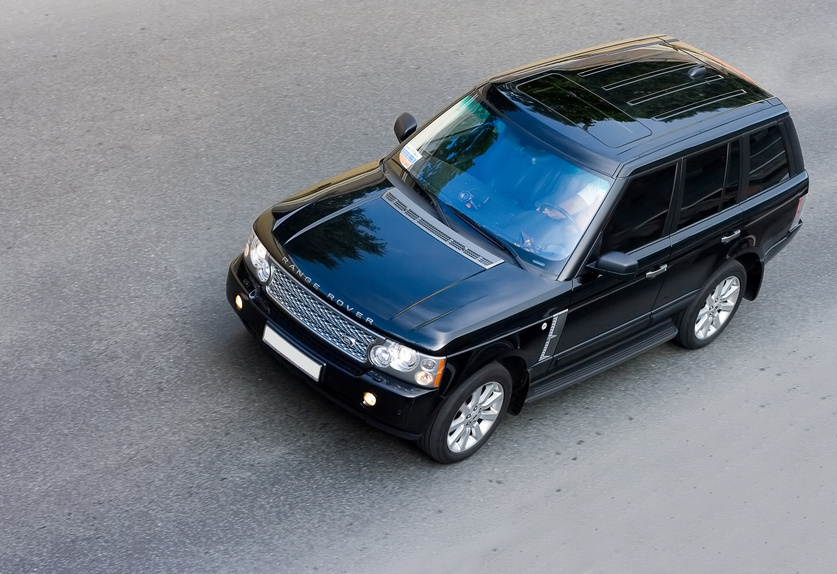 Since 1948, Land Rover has been producing robust vehicles to handle some of the world's toughest terrain. Known for their power and remarkable durability, Land Rovers enjoy an iconic status among off-road vehicles. In the 1970s, the company created the Range Rover,, which was intended to combine Land Rover capabilities with the comfort, power, and handling of a on-road car. A more compact version, the Range Rover Sport,, was introduced in 2005. The Range Rover Sport is meant primarily as an on-road sports tourer.
For those considering purchasing a Range Rover Sport, there are several steps to take to ensure they get the right car for their needs. Preliminaries like planning a budget and researching different models and years helps buyers narrow their focus. In the final stages of the buying process, it is vital to have as much information as possible about the vehicle itself. Taking certain measures helps consumers find a Sport with a great set of options and a price they can afford.
Overview of the Range Rover Sport
First introduced in 2005, the Range Rover Sport is a smaller version of the Range Rover. With its more compact chassis and lower height, it is intended primarily for on-road use. The Range Rover Sport features solid handling and performance, and combines ruggedness with refinement in a luxury SUV. It is still capable of going off-road, too, with Land Rover's Terrain Response system giving the car superior control that sets it apart from others in it class.
The first Range Rover Sport generation underwent a facelift in 2009 for improved engines, refinement, and selection of options. The second generation, an even more luxurious version with better efficiency, appeared in 2013.
Areas where the Range Rover Sport has received less positive reviews include poor fuel economy and high emissions, which lead to high running costs. Added to the high price of the vehicle itself, these factors make it pricey to own a Range Rover Sport. Some reviewers note that despite the Range Rover Sport's smaller size, it does not handle as well as the original Range Rover.
Range Rover Sport 2005-2013
The first generation of the Range Rover Sport combines powerful performance and refinement, plus a Terrain Response system that allows the driver to select one of nine settings and five conditions for optimal off-road handling. Although the Euro NCAP has not rated the safety of the Range Rover Sport, it has excellent standard features, including airbags, dynamic stability control (DSC), and active roll mitigation (ARM). The Land Rover Discovery, on whose design the Range Rover Sport is based, received a Euro NCAP crash protection rating of four out of five stars.
Engines
There are several engine choices, some of which were phased out early or introduced later. From 2005 to 2009, the only choice for petrol drivers was 4.2-litre V8 Supercharged model, with a six-speed automatic gearbox and a 0-62 mph time of 7.6 seconds. A supercharged 5.0-litre V8 motor replaced it in 2009; this 503 bhp, Jaguar-sourced motor goes from 0-62 mph in just 5.9 seconds, but incurs high running costs. A non-supercharged 4.4-litre V8 petrol engine was available in early models, but was soon phased out.
The choice for a diesel engine began with a 2.7-litre TDV6, which was joined by a 3.6-litre badged TDV8 in 2007. While the former offered a modest performance, the latter was quite powerful. After mid-2011, the only diesel option became the 242 bhp, 3.0-litre SDV6, which, with a 0-62 mph time of 8.8 seconds, combined satisfying performance with more affordable running costs.
Equipment
Originally, the entry-level version for the Range Rover Sport was the S trim. After 2012, the S was phased out, and replaced with the SE trim, with HSE and HSE Lux following. The following chart highlights some of the standard features according to trim version.
| Trim Version | Equipment Highlights |
| --- | --- |
| S | Anti-lock brakes, climate control, CD player, sat nav, traction control, electric front seats, folding rear seats, alloy wheels, cruise control, alarm, front and rear electric windows, cloth trim |
| SE | 19-inch alloy wheels, Xenon headlamps, LED daytime running lights, electric mirrors, front fog lights, heated seats, leather upholstery, MP3 and iPod connections, and parking sensors; note that sat nav is optional on SE, whereas it was standard on S trim |
| HSE | Upgraded interior with electrically-adjustable driver's bolster and position memory, heated, electrically-folding door mirrors, and reversing camera |
| HSE Luxury | Uprated Harmon Kardon surround stereo system; metallic colours; heating steering wheel; leather armrests; and contrast stitching |
Other trim options like HSE Red and Autobiography Sport give buyers more customising options, plus unique features like special specially-designed 20-inch alloy wheels.
Buyers are reminded that all Range Rover Sports come with six airbags standard, as well as other safety devices, plus the Terrain Response system. Practicality features include a powered tailgate and split rear bench.
Range Rover Sport 2013-
Land Rover continued its commitment to improving the Range Rover Sport with a lighter, more efficient second generation, launched in 2013. Improved agility, an upgraded air suspension system, and an electrically-folding third row of seats make this Range Rover Sport generation more comfortable, practical, and enjoyable to drive.
Engines
There are several different motor options for the second-generation Sport. Those who want a petrol engine have only choice, however: the supercharged 5.0-litre V8 engine. It delivers 510 bhp and goes from 0-62mph in 5.9 seconds, but its 13 mpg fuel economy is likely to disappoint. A better economical version is the 255 bhp, 3.0-litre advanced-sequential turbo diesel; at 28 mpg and an emissions level of 230g/km, as opposed to the V8's 348, this engine has lower running costs and a lower emissions tax.
Other options include a 3.0-litre, 288 bhp V6 diesel engine, a 4.4-litre diesel V8 that gets 335 bhp, and a hybrid diesel motor with emissions as low as 169g/km.
Equipment
In addition to the third row of seating, the interior of the second-generation Range Rover Sport is thoroughly revised, and the exterior comes with some new standard features. As with the first generation, there are several different trim levels, starting from the entry-level SE and culminating in the Autobiography Sport. Highlights from standard features include 20-inch alloy wheels, plus important standard equipment from the first generation, such as dynamic stability control, roll stability control, six airbags, anti-lock brakes, and climate control.
Setting a Budget
One consistent critique of the Range Rover Sport is its cost. With high on-the-road prices for new and used models, poor fuel economy, and high emissions taxes, the Range Rover Sport is not financially feasible for everyone. Buyers also need to leave room in their budgeting for insurance, maintenance, and repair. This helps buyers assess whether a newer or older model better fits their financial situation, and can also influence their choice of engine type and additional features they may or may not want.
Where to Buy a Range Rover Sport
There are several places to buy a Range Rover Sport, depending on how new a model one is looking for, and what one's shopping preferences are. New and recent models are sold by authorised Land Rover dealers. Models more than a few years old can be purchased at independent dealerships or through private sellers. While buying from a dealer generally offers more guidance and customer support, private sellers are likely to have lower prices.
Vehicle Status Report
When purchasing through a private seller, it is especially important to obtain the vehicle history associated with its registration mark. A vehicle status report gives potential buyers important information such as title transfers and collision records, and warns them if there are outstanding payments due on the car, or it has been stolen or written off.
Listed Values
The value of a particular model can depend on several factors, such as features and condition, as well as subtler details like colour. Before making their purchase, buyers should look up the listed value of the exact model they are considering in a trusted source like Glass' Guide, Parkers, or What Car. This helps them decide how much they are willing to pay, as well as avoid buying a car that is going for well below the listed value.
Inspections
Although buying from a dealer usually implies that a car has been inspected, when purchasing from an independent seller, it is highly recommended to have the vehicle professionally inspected before buying. Inspection can uncover hidden issues that could be very costly to repair; spending a bit of money on this step gives buyers peace of mind and helps them avoid money pits.
How to Buy a Range Rover Sport on eBay
eBay has an extensive selection of Range Rover Sports. With tools for searching, comparison, and vehicle research, eBay makes it easy to find the right Range Rover Sport for you. To start, go to the site's homepage and enter keywords into the search bar. General terms like "Range Rover Sport&" yield a high number of results, while more specific terms, such as "Range Rover Sport 2010 HSE&", give you a narrower set of listings.
Once you've found a car you're interested in, read the full listing carefully. Note specifications, condition, and payment and pickup information. You can purchase a vehicle status report through eBay in most cases, as well as contact the seller with any questions you may have. Do verify the seller's credentials, too: look at their feedback score and read comments left by past buyers who purchased a vehicle from them. This helps ensure they are trustworthy and reliable.
Conclusion
The Range Rover Sport combines the luxury and agility of an on-road vehicle with the robust performance characteristic of Land Rovers. First introduced in 2005, the Range Rover Sport has undergone some changes through the years, including a 2009 facelift and the introduction of a second generation in 2013. Buyers looking for a Range Rover Sport should take several steps.
First, familiarity with the different models helps consumers focus their priorities. While certain safety features and equipment come standard on all models, buyers may find a particular engine suits their needs better. Those with a bit higher budget may want to opt for a more customised trim, such as the Autobiography Sport. Depending on how new a car they are seeking, buyers can opt to shop at an authorised or independent dealership, or from a private seller. In any case, it is vital to check that the vehicle is in acceptable condition, and that it has a clean history. Taking these steps can lead consumers to the perfect Range Rover Sport for them.