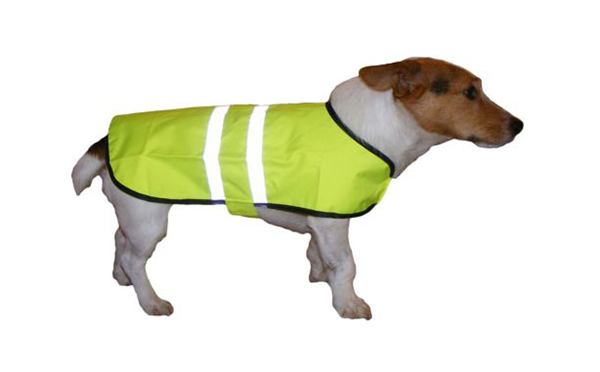 There are many breeds of dog in the UK who simply do not need to wear protective clothing for warmth purposes. However, these dogs could benefit from reflective dog coats, as they provide protection rather than warmth.
With over 11 million pet dogs in the UK there is demand for protective reflective clothing for pets. Many people choose to walk their dogs where poor lighting means that visibility is restricted. So it is important the dog can always be seen to avoid accidents.
Buying a reflective dog coat just adds a little more protection and gives further peace of mind. They can be found with extra padding for dogs that do need a little warmth and almost all are waterproof. They can be bought as full all-over body coat or small vests, depending on the buyer and the dog's preferences.
Buying a reflective dog coat on eBay is a straightforward process and buyers who choose to shop online can guarantee a wider range of choice. Land-based pet shops are perfectly serviceable, but buyers simply do not get the same variety of products to choose from. For the widest range the only answer is eBay as it allows a range of different sellers come together in the same place.
Reasons for a Reflective Dog Coat
There are many reasons a reflective dog coat may be regarded as necessary. In rural areas it should be considered essential so when walking dogs along the roads at dusk or at night they can definitely be seen by oncoming traffic. Equally, a dog with a reflective coat on will be much easier to locate if they do manage to run off. The reflective elements of the coat allow the animal to be seen at all times and this gives them another degree of protection.
They aren't only for use at night however, as they provide a great clear marker of where the dog is even during the daytime. This means that they could be utilised by those living in urban areas as well, to ensure that they always have a clear sight of where their dog is, especially if they're often let off the lead.
Types of Dog Coats
Reflective coats can be bought with the reflective element all over or it can be just on the piping or outer lining, allowing the rest of the coat to be made from a chosen attractive material. There are two main types of reflective element used in reflective dog coats:
* Retroreflective
Fluorescent materials are filled with a pigment which has the property of being able to convert light in the UV spectrum into light in the visible spectrum, making it easy to see. It only works in areas where there is a reliable amount of UV light, so it is mainly effective during daylight. It can be difficult to use fluorescent materials at night, as artificial light from lampposts for example provides very little UV light.
Retroreflective materials allow almost all of the light reflected from the surface to be directed back out. This material is only useful to dog owners if their dogs are kept close, as it provides no benefit from a distance. It is ideal for dogs that are kept on the leash. Each of these types of material works differently to ensure the dog can be seen.
There are other different types of dog coat to be considered in terms of coat style. Dogs can be fitted with all-over coats with front leg coverings and loops for the hind legs or they can simply use basic reflective vests which are slipped over the body and have hind loops at the back and a space for the tail.
Measuring your Dog
There are three basic measurements that are needed from a dog to be able to buy a coat that fits. Below is a closer look at each measurement and how to measure it. All measurements should be taken in inches.
| | |
| --- | --- |
| Measurement | How it is Measured |
| | A dog's topline is the length of its back. It is measured from its withers, near the high part of its shoulders, to the base of the tail. |
| Girth | A dog's girth is its chest measurement. It is taken from the widest part of the dogs rib-cage which is usually from just behind the withers and then down and around to just behind the front legs. |
| Neck | A dog's neck is measured from the point where the collar would naturally rest. It's essential for ensuring the chosen coat fits over the dog's head and should be taken from the top point of the chest to just above the withers. |
Measuring a dog properly ensures that buying online is simple and allows buyers to have more choice in their purchases rather than needing to visit a store and only have a narrow choice of products.
Getting the dog used to the reflective coat may take some time but they will soon learn that it is part of the routine prior to going on a walk and will soon get used to it. Using their basic training and commands is the simplest way to guarantee that the dog is calm and settled in their new garment.
Cost-Effective Dog Coats and Jackets
There are a range of dog coats and jackets available through eBay for all price ranges. When looking for reflective items there is even further scope as the most basic plastic reflective coats can be sourced for extremely budget-friendly prices, whilst other more padded out and warmer items may have higher prices attached.
If the jacket is only needed so that the dog can be seen clearly, then the most basic type of coat is more than suitable and is also completely comfortable. Products with higher prices may have additional features such as padding, warm additional layers and even hoods, but whether you need any of these features is a personal choice.
The variety of products eBay offers is wide enough to ensure that buyers with different requirements can all find something which suits their needs. There is the option of refining the price range when looking at products so buyers can narrow their search to the individual items which meet their needs most closely.
How to Buy a Reflective Dog Coat on eBay
Buying a reflective dog coat on eBay is possible in two main ways. Each requires a degree of browsing around the site before locating the preferred product. The first option is to use eBay's search facility. This is located on every page of the site and is the search bar at the top of the page where the buyer can simply type in their specific search term, which, in this instance, would probably be 'reflective dog coat'. The results will most probably include a wide range of different products. However, it is possible to further narrow down the search using the left-hand refinements columns and from there the search can also be minimised to the dog supplies category to allow for just the most relevant results to be shown.
The alternative way of locating reflective dog coats is to browse through the categories more generally. Buyers can begin by locating the home and garden category and then find the dog supplies subcategory. From here buyers can browse the clothing and shoes subcategory, but more items will be found under the other dog supplies category too. Buyers can use the left-hand refinements column to further narrow the search by price, location and product type, and therefore, it should be possible to pare the search down to the point that only relevant items are available.
Once a range of relevant items have been found, buyers can then compare and contrast before making their final decision. Prices will be found to be competitive and buyers will be assured of finding a product which meets their specific individual needs.
Conclusion
Ensuring dogs are kept safe at all times is a key priority for all their owners. There are many accessories and products designed for dog safety, but a simple reflective coat can make all the different for keeping the dog visible in difficult conditions or during walks in the evening. Buying a reflective coat gives dog owners more peace of mind and allows them to have better control of their dog when they're off the lead, as they're easier to locate.
As long as the dog is receptive and the coat is fitted properly, there is no reason why buying a reflective dog coat can't be a success. Most dogs will get used to their new garment very quickly, and then it can be used regularly on all walks for protective and visibility purposes.
Buying a reflective dog coat on eBay is the most effective way of guaranteeing a product that meets the needs of the buyer. This is due to the wide range of different items and means that buyers have more products to choose from. Buyers will also have a competitive range of prices to consider as prices will depend on the type of coat required.