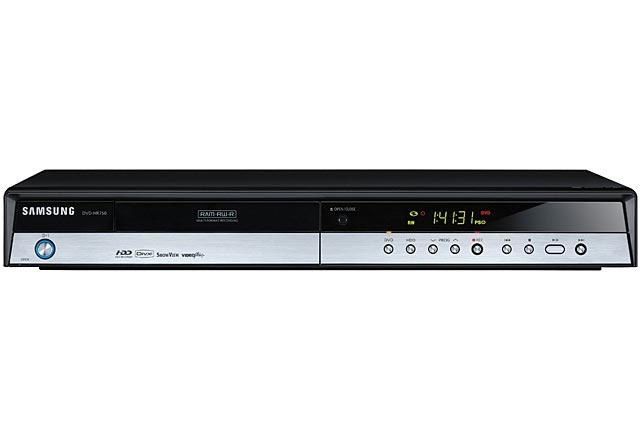 DVD players and recorders are set to only play DVDs released to a specific region, in order to protect copyrights. Movies are released at different times in different countries, and having DVDs and DVD players coded for a particular specific region is an attempt to keep intact the profits from newly released movies and prevent piracy. Region 2 DVDs play on DVD players in Japan, Europe, Middle East, South Africa, and Greenland. A Region 2 DVD recorder can only copy personal video or Region 2 DVDs that do not have copyright restrictions.
For those unfamiliar with them, DVD recorders usually look nearly identical to a traditional DVD player. They can record from all analogue sources, and have AV inputs. There are several types available, including a DVD recorder/VCR recorder combo, a DVD recorder/hard drive combo, and the standalone DVD recorder. This guide discusses the different DVD recorder types, recording formats, DVD lengths, copyright restrictions, high definition recording, and other features. This guide also explains how and where and how to buy a Region 2 DVD recorder.
Types of Region 2 DVD Recorders
DVD recorders can be used to copy homemade videos, recordings from the television, non-copyrighted material, and Laserdiscs. However, DVD recorders cannot record VHS or DVDs that feature an embedded anti-copy signal. If this signal is present, the DVD recorder will not record and instead displays an error message or a black screen.
Readers should note that DVD recorders are not the same as DVD burners. A DVD burner refers to an add-on or built-in device for a Mac or PC, similar to a CD drive.
There are three main types of DVD recorders, the standalone recorder, the DVD/VCR combo,k and the DVD/hard drive combo. The standalone DVD recorder features basic DVD copying software. The standalone is unable to record data from a computer, but can record analogue television in real-time. Standalone DVD recorders usually have analogue video inputs, and some have iLink inputs that enable users to record DVDs from a camcorder. The DVD/VCR combo recorder is less common because VHS videos are becoming more and more rare, but they are still available online and at some brick and mortar stores. The DVD recorder/hard drive combos work well together because they let the user record either directly to a DVD, or record a series of things onto the drive before editing the data and compiling it onto the DVD. Another added feature of the DVD recorder/hard drive combo is that when a DVD becomes completely full, all extra data is automatically recorded onto the hard drive, which can later be transferred to a different DVD.
Some DVD recorders have a television tuner that allows users to record directly from the television. Tunerless DVD recorders are unable to record television without being plugged into satellite or cable.
DVD recorders record the movie or programme but do not copy the main menu or some of the DVD special features. They instead create their own menu functions. Some DVD recorders allow users to create their own menu by breaking up the recording during the process.
DVD Recorder Formats
DVD recorders utilise a variety of different formats. Each format serves a different purpose, and has its own pros and cons. The sections below contain information about each DVD recording format.
DVD-R
DVD-R is the format most commonly used by computers and DVD recorders. DVD-R writes to a disc only once, in a manner similar to that of the CD burner. Most DVD-Rs can be played in most DVD players, but users should make sure the recording session has finished. If the DVD-R recording session is not finalised, the disc will not work in a DVD player.
DVD-R DL
The DVD-R DL format writes once, like DVD-R, but has two layers on the one side, creating twice as much space on the disc for recording, doubling recording capacity. Playback compatibility on older (and some newer) DVD players may be an issue. The player should be checked for compatibility with DVD-R DL before purchasing discs in this format.
DVD-RW
DVD-RW is compatible with most DVD players, as long as the recording is executed properly. Be sure to check recording directions for the specific DVD recorder purchased. An advantage of DVD-RW is that the discs are rewritable, so can be used multiple times.
DVD+RW
DVD+RW format is the most convenient, because it finalises during the recording process. The discs can be played back on most DVD players, and this format purports to be compatible with more DVD players than DVD-RW.
DVD+R
DVD+R is a "record once" format, and is easier to use than DVD-Rs. It is also compatible with more players than DVD-R. However, DVD+R still needs to be finalised at the end of each recording session.
DVD+R DL
DVD+R DLs have less compatibility than DVD+Rs. They are slowly being able to be played on DVD players. A lot of DVD recorders do not yet record DVD+R DLs. DVD+R DLs have the same easy process as DVD+R, but have two layers so can record twice the amount of information as DVD+Rs.
DVD-RAM
The DVD-RAM format is not compatible with most DVD players or DVD-ROM drives. However, one advantage of this format is its "time slip" feature, which lets the user start watching the beginning of a recording even before recording has completed. It can also be edited, scene by scene, on the disc.
Most DVD recorders are able to record almost all formats. Double layer formats, like DVD-R DL and DVD+R DL, are not available on all DVD recorders, however. Look for information regarding double layer format recording to make sure that the recorder is able to record all the features desired.
Lengths of DVD Recordings
All DVD recorders allow users the option of recording one, two, four, and six hour on a disc, while some DVD recorders allow half hours and can record up to eight hours. Users who wants to play the DVD on a standard DVD player should select either one or two hours, as playback difficulties increase as DVD recording length increases.
A Note on High Definition Recording
Both commercial and home recorded DVDs do not use high definition, though resolution is nevertheless quite good. High Definition television is beyond the capabilities of a DVD recorder. DVD recorders with HDTV or ATSC tuners, are available, but recordings will not be high definition. The HDTV signal received by the tuner is converted to standard definition before recording to DVD.
Different Features Available on DVD Recorders
The following sections discuss several features available on some DVD recorders. These include an upscaling playback feature, Blu-ray recording, and recording timers.
Upscaling on Playback Feature
Some DVD recorders have an upscaling feature on playback, meaning that they upscale the recording so that it is better than standard definition. It is not as crisp as high definition, but it looks better than standard definition. This is a popular feature, so interested buyers should be sure to look for that specific feature when shopping.
Blu-ray Recording
Some DVD recorders have the ability to convert DVDs so that resolution is maximised for high definition televisions. The player and the television must have an HDMI connection for this feature to work. There are also Blu-ray recorders on the market.
Scheduled and Timed Recording
Recorders that allow scheduled or timed recording let users programme recordings to start when they are not present. DVDs can be be scheduled to record when the user is not at home, asleep, or otherwise occupied. The recording ends after the designated amount of time.
How to Buy a Region 2 DVD Recorder on eBay
There are a wide variety of DVD recorders on the market. They can be found online, in electronic stores, or in electronic departments of larger stores. eBay has a large selection of Region 2 DVD recorders available. Begin your search by typing "Region 2 DVD recorder" into the search bar on the eBay home page. If the search results are too broad, narrow them down by entering more specific search terms. This should filter out irrelevant results and offer more that meet your needs. Be sure to read the detailed item descriptions on each listing to ensure that the recorder has all the features you want. Also, review the feedback sellers have received from from previous buyers. This will let you know how well the seller has satisfied buyers over the last 12 months.
Conclusion
Buying a DVD recorder can be a challenge, since there are many restrictions and guidelines to follow to make sure it works properly. A Region 2 DVD recorder will be compatible with DVDs released in Japan, Europe, Middle East, South Africa, and Greenland. There are three main types of DVD recorders: the standalone, the VCR/DVD combo, and the hard drive/DVD combo. VCR/DVD combination recorders are not common, because VHS is a diminishing technology. Hard drive/ DVD combination recorders allow for a lot of editing and recording flexibility.
DVDs can be recorded in several different formats, and although many recorders are compatible with a most formats, many are not compatible with the double layer formats. If a double layer feature is desired, buyers should make sure to double check that the recorder is compatible. When recording a DVD for use on a DVD player, make sure to record only an hour or two, as playback become more faulty with longer recording lengths. High definition is not compatible with DVD recording, but some DVD recorders are able to convert high definition to standard definition. Look for this feature, as well as upscaling on playback, scheduling, and timed recording. DVD recorders are widely available in brick and mortar stores, and online. For greatest convenience and selection, however, buyers should check out eBay.