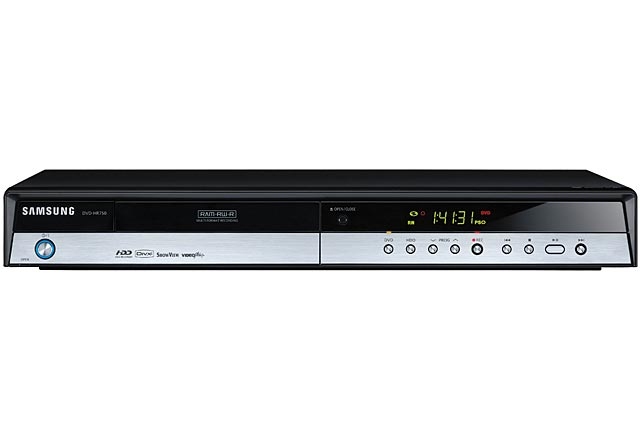 Technological advancements are being made virtually every day in society, from medicine to electronics. One of the biggest advancements in the home theatre industry has been the transition from video home systems (VHS tapes) to digital versatile discs (DVDs). Bulky VHS tapes dominated the movie and home video industry for quite some time until the invention of the small and lightweight DVD in the 1980s. The DVD allowed for a flood of additional advancements to be made in the industry, particularly in the case of DVD recorders, which are much more efficient and provide more features than the older VHS recorders did.
The uses of DVD recorders are far-reaching, although their technological advancements now require increased knowledge of their functions and features. Although the process of finding a DVD recorder with exactly the right features for a particular shopper may seem daunting, by understanding the available options when it comes to tuners, hard drives, and formats, anyone can find the perfect DVD recorder to suit his or her needs. A large variety of DVD recorders can always be found on eBay.
Understanding Region Codes
A common unknown fact about DVDs and DVD recorders is that they are specifically made for operating in certain parts of the world. The devices are created with special technology that only allows them to be used properly in their indicated region with other devices that also use the same region code. This means that a DVD from Region 1 would not be compatible with a DVD player or recorder from Region 2.
The reasoning behind region coding is hazy, but it is an important detail to keep in mind when buying DVD recorders on eBay, especially if a buyer plans to give the device to a friend or family member who is living in a different country. Region 2 is specific to Japan, Europe, South Africa, the Middle East, and Greenland.
Reasons to Buy a DVD Recorder
There are countless reasons to buy a DVD recorder as a home theatre investment. DVD recorders include a number of features that make the experience of recording and re-watching television shows, movies, and home videos enjoyable for everyone. A primary function of a DVD recorder is to give the owner the ability to record television shows onto a blank DVD. The shows can then be stored and re-watched at any time. Some DVD recorders allow viewers to watch one channel of television while another channel is being recorded, which is extremely convenient.
Aside from the fact that DVDs now dominate the home theatre industry, DVDs and DVD recorders also provide a much higher viewing quality than older VHS tapes and their respective recording devices. DVD recorders are also significantly easier to work with in comparison to VHS recorders. Yet another advantage to owning a DVD recorder is that it allows users to convert their home videos to DVDs. Some advanced DVD recorders even allow recorded footage to be edited right on the spot.
Input Capabilities
An important characteristic of Region 2 DVD recorders that is often overlooked is the recorder's ability to connect external sources to the recorder. Given that users frequently want to connect their camcorders directly to their DVD recorders in order to burn home videos onto DVDs, it is important to be sure that a DVD recorder has the proper input capabilities for the user to transfer footage effectively without harming either device.
Region 2 DVD Recorders and Tuners
A question that is often raised concerning DVD recorders is whether it should be purchased with a tuner. This is one of the first decisions that should be made in order to narrow down the number of available choices. Digital tuners have greatly taken over as the dominant type of tuner on recorders, and there are advantages and disadvantages to both types of DVD recorders.
DVD Recorders Without Tuners
DVD recorders that lack tuners are still completely useful for the recorder's main goal of allowing viewers to record television onto DVDs and archive the discs for later use. These DVD recorders are incredibly useful when working with home videos. DVD recorders without tuners have the ability to transfer footage from a video camera or camcorder straight onto a blank disc. Possibly one of the best advantages of DVD recorders without tuners is that they are usually quite affordable in comparison to DVD recorders with tuners.
DVD Recorders With Tuners
Tuners on DVD recorders provide several coveted abilities when it comes to recording television shows. For one, digital tuners allow viewers to watch one television channel while recording another channel at the same time. With this type of recorder, recording does not interfere with the ability to watch other shows.
Additionally, DVD recorders with tuners allow viewers to schedule recordings to take place hours or even days in advance. This makes recording shows virtually headache-free, as the viewer does not have to physically be there at the time the show begins in order to start the recording. However, all of these abilities can cause the price tag of a DVD recorder with a tuner to be significantly higher than that of a recorder without a tuner.
DVD recorders can also be found with multiple tuners, which provide even greater functionality. With multiple tuners, more than one show or programme can be recorded at one time while another channel is being watched.
Region 2 DVD Recorders and Hard Drives
Yet another feature to consider before purchasing a DVD recorder is whether or not the device comes with a built-in hard drive. As with DVD recorders with tuners, DVD recorders with or without hard drives have both benefits and drawbacks.
DVD Recorders Without Hard Drives
DVD recorders that lack a built-in hard drive operate almost identically to DVD recorders without tuners, although it is possible to find a DVD recorder that has a tuner but no hard drive. The recorder is still able to record shows on television and transfer footage from camcorders onto DVDs. The process of doing so is simple and straightforward.
However, one downside is that without a hard drive, shows often cannot be recorded for longer than a few hours. The quality of recordings without a hard drive can also be somewhat lower than the quality found on recorders with built-in hard drives. Once again, prices are less expensive if the recorder does not have a hard drive.
DVD Recorders With Hard Drives
DVD recorders with hard drives provide a number of options for viewers. In addition to possessing all of the aforementioned abilities that come with general DVD recorders, built-in hard drives create a better viewing experience. If a recorder has a hard drive, shows can be recorded straight onto the drive. This enables users to decide what footage should be saved and what should be deleted before transferring the recording to DVD. The desired footage can then be burned onto a DVD and archived for later use. Hard drives also allow viewers to record for longer lengths of time and with a higher picture quality. Of course, DVD recorders with built-in hard drives generally include a high price tag.
Recording Formats
An important feature to consider when in the market for a Region 2 DVD recorder is which DVD recording format is used by the recorder. There are several different formats for DVDs, and although many types of DVD recorders work with all of the most common DVD formats, it is wise to verify the acceptable formats before purchasing DVDs. Each type of DVD includes different features, and it is important to know the differences.
DVD-R and DVD+R
There are very few differences between Region 2 DVD-R and DVD+R formats. Both types of DVDs offer the basic bread and butter of recording, and they function with nearly all DVD recorders. These DVDs cannot be erased or rewritten, which is why they are often called 'write-once' DVDs. DVD+R versions offer slightly more functionality in that they can be more useful when it comes to editing footage.
DVD-R DL and DVD+R DL
Region 2 DVD-R DL and DVD+R DL possess the same features as DVD-R and DVD+R discs. However, one distinct difference is that these particular DVDs, which are called 'double-layer' in accordance with the DL, hold twice as much video as DVD-R and DVD+R discs. DL discs still come with the same 'write-once' ability, and they are also compatible with many types of DVD recorders.
DVD-RW and DVD+RW
Once again, these particular types of DVDs typically have the same compatibility and functionality as DVD-R and DVD+R. The only difference is that these discs have the ability to be erased and rewritten. This allows discs to be used more than once, which adds up to a lot of cost savings over time.
High-Definition Capabilities
Given the prevalence of HD equipment that has become so popular in the home theatre industry, it is important to consider whether a DVD recorder has HD capabilities. Many types of recorders offer HD conversion capabilities, a feature that allows the recorder to scale video to an HD format, such as 1080p, which makes for increased picture quality and a better viewing experience in general. If a DVD recorder is used with a high-definition or plasma television, HD capabilities would prove to be very useful.
How to Buy Region 2 DVD Recorders on eBay
The number of different features and capabilities that are available on different Region 2 DVD recorders is impressive. All of these features can be combined in countless different ways, which can seem a bit overwhelming if you do not understand the basics. eBay eliminates the difficulty of searching for the perfect DVD recorder by providing useful filters and categories to narrow down search results, including filters for price, condition, and distance from the seller. The search for a particular type of DVD recorder can be started by using the main search bar to type in details about the preferred DVD recorder.
eBay also allows shoppers to contact the seller of an item directly. Shoppers can quickly communicate with sellers in order to ask any lingering questions about an item. This includes asking about shipping clarifications or inquiries into the condition of a product. As a buyer, you should understand all the necessary information about a product before you decide to purchase it. Seller feedback ratings, which come from eBay shoppers, are also prominently displayed on each product page, so you can decide for yourself how dependable you believe a given seller to be.
Conclusion
The home theatre industry is always expanding and improving with new, state-of-the-art advancements that make the time spent viewing television as enjoyable as possible. Recording abilities, along with the ability to pause and rewind shows, are a common feature that dominates the industry. Given that a viewer is not always around when his or her desired shows begin broadcasting, the ability to record television onto a DVD or hard drive is incredibly useful in everyday life. Other abilities that DVD recorders provide, such as transferring home videos from camcorders onto DVDs, make these recording devices even more useful.
DVD recorders may come with a number of additional features that make the recording process even simpler and more pleasing for owners, and these features do not have to be confusing. By simply learning the basics about the possible features of DVD recorders, such as DVD formats, tuner and hard drive functions, and high-definition capabilities, anyone can confidently buy a Region 2 DVD recorder.