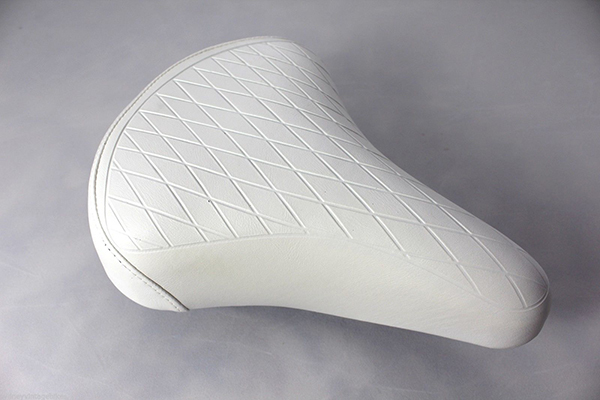 Bicycles have become not only a useful way to get around, but also a great fashion statement. The ultimate style point is to own a retro bike of stylistic significance, as they are funky, fresh and vibrant. The problem with owning a bicycle from years gone by is that finding replacement parts can be difficult. With the advent of online auction sites such as eBay, however, that difficulty has been significantly reduced.
Retro saddles add a vintage touch to a bicycle and are also suitable for use with modern models. In such instances they can add the classic touch that many have been longing for. Retro saddles can help complete the look of a bicycle and make it appear captivating in the process. When looking for the top brands in bicycle history look no further than eBay, the world's leading online market place.
Why Choose a Retro Saddle?
The market for bicycle saddles is huge, with brands offering a variety of shapes and styles. There is one form of saddle that is more than just another bike part; retro bicycle saddles are a fashion statement. The evolution of the saddle means shoppers will find designs that represent various eras in history. No matter the bike you own (or its build) there will be a retro bicycle saddle suitable to suit your tastes.
Types of Saddles
The type of rider you are will play a large part in what retro bicycle saddle you opt for. Variety is evident no matter whether a shopper is checking out the latest offerings online or testing parts in-store. Familiarise yourself with the saddle materials available and always decide on for one that feels the most comfortable.
| | |
| --- | --- |
| Safety Poise Pneumatic | In 1898, the first bicycle saddle entered mass production. It's safe to say that they are as old as retro can get. Although classic in style, they are not particularly comfortable. |
| Bunker Pneumatic | Four years after the initial bicycle saddle entered mass production, the Bunker Pneumatic was developed. It was key shaped, but still didn't solve any comfort related issues. |
| Dan Henry Hammock Saddle | When the importance of airflow became apparent, designers went back to the drawing board. In the 1960's, saddles took on a new form, which was somewhat similar to a canvas directors chair. Not particularly efficient in wet conditions, the Dan Henry Hammock Saddle was considered a must have item at the time. |
| Banana Saddle | The modern seat took its original influence from the banana saddle. Designed for the historic bicycle polo, it was adopted as a trend in the late 1960's by Californian chopper riders. It has historical significance in terms of style and is an inspiration to the BMX bike saddles we see today. |
| Modern Saddle | The bicycle saddle has been in a state of evolution for almost 120 years. Today we see bicycle saddles that feature narrow noses and wider backs, which allow riders to get the most comfort possible. They are lightweight, easy to replace and built for consistent use. |
Saddle Materials
As well as evolutions in style, bicycle saddles have also evolved in terms of material. Saddles from the 1960's were constructed of canvas, while the 1980's saw the advent of plastic. In the 1990's, companies began to experiment, so expect to find retro saddles made of anything and everything. Take some time to explore what's on offer and what material is suitable.
* Plastic
* Canvas
* Metal
* Leather
* Synthetic Leather
* Kevlar
* Lycra
Wide or Narrow
In order to obtain maximum comfort and the correct balance, riders will need to decide if their newest retro acquisition will be wide or narrow. Each one has its own risks and is usually designed with either male or female use in mind. Truly vintage seats will not offer such option, as they come in a one-size-fits all standardised form. Try and find a retro saddle that positions perfectly between your sit bones in order to ensure maximum comfort.
| | |
| --- | --- |
| Wide | Predominantly aimed at women and casual bicycle riders. Helps reduce damage to the soft tissue in the upper legs. It helps distribute a female's body weight better, in order to reduce any risk of muscle damage. |
| Narrow | Built for men and use with high performance bicycles. For men the saddle will take weight off the knee joints and make the abdominals the focal point of power. This means that control of the bike in high-speed situations is easier. |
Soft or Hard
Saddles come in either soft or hard form; due to older saddles being quite sturdy all-round the amount of difference has been regularly debated. It should be noted that even though not major, the difference between hard and soft saddles is important. Owning the right saddles can be the difference between a blissful ride and a painful one.
* Soft saddles are built to ensure that there is almost permanent contact between the rider and the bike. Considered fine for short rides, however, not intended for extended use.
* Harder saddles take longer to break in, and can be quite painful in the beginning. However, once broken in they are perfect for long distance bike rides, and possibly even competition use.
* If you are unsure of what style is suitable, take a visit to a local bike shop. It's there that you will be able to get a hands-on feel for both soft and hard bike saddles.
Buying a Used Retro Bicycle Saddle
Even though reproduction of classic bicycle saddles is common, nothing beats owning an original. In most cases the only way to acquire an original is to buy used. When choosing to buy used it's important to know what exactly it is you're buying. One-way to remain a step ahead is to open up a line of communication with the seller. Question them on the saddle, because a knowledgeable shopper is a smart shopper.
* Is the saddle a reproduction or an original?
* How old is the saddle?
* Is the saddle broken in?
* Has the saddle suffered any damage? If so, what?
* How often has the saddle been used?
* Has the saddle been subjected to any repairs?
How to Purchase a Retro Bicycle Saddle on eBay
Many cyclists look at a saddle and all they see is a simple piece of material and cushion, but a bicycle saddle can mean so much more. Bicycle saddles are an expression of personality and style; they have the potential to turn a good bike into a great bike. Cycling has a long and illustrious history, which means there are plenty of options to choose from should you opt for a retro saddle. eBay has lots of variations for sale, so the world's leading auction sight should always be your first port of call.
* In order to browse what retro bicycle saddles are available, log on to eBay's homepage and select sporting goods.
* From there, click on cycling, bike parts and then saddles; this will display all live auctions and allow shoppers to browse openly.
* If shoppers have a specific brand of saddle in mind, they can use the keyword search to narrow down their results.
* The advanced search tool can also play a pivotal part in locating a retro bicycle saddle of interest.
eBay Shops
Cycling's popularity continues to snowball and those experienced in riding may want to explore retro saddle options. They are a great way to personalise a bike and make it stand out from the crowd. High-street bike shops and specialist sellers have taken to the eBay shops format in order to promote their goods. In these miniature stores, shoppers will be sure to find some great bargains. To find what eBay shops are open for business, click the eBay shops link at the bottom of the homepage.
Completing a Transaction
* When shoppers have found what they're after they'll need to follow through with a purchase.
* In order to do this they will need to do one of the following on an item listing.
o Place a Bid
o Make a Best Offer
o Buy it Now
* Once an auction has finished, the winning bidder will need to complete the checkout process.
* Doing this with PayPal will mean that the order is covered by the buyer protection programme.
Conclusion
If comfort is the key factor in purchasing a bicycle saddle, then style and appearance come a very close second. Bicycles receive regular use and are a symbol of personal creativity and expression. Retro saddles are a great option for those who want to add a classic touch to a bicycle, and breakaway from the standard manufacturer offerings.
When it comes down do it, choosing a saddle is a personal matter; what is right for one person may not be right for another. Try to explore all the options available. It's time people started showcasing their personalities through their bicycles, and a retro saddle is one of the best ways to do this. When searching for a new bicycle saddle eBay is a priceless resource, as shoppers will find retro models for all body types at affordable prices.