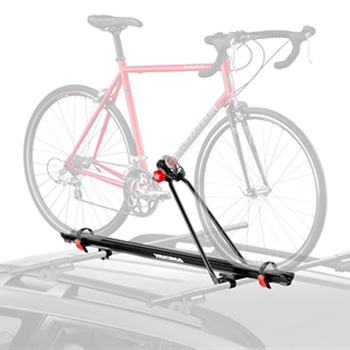 A roof-mounted bike rack is any type of rack designed to hold and transport one or more bikes on the roof of an automobile. Bike racks come in various sizes and styles and can be purchased on eBay in a variety of designs and for different prices. Buyers looking on eBay must consider the style of bike rack, their budget, as well as how many bikes they intend the rack to fit.
Usually purchasing on eBay is quite simple, but because of the relatively large size of bike racks, buyers should check shipping costs and consider looking for a local eBay seller to decrease the cost of shipping. Buyers should also consider the exact measurements of the rack and either check the description or contact the seller to ensure that it fits on their automobile. Finally, buyers should check the automobile that the bike rack is intended for to ensure that it is compatible with the rack they intend to buy.
Checking the Compatibility of the Bike Rack with the Car
Not all cars are suitable for roof-mounted bike racks.. It is important to check the car and where the car is parked for suitability before buying a rack on eBay. The car owners should check to see if they can easily lift a bike to the roof of the car; if not, another type of bike rack might be more suitable. If the car is parked in a low garage, the bike rack should be very low as well, and most likely requires that the owner take the bikes off the rack before parking the car.
Buyers should also measure the top of the car and check for physical characteristics such as rain gutters, which could change the type of rack that can be mounted on the roof. Measuring the roof of the car is usually also a good idea because many roof-mounted bike racks are sold in very different sizes. Those sold for a large van can hold as many a seven bikes but are much too wide to be mounted on a small minivan or car.
If the vehicle already features a luggage rack, it is important to determine if the bike rack is compatible. Many roof-mounted bike racks are designed to fit onto vehicles with luggage racks. In this case, buyers can simply search on eBay for the appropriate version. Many racks are easy to install whether or not the luggage rack is present, but it is important to check to make sure.
Choosing the Style of Roof-Mounted Bike Racks
Size is the biggest difference between most roof-mounted bike racks. Depending on the preferences of the buyer, the rack can hold from one to more than seven bikes. The maximum size of the bike rack does depend on the auto that the rack is being mounted on, but most standard vehicles can hold up to four upright mounted bicycles. Buyers should choose between sizes based on how many bikes they have as well as whether or not they intend to either add a second or third bike, or sometimes go biking with friends. Most single bike roof-mounted racks on eBay are only slightly cheaper than options with more racks, so buyers can mostly choose based on convenience.
Fork-Mounted Bike Rack
The fork-mounted bike rack requires that the back wheel be taken off of the bike. The wheel can then be stored either in the car or on the rack for the journey. The wheel is taken off and the wheel hub slipped into a fork-shaped holder on one side of the rack. A pin is then used to keep the bike in place for the duration of the journey. Many of these racks feature locks on the pin so that the bike cannot be removed without a key. Fork-mounted bike racks are suitable for anyone driving long distances or with heavy wind resistance because they are the sturdiest option. Bikes with disc brakes and some mountain bikes with through-axles are not compatible with this mount.
Upright Lock Mount
The upright lock mount is a secure bike rack but does require more work than the tire-lock mount. The rack features a cradle that holds the front wheel in place and clamps that wrap around the body of the bike. Advantages include that the mount is very secure. Disadvantages include that a bike on the rack is somewhat higher than other options, that it takes more physical strength because the bike must be lifted higher, and that the clamps might not be suitable for new bikes because they can be easily damaged. Because upright lock mounts for bikes use clamps, buyers should check the eBay description to determine if the clamp is the right size for the tubing on their bike. Usually clamp sizes can be chosen from the drop down menu or in the description, although most are one size fits all.
Tire Lock Mount
The tire lock mount is the most common roof-mounted bike rack because it is simple, convenient, and does not require extra lifting or the front wheel to be taken off. This mount is a good choice for short distances and for people who prefer not to have to reassemble their bikes before using them. There are multiple sizes of bike racks but most are standard to fit all sizes of tubing because they do not require any clamps. Tire lock mounts are the least secure because they are harder to lock in place and do not clamp the bike in any way. However, they are also lightweight, easy to install and remove, and easier to use quickly.
Looking for the Features of Roof-Mounted Bike Racks
Many roof-mounted bike racks have a variety of different features. Sometimes these are simple security features such as those for maintenance, while other times they are for comfort and convenience. Not all roof-mounted bike racks feature anything other than the ability to carry a bike on the roof of a vehicle, so anyone interested in extras should add the desired features to their search term on eBay.
| Feature | Function |
| --- | --- |
| Locking | Provides extra security |
| Non-permanent mounting | Does not require screws or bolts to install |
| Rain gutter mountable | Mounts into rain gutters |
| Wind silencing or aerodynamic | Curved to offer less wind resistance |
| Clamps | Clamps or grips intended to hold or bolt the bike in place |
In general, each of these features should be outlined in the eBay description of the item. If not, the seller should be happy to discuss the features or compatibility of the bike mount with different bikes. Usually, if the bike mount does not list any specific features, then it does not have them. Another consideration is that locks, chains, and cross bars can often be purchased to secure nearly any model of bike to any model of bike rack. These additions are important in high crime and high population areas where bikes are more likely to be stolen.
Choosing a Rack for the Bike on eBay
Road bikes and mountain bikes require a different size of bike rack although many are universal and designed to fit both. This is because the tire tube on the bike is a different size depending on the type of bike. Standard road bikes feature 19 to 32 millimetre wide tires while mountain bikes can feature wheels up to 66 millimetres in width. Standard bike tires are usually on the slimmer side and can fit into any rack. Most bike racks are universal or multi-size but some are made specifically for thicker or thinner tubes. Buyers who are looking for a bike rack to carry multiple types of bikes should purchase the largest rack available. Usually the eBay seller can measure the maximum diameter of tubes that the rack can hold or check the back of the box.
Buying a Roof-Mounted Bike Rack on eBay
Once you have decided what type of bike rack you need, you can search on eBay for an appropriate model for your automobile and the number of bikes you intend to carry. There are many options on eBay including popular brands and budget brands. Buyers can choose to purchase new or used and can choose to purchase from an eBay authorised seller if they would like a factory item.
Search for the roof-mounted bike rack and specify which type you would like it to be. Searching for a 'fork bike rack' should bring up fork mounts, and adding in 'two' or 'four' should restrict your search to the racks that can carry the number of bikes that you would like it to hold. Once you find a bike rack, remember to read the description and contact the seller if you have any questions. From there, you can purchase the item using eBay's checkout options and then have it shipped to you.
Conclusion
There are multiple styles and types of roof-mounted bike racks available on eBay. Popular options include different types of mounts such as the fork mount, the upright lock mount, and the tire lock mount. Each of these bike racks is suitable for different purposes and each is suitable for different bikes. Fork mounts cannot be used with bikes that have disc brakes or those with through axle wheels. Other types of mounts can be used universally unless the owner is looking for a mount to accommodate a larger wheel.
Buying a roof-mounted bike rack on eBay should involve checking the vehicle for compatibility, ensuring that the bike owner can use the rack, and making sure that the rack is the right size for the vehicle and the bike. Most buyers should measure their car just in case, especially if purchasing a rack to accommodate a large number of bikes. Final buying considerations include checking the shipping time and reading the description before making a purchase.