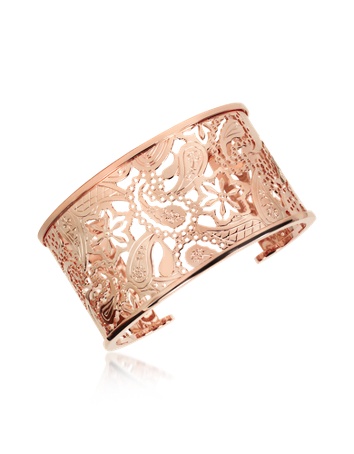 Rose gold is a popular choice when looking at bracelets. Men, women, and children can all wear rose gold bracelets. The benefit of rose gold is that it is stronger than pure gold because of the copper added to it. It is the copper added into the gold that gives it its rosy colour. Jewellery stores, major department stores, and online stores are all places an individual can look to in order to find a rose gold bracelet. One online site is eBay, where buyers can use simple search methods and secure payment options to purchase their new bracelet.
Researching the various types of rose gold bracelets available enables consumers to make an informed purchase decision. Rose gold bracelet options include its caratage and colour, as well as its style. Because a rose gold bracelet can be expensive to buy, individuals should be aware of how to clean and care for the bracelet to keep it looking like new.
About Rose Gold Bracelets
Pure gold is yellow in colour, and in order to create rose gold, a certain amount of copper is added to it. This is what creates the rose colouring in the gold. Rose gold is also known as pink or red gold, depending on how much copper it contains. It is occasionally also referred to as Russian gold.
The benefit of adding copper, or other alloys, to gold is that it makes the gold stronger. Pure gold is quite soft, and if used to make jewellery, it would easily dent, scratch, and become misshapen. Adding an alloy, such as copper, helps to strengthen the gold so that individuals can wear it every day with comfort and ease. It is for this reason that rose gold bracelets are a popular choice of jewellery item.
A History of Rose Gold
Rose gold is sometimes referred to as Russian gold because it was particularly popular in Russia during the early 1800s. Russian wedding rings feature one band of rose gold. Since this time, rose gold has become a popular choice for many men and women when choosing jewellery. In more recent times, rose gold has been popularly used to make expensive men's and women's dress and sports watches.
Other Uses for Rose Gold
Rose gold is not only used to make bracelets, but it is often used to make rings, necklaces, earrings, and watches. Rose gold is also used to make high end quality musical instruments, such as flutes. Pens, ornaments, cigarette lighters, and picture frames can also be made out of rose gold.
Rose Gold Bracelet Carats
A carat (ct) is the term used to describe the purity of gold. The higher the carat, the purer the gold is. When considering gold and alloy combinations, such as with rose gold, the carat rating, or caratage, identifies the percentage of gold and the percentage of copper used. Rose gold bracelets are available in a range of carats. The highest possible carat for rose gold is 22. This type of rose gold is referred to as crown gold. Other carat ratings include 18, 14, and 9 ct. Eighteen carat rose gold is typically made up of 75 per cent gold and 25 per cent copper. Fourteen carat rose gold typically consists of about 58 per cent gold and 42 per cent copper. In order to create the various shades of rose gold, other alloys, such as silver or zinc, can be added to the gold and copper combination.
Different Shades of Rose Gold Bracelets
When looking to buy a rose gold bracelet, buyers have the choice of differing shades of rose gold, from very red gold to pale pink gold. The more copper used, the redder the gold. The following table provides a list of the types of rose gold shaded bracelets available and a description of each.
| Colour Shade | Description |
| --- | --- |
| Red Gold | Has a reddish, coppery tint; usually consists of 50 per cent gold and 50 per cent copper |
| Rose Gold | The most popular shade available, with a warm rosy tint; commonly consists of 75 per cent gold and 25 per cent copper |
| Pink Gold | A pale pink colour, pink gold usually consists of 75 per cent gold, 21 per cent copper, and 4 per cent silver |
Although the majority of rose gold bracelets do feature the typical rosy tint, many jewellery makers create stunning bracelets in both red and pink gold. When buying a bracelet, the choice of which shade of rose gold to buy comes down to personal preference.
Rose Gold Bracelet Styles
Buyers have a wide selection of rose gold bracelet styles to choose from. There tends to be a greater selection when looking at women's rose gold bracelets, although some jewellers do create sophisticated and stylish men's rose gold bracelets.
Rose Gold Link Bracelet
One of the more common types of bracelets for both women and men, a rose gold link bracelet consists of interlocking links. This type of bracelet ranges significantly in size depending on its size and weight. The heavier the link bracelet, the more expensive it is. Link bracelets can be very thin chain-like bracelets, suitable for a woman's everyday wear, or they can be thick and chunky.
Rose Gold Bangle Bracelet
A rose gold bangle style bracelet can be designed for both men and women. It is a solid circular shape that can either slip on over the wrist or go on and off the wrist with the aid of a hinge and clasp. Bangles can be rounded or flat, slim or wide, and can be plain or decorated with engraving or gemstones. Depending on its decorative nature, a rose gold bangle can be an ideal everyday piece that goes with any type of outfit for any occasion, or it may be a specialty piece, worn for more formal occasions.
Rose Gold Cuff Bracelet
A rose gold cuff bracelet is a wide banded bracelet that is designed to sit over the wrist. Cuff bracelets are often patterned or engraved and make for an eye-catching jewellery accessory. This type of bracelet is sometimes referred to as a gladiator bracelet. A popular style is to have the bracelet moulded in a horseshoe type of shape, where the bracelet slips on and off the wearer's arm.
Rose Gold Charm Bracelet
Charm bracelets are often worn by women and younger children. A rose gold charm bracelet consists of a link bracelet with small pendants, or charms, attached to the chain. Charm bracelets allow wearers to be creative, creating a unique bracelet to suit their personal tastes. Individuals usually choose their charms to signify memorable and significant life events and personal likes.
Rose Gold Tennis Bracelet
A rose gold tennis bracelet is one that features a band of small gemstones linked together with a chain. The gemstones are usually small cut diamonds but may be any type of gem, such as ruby, sapphire, or emerald. Tennis bracelets tend to be one of the most expensive type of bracelets one can purchase. This type of bracelet is often kept for formal and special occasions.
Caring for a Rose Gold Bracelet
Taking care of a new rose gold bracelet is similar to caring for yellow gold. To clean rose gold bracelets, consumers can use an appropriate jewellery cleaning solution and a soft lint-free cloth. Alternatively, many individuals choose to take their bracelet to the jeweller to be cleaned, using an ultrasonic cleaning tub. When not being worn, the bracelet should be stored safely in a soft cloth bag or laid carefully in a soft, felt-lined case. To keep a rose gold bracelet from losing its lustre and shine, be careful when using cleaning chemicals, perfumes, and moisturisers. Over time, these can make the rose gold look quite dull.
How to Buy a Rose Gold Bracelet on eBay
Finding a rose gold bracelet on eBay is simple when you use the search bar on eBay's home page.. Simply type in "rose gold bracelets" to see an overview of what is available. To further refine this list, you can search using a specific phrase, such as an "18 ct rose gold bracelet" or a "Cartier rose gold bracelet". Alternatively, you can also select various search categories to filter the results. eBay enables you to search by the metal's purity, the bracelet condition, price range, brand, or bracelet style.
In order to utilise eBay to its fullest potential, you may want to visit eBay's Community portal. Here, you can find useful discussion boards, groups, video tutorials, and an answer centre, all designed to help you stay informed and updated on what is happening and what is available on eBay. Many members like using eBay's community resources to share information, ask a question, offer advice, and chat to other like-minded buyers and sellers.
Conclusion
Rose gold jewellery has been popular since the early 1800s, and many consumers looking to purchase a bracelet opt for one made from rose gold. Because of its gold and copper mixture, rose gold bracelets are durable and able to withstand being worn every day. The caratage of the bracelet has an impact on its value, and its composition affects the shade of colour the rose gold can be. A bracelet with a higher amount of copper mixed into the gold creates a deeper red gold colour. The lower the amount of copper mixed into the gold, the paler the rose colour of the bracelet.
When looking for a new rose gold bracelet, buyers have several styles to choose from, including link bracelets, bangles, cuff bracelets, charm bracelets, and tennis bracelets. Rose gold is easy to care for and maintain and requires the same attention as yellow gold. Choosing to look online on eBay for a new rose gold bracelet is one option many buyers utilise. With a large selection of bracelets for sale, eBay allows buyers to purchase from reputable sellers, using secure payment options.