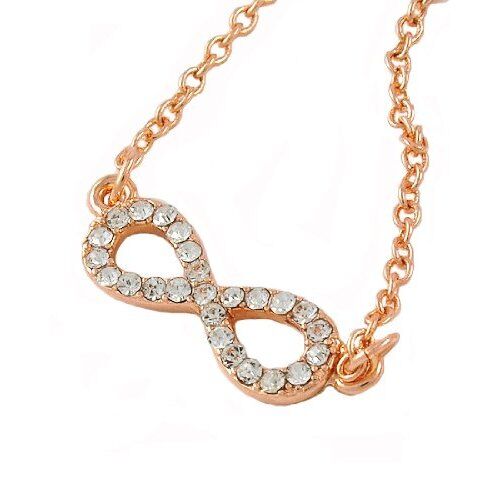 Copper is a red metal, and when it is alloyed with yellow gold, it produces a pinkish coloured metal known as rose gold. Silver is added to some types of rose gold to make the metal look like 14 carat gold. Zinc is sometimes added to harden the metal. Different combinations of yellow gold, white gold, and rose gold, are sometimes blended to produce a variety of colours. Rose gold, sometimes called pink gold, comes in different carats, as do other types of gold.
Understanding gold carat weight, the various parts of a necklace, and the different types of necklaces can help buyers make a smart choice when shopping for a rose gold necklace on eBay. Buyers also need to know how to clean rose gold to keep their new necklace looking nice.
Many types of rose gold necklaces are available on eBay. Buyers can find fine jewellery, costume jewellery, and vintage jewellery items for sale at reasonable prices.
History of Rose Gold
Rose gold was first used to craft jewellery in Russia during the 19th Century. Because of its unique colour, the new rose gold quickly spread across the globe. Cartier helped to boost its popularity with a release of a trinity band in the 1920s. The trinity band utilised white gold, yellow gold, and rose gold to display and contrast each precious metal. This arrangement is still popular in modern designs. Although trends have changed over time, the popularity of rose gold has remained steady, due largely to its unique colour.
Rose Gold Carat Weight
Carat is the term used for measuring gold purity in jewellery. Pure gold is 24 carats, and carat weight decreases as other metals are mixed in. For example, rose gold is an alloy, so is not available in 24 carats; the highest carat weight of rose gold is 22 carats. Rose gold is most frequently found in 14 or 18 carats. The 14 carat rose gold is sometimes referred to as red gold because it has a deep rose colour. Fourteen carat rose gold appears darker because it has a higher ratio of copper to yellow gold. Because the amount of pure gold is the same in each, equal amounts of 14 carat rose gold and 14 carat yellow gold are worth the same.
The table below lists the percentage of pure gold found in each carat weight. Pure (or 24 carat) gold is typically not used because it is a soft material that does not wear well.
| Carat | Percentage of Pure Gold |
| --- | --- |
| 8 | 33.3 |
| 9 | 37.5 |
| 10 | 41.7 |
| 12 | 50 |
| 14 | 58.3 |
| 15 | 62.5 |
| 18 | 75 |
| 19.2 | 80 |
| 20 | 83.3 |
| 22 | 91.6 |
| 23.76 | 99 |
| 24 | 100 |
The lower the carat weight, the more colour a necklace displays because of the high percentage of other materials, such as zinc, silver, cobalt, nickel, or palladium.
Gold vs. Gold Plating
Some necklaces feature rose gold plating over a lesser metal. Buyers must determine whether an item is gold plated or not before purchasing, since this dramatically lessens the value of the necklace. Be sure to ask the seller about gold plating, as rose gold plating tarnishes faster than solid rose gold. Pure gold does not tarnish, but the copper in the alloy used in rose gold does.
Parts of a Rose Gold Necklace
A necklace typically has four parts: a chain or string, a pendant, beads, and a clasp. Each part of the necklace can be made of different materials. For instance, a rose gold chain looks lovely when matched with pendants of different coloured gold. Necklace chains come in different lengths to let wearers achieve different looks. The table below lists several types of necklaces and the typical lengths of each.
| Necklace Name | Length |
| --- | --- |
| Collar | 30.5 to 33 cm |
| Choker | 35.5 to 40.5 cm |
| Princess | 43 to 48 cm |
| Matinee | 51 to 61 cm |
| Opera | 71 to 86 cm |
| Rope or Lariat | 114 cm or more |
While there are some gaps between the different types, most necklace lengths fall within these categories. Collar necklaces typically have multiple strands that fit snug against the neck. A choker is an extremely versatile piece of jewellery, as it matches well with most outfits. The princess length necklace is popular because it is the perfect length to display a pendants. Of the remaining, longer necklaces, the opera style necklace is the most popular.
A clasp or tie is not necessary for longer necklaces as they slide over the head. Shorter necklace lengths need a clasp, so that they can be put on and taken off.
Rose Gold Necklaces on eBay
eBay has quite a few different jewellery selections available. Rose gold necklaces can be found in fine jewellery, costume jewellery, vintage and antique jewellery, among others. eBay lets buyers search for fine jewellery by carat weight, and buyers can find rose gold chains, pendants, or entire necklaces.
Rose gold costume jewellery is often less expensive. Statement jewellery is large, bold, and often features a specific design, such as a flower, a geometric shape, or a symbol of some sort. Vintage rose gold necklaces were often manufactured during a specific time period and feature a very specific style. Used rose gold necklaces may require cleaning and polishing before they are in prime condition.
Cleaning a Rose Gold Necklace
Rose gold can tarnish due to the copper in the alloy, so it must be cleaned and polished occasionally to keep it looking its best. The higher the carat weight, the less the necklace tarnishes. However, this also means it boasts less of that warm, rose colour. Wearers should use warm water and a jewellery cleaner that is appropriate for cleaning gold. Instead of letting the necklace air dry, tap it dry with a soft cloth. To polish the necklace, be sure to use a jewellery polish that is safe for gold jewellery. To clean and polish rose gold plated necklaces, follow the same guidelines.
If the necklace has a lot of detailing and crevices, a soft-bristled toothbrush can be used to polish and clean the cracks, but be sure not to rub too hard, and use a soft toothbrush.
How to Buy a Rose Gold Necklace on eBay
eBay has a large selection of gold jewellery available for purchase. To being a search, type "rose gold necklace" into the search box on the eBay homepage. This returns many listing results, and you may need to refine the search. To do this, type more descriptive words into the search box, including the style you prefer, the number of carats you want, the necklace length, and its condition. You can also specify whether you are looking for a vintage necklace, fine jewellery, or costume jewellery. Once you have found an item you like, click on the link to read the detailed description. Be sure to check for different factors like the necklace condition, the quality, type, and any other additional aspects to the piece that may be important to you. Some necklaces have a stone, so you should determine whether the stone is precious, semi-precious, glass, or rhinestone.
Read the seller's page to see their other item listings and to read feedback from previous buyers. Feedback is collected over the previous 12 months, and it indicates how satisfied other buyers have been with the seller's performance. If you have any additional questions about the necklace, message the seller about it before purchasing.
Conclusion
Rose gold is a lovely type of gold that is made by incorporating copper into the gold alloy. The copper provides a red or pink tint that many buyers find desirable. Rose gold was first developed in Russia during the 19th Century, and quickly spread. Like other varieties of gold, rose gold measures the amount of pure gold in a necklace by carat weight. The more pure gold in the necklace, the less of a reddish hue is visible, as the red is caused by the presence of copper. Some rose gold pieces are gold plating over lesser metals, while others are solid rose gold. The overall quality of a rose gold plated necklace is determined by the material inside the plating.
Different parts of a rose gold necklace include the pendant, the beads, and the chain. Rose gold necklaces come in many different styles, and feature different chain lengths. Some chain lengths are quite short. Collar and choker necklaces are examples of short, neck-hugging chains. Princess and matinee style necklaces are a bit longer, and fall below the collarbone and onto the chest. Opera and lariat styles are the longest of all, and can often be worn doubled over on themselves. Shorter necklaces have clasps or ties to allow the necklace to be put on or removed, while longer necklaces need no clasp, since they can be slipped on over the head.
To keep it looking its best, a rose gold necklace must be cleaned regularly. To do so, users should take cart to keep from damaging the necklace.
Rose gold necklaces are available in a variety of brick and mortar shops, as well as online. eBay has a large selection of rose gold necklaces available for a lot of different styles and price ranges.