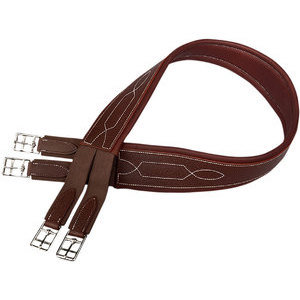 This guide will explain the key features that a buyer should be looking for in a girth across a wide variety of riding styles, as well as offering tips on how to find the perfect model using eBay.
What is a Girth?
A girth is defined as the strap that runs underneath a horse that keeps the saddle in place on its back. Due to the fact that a rider's safety can be placed in serious danger by a loose saddle, it is of the utmost importance that a hard-wearing, well-fitting girth is purchased.
They are usually attached to the saddle with buckles, which are joined to billets, leather strips that hang off the saddle for the sole purpose of fitting a girth.
There is a wide variety of different girths, all of which are tailored for used in particular horse riding discipline. For example, there would be a noticeable amount of difference between a threefold and a dressage girth, even to the untrained eye.
Over the years, many people have expressed concern as to whether a girth can affect a horse's ability to breath and can perhaps even cause long term damage to the animal. Tests however have proved that this equipment does not hurt horses either in the short term or the long term.
What Types of Girth are There?
As already stated, there are a number of different types of girth, each one being specifically designed for a particular style of riding. Is it important that a buyer chooses the right girth for the riding they plan on doing, as there are a number of different variations to saddles across different disciplines and girths are especially made to fit a certain kind of saddle. Here is a list of the most common types of girth, as well as information on which riding styles they are most commonly used and best suited for.
| | |
| --- | --- |
| Balding Style | This kind of girth is made from a single piece of leather, which is then cut into three separate strands and platted together. The reason for this platting is to retain the strength offered by the girth, whilst allowing as much room as possible for the horse's elbows, so as not to restrict its movement in any way. There are a number of other styles similar to the Balding, including the Atherston and the Overlay; both of these designs also serve the purpose of providing extra room for the horse's elbows. |
| Dressage Style | As the name may suggest, a dressage style girth is designed for participation in dressage competition. The main difference between this kind of girth and other varieties is that is it significantly shorter. This is because a dressage saddle has longer billets. Riders looking for a dressage girth will be pleased to hear that there is a huge amount of choice available to them. There are countless different designs, which also come in a wide variety of materials, from traditional leather to modern elastic. |
| Threefold Style | A threefold style girth is a type of unshaped girth. Usually a thick, single leather strap, threefold girths have gained popularity with a number of different riders due to the fact that it does not restrict a horse's movement in any way and is unlikely to irritate the animal's skin by rubbing. Three fold girths are often used by fox hunters and side-saddle riders due to freedom of movement that they can afford a horse. |
| Overgirth Style | This is a particularly specialist girth design, which stretches the whole way around the horse's body to completely lock the saddle in place. These girths are usually made from extremely strong elastic or other synthetic materials but leather models as available. Overgirths are often used for sports; polo players, eventers and flat and jump jockeys all tend to favour an overgirth because of the added support that it will lend to keep a saddle in the right position. |
What Else Should Buyers Think About?
Although understanding what girth is needed in relation to the saddle and the kind of horse-riding it will be used for is extremely important, there are also plenty of other considerations that buyers must take into account before making a decision on a girth. Below are some of the best things for riders think about before making a purchase in order to ensure that they are completely satisfied in the long run:
Is a belly guard also required? This piece of equipment is attached to the girth and is used during show jumping events to prevent a horse from kicking itself in the stomach when jumping. Girths with a built-in belly guard can also be found, however buying a separate girth and belly guard would be a more versatile option.
It is important to clean a girth after every usage because the stale sweat and other fluids that will build up on it can be a leading cause of skin problems for horses. Leather girths are simple to clean with just a sponge and some soapy water, making them a very convenient choice in this respect. Some girths made from synthetic materials may be machine washable.
When looking for an elastic girth, it is worth bearing in mind that although less expensive options may provide good value for money in the short term, they are more likely to suffer from wear and tear in the long run. The elastic may shrink and in turn constrict a horse's breathing. It is worth investing in a more expensive elastic girth if it is intended for use over a long period of time.
How to Fit a Girth
Once a girth has been purchased, it is important to know how to fit it, so that a rider can be satisfied that their horse is not in any kind of distress and confident that their saddle is strapped firmly in place. Here are some useful tips for knowing how to fit a girth correctly:
Measuring a horse to be fitted for a girth is a simple process. A rider simply needs to place the saddle they will be using onto their horse, then measure from the middle notch on the billet, the whole way underneath the horse to the middle notch on the billet on the other side.
Some riders prefer to then allow for a little extra room, so that they can be totally sure that the girth will not restrict a horse's movement, nor cause them any kind of discomfort during riding.
When fitting a girth, the idea is that it should spread the weight of the saddle and the rider evenly, so that no injury is caused to the horse. If it is either too narrow or has some form of reinforcing strip running across it, the girth is likely to cause the horse some form of discomfort.
If a particular girth is too short for a horse, this isn't as disastrous as it may seem, a tool called a girth extender, a small leather strap that connects a small girth to the billets. Girth extenders are very inexpensive and can often be found on eBay.
How to Buy a Saddle Girth Using eBay
Finding a great deal on a saddle girth is simple with eBay; just follow the advice below for a quick and easy way to discover the perfect girth.
Take advantage of eBay's fantastic search features to take the work out of browsing for equestrian equipment. Why not try typing "horse girth" into the search bar to begin the search.
From there, eBay will identify that the user is searching for equestrian related items and will provide a specialised series of search filters on the left hand side of the page so that buyers can begin to narrow down their search further.
It's possible to browse simply by item type, for example, girths, breastplates, reins and more. Once one of these item sub-types has been selected, eBay provides a list of secondary criteria that means buyers can search for an item that suits their requirements down to the most minute details.
Horse girths are a great example of this; it's easy for users to browse horse girths by size, material, colour, condition, manufacturer and even by price range. It's also worth noting that eBay has thousands of pieces of horse-riding equipment listed on the site at any one time, meaning there is a great deal of choice that is likely to please even the most discerning rider.
Why not try searching for a bargain on a high-quality saddle girth with eBay today?
Consider paying with Paypal for smooth transactions and added protection and always include the cost of postage and packaging if local collection is not an option.
Conclusion
Buying riding equipment is often a difficult process. A rider will want to be sure that they are making the right choice and getting the best value for their money and shopping for a new girth is no exception. Although not quite as expensive as many pieces other pieces of riding equipment, a quality girth is still an investment and for safety reasons alone, choosing the right one is an important job for a rider.