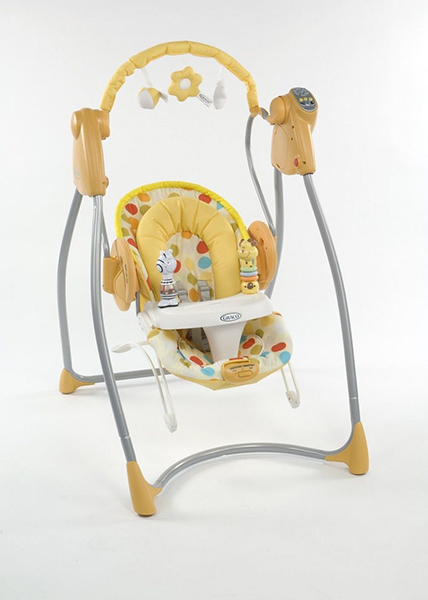 Baby swings are a great alternative to having to spend hours pacing the floor and rocking the little one to sleep. Many of today's models are battery operated and allow for back and forth movement, and advanced models rock side to side. Most parents can get 200 hours out of the batteries before replacements although there are also plug in options available. Shoppers can choose between full-sized models, which are set up in a fixed location; portable models; or a hybrid of the two.
In addition to selecting which model best suits parents' and baby's needs, there are a plethora of features to choose from. The first priority any parents should consider when purchasing a baby swing is always safety, and from the frame to the seat padding to the harness, parents should inspect each part before placing the baby in a swing. Besides selecting the safest model, parents are required to follow a few safety tips before operating any baby swing.
Types of Baby Swings
When choosing a baby swing, it is important to be familiar with the characteristics of the three different types before making a purchase. Full-sized baby swings are indoor swings in a fixed location. Portable swings, which can be moved from one room to the next, are perfect for parents on the go. Hybrid swings offer the convenience of a portable swing and the stability of a full-sized. The sections below outline characteristics of each type of swing.
Full-sized
Full-sized baby swings are the largest of the styles and designed to be secured to a fixed location, although some newer models boast easy set-up and breakdown. A majority of these swings have a myriad of features to entertain the baby. Depending on the brand, they can be either battery operated or plug into the wall. Full-sized baby swings generally accommodate babies up to 13.5 kg, whereas other models hold less weight. The main drawback of the full-sized swing is that it is difficult to move, so it should be placed in a convenient, yet out of the way location.
Portable
Portable baby swings sit low to the ground and are designed to be moved with ease. They can be relocated, whether it is to an adjacent room or to the grandparents' home. Portable swings usually do not hold the same weight limit as full-sized models, but they are favoured for their more simplistic design. Most of the models rely on batteries to power the motor. Portable baby swings are usually less money but come with fewer bells and whistles.
Hybrid
A hybrid baby swing offers the stability of the full-sized swing with the simplicity of a portable one. These models offer many of the same features of a full-sized swing, but they take up less space. While the design of the hybrid swing is typically the most convenient option for many parents, the main difference is in the high price. Hybrid swings are often the most expensive of the three types of swings. The chart below sums up the pros and cons of each type of baby swing.
| | | |
| --- | --- | --- |
| Type of Swing | Pros | Cons |
| Full-sized | Offers many features and supports largest weight limit; safe and secure | Limited to a single location; difficult breakdown |
| Portable | Easy to set-up and break down; lightweight; can be moved from room to room | Not as sturdy as full-size; supports less weight than other models |
| Hybrid | Easy set-up; most models have features comparable to full-sized models | Often the most expensive of the options |
Full-sized and portable baby swings have been on the market for years, and hybrids have made their entrance in the last few years. Hybrids are favoured because they are the middle ground for parents who cannot choose between the other two options.
Features for Baby Swings
In addition to choosing the style of baby swing, parents must also familiarise themselves with all the features available. Seat covers should be examined to ensure they are comfortable and safe. Harnesses are crucial when assessing the overall safety of a baby swing. Parents should learn about the motion features of each swing since not all are the same; some models have various speeds, and others may be multi-directional. Finally, parents can opt for swings with diversions such as mobiles and toy bars.
Frame
Since the frame supports the baby swing, parents should thoroughly inspect it to ensure the integrity of the structure. Metal pieces should not bow or bend. The swing should have a low centre of gravity and should not tip or sway when the baby is harnessed in. If purchasing a portable unit, parents must make sure the frame can lock securely into place.
Seat Cover
When researching seat covers for baby swings, parents must take a few variables into account. First, the seat cover must be machine washable. Moreover, the seat covers should be adequately padded but not overly done. Too little padding results in an uncomfortable swing, and too much could be a suffocation hazard. Parents should research to determine if the seat itself includes a detachable head support that can be removed as the baby gets older.
Built-in Harness
Built-in harnesses are crucial for a child's safety, and not all harnesses are constructed the same. All full-sized models are designed to have a built-in harness, and the best models feature a five-point harness that secures a baby over the shoulders, around the waist, and between the legs. Many portable models and less expensive full-sized swings have three-point harnesses, which do not include shoulder straps.
Motion
Motorised baby swings are soothing as they rock back and forth. More expensive models can move side to side like a cradle. This function is particularly useful for newborns. In addition to direction, parents must also consider each model's speed control. Many models can have eight speeds or more, but more than three or four is unnecessary. Slower models are best for infants, while older and more active babies might want a swing with a faster speed.
Amusements
Since some babies spend hours at a time in their swing, parents should make sure developing babies have toys and other diversions. Hanging mobiles, toy trays, and interactive lights and sounds are common additions on many baby swings, and more sophisticated toys means a more expensive swing. Having a few toys is the difference between a quiet, happy baby and a bored, fussy one. All toys should be attached securely so there is no risk of choking on small parts. Shoppers should never attach unapproved toys as they could compromise the integrity of the frame or be a hazard.
Safety Tips When Operating a Baby Swing
Baby swings today are generally safe, and issues arise from poor assembly and incorrect usage; therefore, it is imperative to make sure the swing is put together properly. Babies should never be left unattended in a swing. Moreover, the baby should always be strapped into the harness to avoid accidents. Below is a list of Dos and Don'ts that can help ensure the baby's safety while sitting and playing in the swing.
Do not use the swing if any parts are missing or broken. Do follow the manufacturer's weight restrictions. Do not place the swing in reach of electrical outlets, heat sources, curtain cords, or stairs. Do only use approved toys and attachments provided by the swing's manufacturer. Do not adjust or move the swing with the baby in it. Do make sure the baby swing has a low centre of gravity so it does not easily tip over or collapse.
Do not use a pillow, blanket, or cushion as a backrest for the swing; most swings have a sufficiently padded back. Do research on which brands and models have been recently recalled before making a purchase. Do not leave areas that could pinch or otherwise harm the baby. Do ensure the frame is locked into place before using a portable baby swing. Do make sure to put the baby in a position that is comfortable for them. Newborns should be placed in a position lying down since their necks cannot support the weight.
Buying a Safe Baby Swing on eBay
Finding the right baby swing on eBay involves a bit of research and knowledge about the most popular brands, their safety features, and available options. Once you have a specific type or model in mind, enter "baby swing" plus a few keywords to get your initial results. For example "portable baby swing" narrows the type, and " Fisher Price baby swing" limits the scope of the brand.
Sorting
After you have typed in your keywords and received your results, you now have the option to custom sort your results by what matters most. For example, if you are looking for the best deal, arrange baby swings from lowest to highest price. Conversely, if you are looking for a high-priced model, sort from highest to lowest. Customers looking to reduce, or even eliminate shipping costs can search by distance from seller to find baby swings nearby. Moreover, shoppers can sort by new or used condition as well as time left in auction.
Conclusion
A new baby may spend hours in a motorised swing, so it is important to find one that is comfortable and safe. Parents must regularly inspect the swing to ensure all parts are working properly. With so many options to choose from, buyers must be aware of all the features, brands, and recent recalls before committing to a specific one.
Parents who have the space for a full-sized baby swing can benefit for having a solid frame and can plug directly into an outlet instead of consuming batteries. Portable and hybrid models are favoured by parents on the go; hybrid baby swings are often the better option of the two, but they typically have a hefty price tag. However, when buying a baby swing, parents should never sacrifice quality for reduced cost. Parents can make the most informed decision by reading reviews before buying the baby swing and abiding by the company's safety policies.