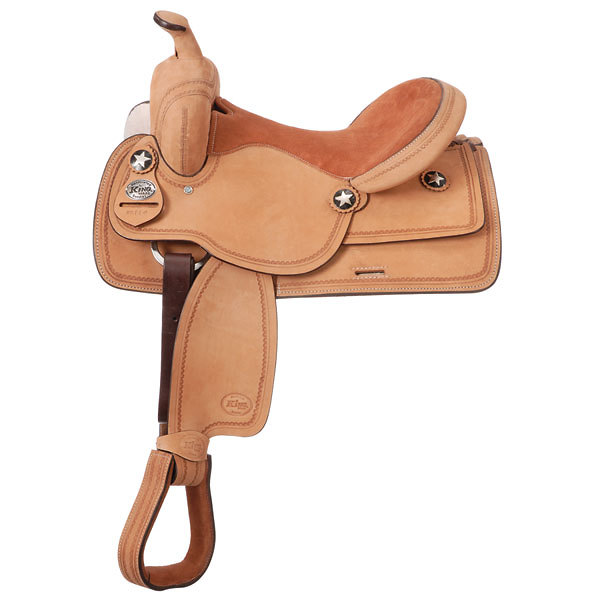 Saddles are an essential part of horse riding and a variety of saddles can be bought to suit different equestrian events. The fit of the saddle is particular to the rider and there are a few things to consider before making a purchase. This guide will run through the different types of saddles and specifically how to buy a second-hand model from other riders' on eBay.
Parts of a Saddle
First of all this guide will run through the basic parts of a saddle that a potential buyer may come across:
Tree – The base of the saddle. The tree size will need to be measured to suit the back of the horse and will also determine the size of the seat for the rider.
Seat – Where the rider sits.
Pommel – The slightly raised front part of the saddle.
Cantle – The back part of the saddle.
Girth – This is used to keep the saddle in place. There are different types of girths available.
Stirrup – Where the riders' feet go.
Types of Saddle
When coming to make a purchase of a second-hand saddle then it needs to be clear which type of saddle is required. Due to the various different types of horse riding available, different saddles have been designed in order to cater the market. Underneath is a table briefly highlighting a selection of saddles and a short description. When coming to buy a second-hand saddle from eBay then consider which type of riding the saddle will be used for.
| Saddle Type | Description |
| --- | --- |
| General Purpose | As the name suggests, this is an all-purpose saddle that can be used by a broad range of riders. It is the most popular saddle for beginners yet is still used by experienced riders too. Because it is not too rigid in its shape, it allows for extra freedom and the capability to change positions easily. Knee pads are an optional add-on for general purpose saddles. |
| Dressage | These saddles are specifically made for the sport of dressage where delicate and flat movements are required. They are cut quite long as to extend the riders leg position and keep it in close contact with the horse to help provide control. The girths are positioned so they won't interfere with the lower leg. |
| Racing | The tradition and popularity of horse racing in the UK has made the racing saddle an important area to get right. They have a flat seat and flat candle to allow jockeys to crouch over the saddle when racing at high speeds. The girth and stirrups again are short to allow the jockey to concentrate on riding. Racing saddles are lightweight by nature. |
| Hunting | Hunting saddles are used to assist riders in the pursuit of animals in the countryside. They are elevated at the front as to tilt the rider backwards; this is to assist with comfort when riding through bumpy terrain. |
| Jumping | Unlike hunting saddles, jumping saddles are designed to push the rider forward to help with going over numerous jumps. It attempts to allow the horse more freedom when jumping and comfort for the rider when landing with a flat seat. Larger saddle flaps are used to provide more comfort. |
Other types include the side saddle, western saddle and polo saddle.
One of the other main considerations is to go for the long-established treed saddle or more contemporary treeless model.
Treed Saddles are manufactured with an inbuilt tree to relieve the horses' spine of direct pressure.
Treeless Saddles are made from foam and leather as the protective force. They allow for more freedom and are more adaptable to fit a wide range of horses.
Advice on Buying a Second Hand Saddle
There are plenty of aspects to consider when buying a saddle, not only for the rider but for the horse as well. When coming to buy a second-hand saddle from eBay or privately then be sure to ask as many questions about the saddle as possible. Think about:
The Physique of the Rider
Consider the age, weight and height of who will be using the saddle. Longer legs may require longer saddle flaps for example.
Any Other Users
The saddle may not be used by you exclusively. Consider others who may use the same saddle. Also evaluate their ability; a general purpose saddle is ideal for amateur riders.
The Horse's Age and Breed
Perhaps more padding will be needed for older horses that may be deteriorating in muscle quality. Different types of horse may suit different kinds of saddle as well.
The Material of the Saddle
Different leathers can weigh more than others and can cause unnecessary pressure on the horse's spine. Buying poor quality leather can be cheaper but need replacing in the short-term. Synthetic saddles are lighter, easier to clean and can come in a selection of colours.
The Shape of the Horse and Fitness Levels
During different times of the horse's life, they may develop different body shapes in line with their fitness. Be sure to have a good idea of their back shape and look out for pressure points that could be causing it pain.
What Size of Seat to Buy
Horse saddles will typically only range between 15 and 18 inches. The taller or heavier a person is will require the larger seat size. It is important to acquire the correct seat size to make a ride as enjoyable as possible.
The Price
Second-hand saddles will be available at a much cheaper price than those brand new but still consider how often it will be used and at what level. The more serious and frequent the rides, the more professional and expensive the saddle may need to be. On eBay prices can be extensive ranging from around £20 up to over £500, even for a used model.
If you choose to buy a second hand saddle from an independent seller then make sure to try the saddle on before committing to buy. If they have more saddles available then try on as many as possible to get a more objective viewpoint. Ask them about their experience with the saddle and any minor discrepancies there may be.
A good tip is to research fully about saddles on the internet and in specialist equestrian shops to get expert advice, especially on sizing and suitability for the horse. Once a product has been found then check on eBay to see if it available at a more affordable price.
Buying a Second-Hand Saddle from eBay
If looking at the second hand market then there is no better place to start than eBay, where all the listings of horse saddles will be presented in one place. The one negative side is that youwon't be able to try out the saddle beforehand to make sure it's a perfect fit. However, the risks of this can be eliminated if selecting the saddle carefully by using this guide.
Don't be put off it is a used saddle – if anything it may be better as it has already been broken in by the previous owner. They are necessarily selling because the saddle is inferior or exhausted; they may simply fancy a change or require a different model for their own horse.
eBay also allows to narrow down a search so it makes a selection easier. By typing in "horse saddles" into the search bar then potentially thousands of results will appear. As it is the second-hand market we are looking at, it is possible to narrow these listings down by selecting 'equestrian' from the left hand menu and then 'used' from the Condition sub-section.
It is best to look for brand names when coming to choose a saddle. This eliminates the risk of buying shoddy, imitations that find their way onto the market. There are plenty of brands to choose from including Barefoot, Bob Marshall, Royal King, Freeform, Double T, Billy Cook and many more.
As eBay is free for anyone to join, then it is wise to safeguard a transaction by following these steps:
- Read the description of the saddle very carefully and if it explains everything; check for any inconsistencies within the details?
- Check the size of it and whether it will be suitable for the users' physique, age and riding ability.
- Look at the seller's history. An important factor is their positive and negative feedback rating. If there are a lot of poor feedback comments then proceed with caution. How many transactions have they completed also? If this is their first sale then it may be wise to check out any other options available.
- Also check out any other item's they have listed. Are they equestrian based? If the other listings are horse-related then it most likely means they are a genuine and experienced horse rider who deals with equestrian equipment often.
- As it is a second-hand saddle, the seller will more than likely have used it before. This means asking them a question will provide good, solid first-hand advice on the saddle and if it will be the correct one to buy.