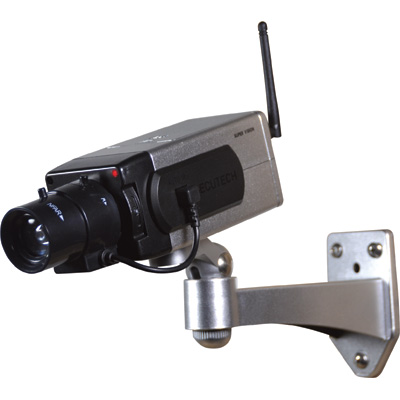 Many people choose to purchase a security system especially if they are often away from home or if they live in an area with a high crime rate. Security systems can range from large to small and contain a variety of functions. People purchase security systems for businesses, residential use, as well as for protecting personal property in a location such as a storage rental. Most security systems are made for specific purposes, such as for outdoors with night vision or waterproof features, or for indoors.
Security systems most commonly include video cameras, but can also include burglar alarms such as motion, vibration, and breakage detectors, and alarm monitors for automatically dialing the police or a person monitoring the system. Each security system is effective in its own way, although most people tend to choose the system based on their individual needs, their budget, and how much time they have to spend on the system.
Different Types of Security Systems
There are many types of security systems on the market today, although many of them are now becoming obsolete or are simply not practical for use in small areas such as homes and small businesses. Many security systems offer a single purpose, such as home monitoring, while others offer multiple purposes including home monitoring, burglar detection, and even automatic emergency dialling.
Choosing a security system should be based on the needs of a home. For example, most homeowners choose hybrid systems with glass break detection and a standard motion detector installed around doors and windows to test if they are open. Often these come with a code similar to that of a safe. Once the door is closed, the code should be put into the security system in order to prevent an alarm.
Cameras
Cameras are most commonly used around very large homes and business areas because they virtually record everything. These can include indoor or outdoor cameras, cameras with night vision, waterproof properties, infrared vision, and even mobile monitoring apps for checking up on the system at home. Camera security systems can include different types of cameras such as dome-shaped and mounted cameras, and they usually require their own monitor and either disc space or a DVD to record data. Various formats include two to 24 channel cameras or larger.
Passive Infrared Detectors
Passive infrared detectors (PID) are the most common burglar alarms because they are the most accurate for giving alarms and the hardest for burglars to avoid. Passive infrared detectors detect heat from objects, meaning that after the alarm has been set, it can be triggered if a human body walks in front of it. Usually precautions are taken to ensure that animals such as cats and dogs cannot trigger the alarm, usually by starting the PID at about waist height. However, this is not always the case.
Glass Break Detectors
Glass break detectors are usually seen as part of a hybrid system but can be purchased on their own as well. Glass break detectors are installed around the edges of windows and large glass doors and sound an alarm should a shock of a specific frequency travel through the glass. Most glass break detectors can be wired to automatically dial an emergency number as well as to set off an alarm.
Inertia Sensor
An inertia or vibration sensor is similar to a glass break sensor, but is generally used to detect a physical attack, such as on fences. While inertia sensors are very accurate with a low false alarm rate, they are also very limited in how they can be used. Many businesses use these security systems to protect outlying fences.
E-Fields
An e-field is used to construct a perimeter protected by a security system and is normally used by businesses such as construction sites or homeowners with very large yards. E-fields work using electromagnetic energy to estimate force, mass, and time of disturbance to determine whether or not there should be an alarm. E-fields are not considered regular security systems and are usually only available through security specialty companies or through a specialized online store.
Hybrid Systems
A hybrid security system can merge any of the security systems listed above to allow for more comprehensive security. For example, many businesses choose security cameras as well as glass break detectors and passive infrared detectors, while businesses with yards choose a type of protection that could detect intruders passing a certain point. Homeowners are usually most comfortable using glass break detectors and passive infrared sensors, as these offer protection from burglars without recording personal information, as a camera would. However, anyone with a great deal of valuables stored in their home may want to consider a video camera as well, as it increases the chances of identifying a burglar should security arrive too late to prevent theft.
The Pros and Cons of Hiring a Security Company
Many people choose to hire a security company rather than purchasing their own security system. The benefit is that the security features and options are chosen by professionals who are familiar with security threats in the area, and can assess the exact risk for a property. The homeowner is also most likely to receive some form of monitoring service with a person available to call an emergency number or contact them in case of an intruder. Security companies are an excellent choice for anyone with a large budget who does not want to spend a great deal of time on their security system.
However, security companies are also a great deal more expensive than simply purchasing a security system for self-monitoring a property. Usually small homes, anyone who does not want to talk to another person in case of emergency, or anyone with a low budget should avoid a security company in favour of purchasing their own security system.
Buying and Comparing Security Systems
Buying a security system should involve three steps: deciding what security measures are necessary for the home, setting a budget, and researching options within that budget. Anyone who needs a security system should evaluate the weaknesses in their home. Glass doors such as sliding or double French doors, large windows, doors, any large open yards, and any access point to the home should be monitored for effective security. Considerations also include skylights and in some cases exterior access basements.
Finally, the type of monitoring should be decided. Most businesses decide to go with video recording because it helps to identify a robber as well as a burglar. Most homeowners feel more comfortable without using video cameras and instead choose alarms for doors and windows, but video cameras are sometimes used as well, especially in areas with high crime rates.
After deciding on features, it is possible to set a budget for the security system needed, and then start research. Usually, it is a good idea to find multiple options with the required features and then compare them for price, any reviews they might have, features, warranty, and shipping time.
| Feature | Function |
| --- | --- |
| PCU | Functions control unit, panel. Usually a small computer that monitors and works the security system. |
| Sensors | Intrusion detection devices. |
| Alerts | Bells, whistles, sirens, and flashing lights intended to alert residents and potentially scare off intruders. |
| Keypad | Small keypad with indicator lights, usually intended for code input. |
| Security Devices | Include spotlights, cameras, lasers, and motion sensors. |
There are many different functions to pay attention to when purchasing security systems. For example, video recording systems can vary in video quality, whether or not the monitor is included, storage size, night vision, extra lights, number of cameras, and optional features such as mobile monitoring. Security systems for doors and windows can have similar quality differences, so it is important to pay attention to the exact specifications during purchase.
Buying Security Systems on eBay
Home and business owners can choose to purchase new or used security systems from eBay. First, you should decide on your budget and what type of security system you are looking for. Good choices include 'security camera system', 'wireless security door alarm', or even 'multiple rooms security system', depending on your preferences. From there you can type in what you are looking for, browse through results, and make your selection. Usually it is a good idea to contact the seller with any questions you might have if they are not answered in the product description. You should also pay attention to shipping estimates and time, and might want to ensure that there is an instruction manual included with the system.
Once you have placed your order, you can simply wait for your security system to arrive by post or pick it up as arranged with the seller before the purchase. eBay has a great deal of different options, so if you cannot find what you are looking for, you can try changing your search term to something either more or less specific than your initial keywords.
Conclusion
Security systems are an important way to catch and deter burglars and are commonly used in both commercial and residential premises. Buyers can choose a system based on their needs rather than selecting a generic security system, but can also do the latter to save time. It is also possible to hire a security company to come in and install security systems in the home or business and also to monitor those systems after installation.
Common security system options include cameras, passive infrared detectors, glass break detectors, inertia sensors, electromagnetic fields, and hybrid systems that use multiple types of security software. Security systems can be monitored or set to turn on an alarm, call an emergency number, or alert the owner of the building. Most security systems do some of each. Finally, anyone looking for a security system should decide what type of system they are looking for before setting a budget and comparing options to find the best security system in that price range.