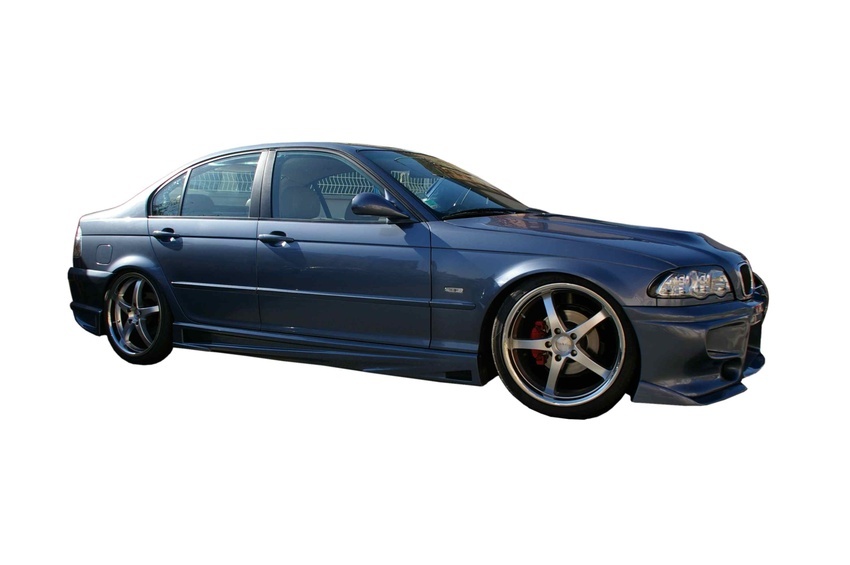 There are a number of great ways to go about buying a sedan. Traditionally, the newspaper or car sales lot was the first place to turn. Today, however, such business is often done with ease online. eBay can be a no-hassle, enjoyable way to search for many things from the comfort of your own home and find a bargain. It is a great way to buy a large variety of items, some of which are very hard to find elsewhere, and some that are generally much more expensive if purchased in a more traditional way.
When it comes to buying a sedan, eBay offers those same great benefits as with buying anything else. When a buyer has a very specific vehicle in mind, especially if it is a specific year and model of a hard to find sedan, it is generally easier to find it on eBay than going through more traditional means. For consumers who are open to a number of different models, nothing beats the selection offered by the sellers on eBay. These vehicles are typically offered for great prices too, ensuring a great bargain.
When buying a sedan on eBay, first make a list of potential vehicles and important features. Then, decide on a budget and compare vehicles. Finally, pay close attention to communication during the process in order to feel confident about the purchase.
Choosing the Sedan to Buy on eBay
The first step in choosing and purchasing the best sedan possible on eBay is to be sure to do the necessary research in advance. Check out the reviews that each of the different models has received from a variety of different online sources as well as magazines. Start a list of the ones that are of most interest. The list should include makes, models, and years, as well as specific features that make one sedan better than another.
Which Features are Most Important
The reason there are so many different sedans available is that each person is different, and considers certain things more important than others. For instance, parents typically consider the car safety rating to be of particular importance when choosing a sedan. People with other interests and focus may consider other features more important, such as speed, ecological soundness, or luxury option.
The major part of choosing the right sedan is determining what features are most important to focus on. Through research, the list of possible choices should begin to narrow. A mistake that some people make when searching for a real bargain is to narrow their list of possibilities down too small. Unless one sedan truly does seem to be the absolute perfect vehicle, try to have a moderate list of possible options instead, in order to ensure a broad selection. Doing this opens up the opportunity for a larger number of vehicles to choose from and a greater possibility of finding a quality sedan at a bargain price.
Decide on the Price Range of the Sedan
Sedans are sold on eBay in a wide range of prices. While doing research, be sure to note the price of each vehicle. Start your eBay search by looking at what these vehicles have recently sold for on eBay. The average price on eBay is likely to be lower than research shows it may be elsewhere. Make a note of what eBay sellers are routinely selling these models of sedans for and start to determine the price range. If the budget is limited, that may narrow the search of possibilities even further.
When setting a budget for purchasing a sedan on eBay, be sure to keep in mind any shipping or travel expenses that may be necessary. Also, include all other related costs, such as the price of an inspection or any minor repairs. Keep a little wiggle room in the budget for unforeseen needs. If the sedan does not end up costing the entire budget, as is often the case when shopping on eBay, there may be money left over for personalising the car with seat covers and other accessories.
Communication is Important When Buying a Sedan on eBay
Just like with any other car purchase, buying a sedan on eBay requires excellent communication between seller and buyer. In the online world, communication takes many different forms. Pictures can reveal information that can help determine the condition of the vehicle. Clearly worded descriptions that disclose all of the necessary information can quickly establish a degree of trust. All forms of communication are important to pay close attention to when purchasing a car, especially when purchasing one online.
Good Communication in the Listing
On eBay, the sedan's listing is a very important tool for the buyer. A good listing includes all of the information the consumer may need in order to become serious about purchasing the vehicle. Look for listings that provide plenty of information about the vehicle, an adequate number of quality photographs, and any warranty or service information. The following chart describes some key features to look for on a listing for a sedan for sale on eBay:
| Feature | What to Look for |
| --- | --- |
| Description | The description should include the exact make, model, and year of the sedan, as well as option packages, upgrades, and colour |
| Photos | More pictures are better. Images of the interior and exterior of the sedan, as well as the engine compartment, milometer, and any damage. Images should be clear |
| Service and Upgrade Information | It is optimal for the description to list all of the information about the service that has been done to the car and any modifications or upgrades that have been made to it |
| Condition Disclosure | General information about the sedan''s condition is no good. Look for specifics, such as mileage, date of last tune up, frequency of tune-ups, exact depth of tread on the tyres, and any body damage, among other things. It should include whether the sedan has ever been in an accident |
| Extras | While not as important, the listing may indicate whether there are any extras included in the sale, such as seat covers, all weather tyres, or items necessary for any repairs that may be needed |
When purchasing a sedan on eBay, it is always great if all of this information is clearly stated right on the vehicles listing page. Some of these items may not be listed simply out of the seller's lack of foresight when creating the listing. That is to be understood, especially with sellers who do not list cars for sale very often. The very basic that the seller should provide on the listing is a complete description that includes the vehicles features, some images, and the vehicles condition. If these are not clearly noted on the page, ask the seller about them.
Good Communication with the Seller
Most eBay sellers are very open to questions and communication with the buyer, regardless of what they are selling. With a purchase as important as a vehicle, communication with the seller is even more important. If the seller has created a good enough listing, communication may not be necessary.
However, if anything is left out or if questions come up during the process, do not hesitate to ask them. Clicking on the seller's user name should open a page that includes information about contacting the seller. Be cautious of a seller that does not seem willing to communicate. Most are happy to answer questions, help the buyer feel at ease about the purchase, and provide any further information that may have been left out of the description. This includes taking extra pictures if necessary, so do not hesitate to ask.
When the Seller Does Not Know the Answer
Sometimes the seller just does not know the answer to the questions. Maybe the seller does not have the know-how to answer the questions. There is nothing wrong with that. Simply owning a car does not necessarily make someone an expert about it, and the question may be about something the seller has never considered before.
This is when a picture can be especially helpful. If there is an important feature or factor that should be included on the car but is not in the description or shown in the available photographs, a good option is to ask the seller to take a picture of that part of the sedan. Perhaps the seller is not sure if the vehicle has a certain option. Ask for a picture of the area of the vehicle that shows the option and compare it to what it should look like with the option included.
Have the Sedan Inspected
In order to be completely confident that the sedan is in the expected condition before purchasing, consider having the vehicle inspected by a third party that is local to where the vehicle is. Consider having a friend or relative who lives in the area inspect it. This gives some good information, but if they are not mechanics, it may not be the most necessary information.
In order to be sure that the car is a sound purchase, have it inspected by a professional. Several companies offer such a service and can be located and hired online. Doing this comes with a price, but an inspection can help a buyer feel confident or avoid a bad purchase, both of which can be invaluable.
Buying a Sedan on eBay
With a good list of several sedans that satisfy the necessary criteria, finding the cars on eBay can be as easy as using the search engine on eBay's main page and entering the make, model, and year of the sedan. It is likely that doing this returns a large number of listings, including those for accessories or replacement parts that are meant for that car. Narrow the search by choosing from available options and narrow it further by keeping the budget and set price range in mind. Look closely at the description of the vehicle, paying close attention to how the condition of the vehicle is described, if there is any damage noted, and whether the pictures corroborate what the seller describes.
Communicate with the seller. This is a large purchase, and it is best to have any questions answered before committing to the purchase. Confirm that the seller is willing to let you have the vehicle inspected. Finding the right sedan on eBay may mean being willing to let possible options go and waiting for the right sale.
Conclusion
Buying a sedan on eBay is a great way to save money and to open up a large number of possible options. Many more vehicles are listed on eBay than most consumers are likely to find at their local car dealership. Sellers are generally friendly and eager to communicate about the vehicle.
When purchasing a sedan on eBay, be sure to research the vehicle beforehand, understanding the features and options that are available. Set a price range with a reasonable budget, which includes money for transporting the vehicle and inspection. Also, be sure to communicate with the seller and study each listing carefully before considering bidding on the sedan.
The key is being willing to wait for the right sedan for sale by the right seller. Quality vehicles are regularly available for sale on eBay, so finding the right one should not take long. Saving money is something everyone is in the market for, so checking out the possibilities available on eBay just makes good sense.